Georgia Republican Representative Marjorie Taylor Greene criticized Texas GOP Senator Ted Cruz for labeling Capitol rioters as "terrorists," calling it "irresponsible" because no one has been charged with terrorism.
During a Senate Rules Committee hearing on Wednesday, Cruz called the Capitol riot a "violent terrorist attack." The lawmaker had previously described the incident in a similar fashion last year. His characterization of the event sparked criticism from some of former President Donald Trump's most ardent supporters for being "shameful" and inaccurate.
"I think Senator Cruz is smart enough to know since he's an attorney that no one's been charged with terrorism, just like no one has been charged with insurrection," Greene said at a press conference on Thursday. " I think that was very irresponsible of him to call them terrorists and I completely disagree."
More than 700 people have been charged in connection to the Capitol riot and many are headed for trial. In a lawsuit, Connie Meggs, who is accused of conspiring to block the certification of President Joe Biden's victory, argued that describing rioters as terrorists hinders her ability to get a fair trail because it taints the jury pool.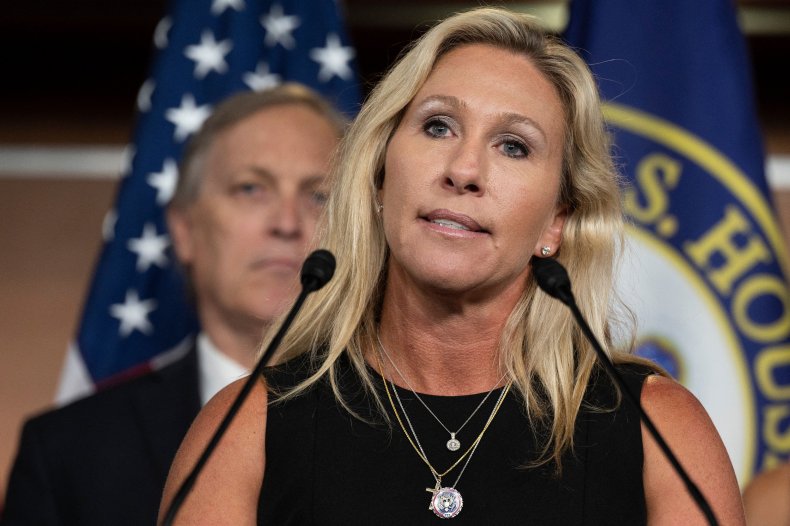 In an era when people can access information from anywhere in the country, defendants will likely struggle to successfully argue they need a change of venue because of a tainted jury pool. However, at least one has tried. In December, a judge rejected a request from Kyle Fitzsimons to move his trial from Washington, D.C., to Maine because jurors couldn't be impartial if they were being pulled from a city that voted heavily for Biden.
Florida GOP Representative Matt Gaetz speculated that Cruz was using his statement as a means of "recasting" himself in the eyes of some people. However, he argued that the establishment "will never love you" and said he didn't find it "particularly factual or sincere."
Gaetz and Greene's response to Cruz's comment were relatively mild compared to the other criticism the senator faced. Fox News host Tucker Carlson said the Texas senator's remarks are making people think the "Republican Party is as worthless as we suspected it was."
Sebastian Gorka, a former Trump White House adviser, also questioned whether Cruz advised Trump to cancel the latter's Thursday press conference on the one-year anniversary of the riot.
Earlier in the day, Gaetz and Greene appeared on Steve Bannon's War Room podcast, where Gaetz called January 6 a "coverup of a stolen election." He added that it wasn't an "insurrection" but a "Fed-surrection," and the two have committed themselves to exposing the "truth" about the riot.