Ted Cruz Calling Jan. 6 a 'Violent Terrorist Attack' Leaves Trump Supporters Outraged
Senator Ted Cruz is being condemned by conservatives for describing the Capitol riot as a violent terrorist attack on the eve of its one-year anniversary.
The Texas Republican made the remarks on Wednesday at a Senate Rules Committee hearing about the apparent security failures that allowed a mob of Donald Trump supporters to storm the building on January 6, 2021.
"We are approaching a solemn anniversary this week," Cruz said. "And it is an anniversary of a violent terrorist attack on the Capitol, where we saw the men and women of law enforcement demonstrate incredible courage, incredible bravery, risk their lives to defend the men and women who served in this Capitol.
"We are grateful for that courage, we appreciate the selfless sacrifice of the men and women who keep us safe."
Cruz, a staunch supporter of Trump, was one of eight Republican senators who voted to object to the Electoral College results on January 6 when the certification process resumed after the attack.
As pointed out by The Washington Examiner, this is not the first time Cruz has referred to the January 6 attack as a terrorist incident.
He did so in a press release in May while denouncing a January 6 commission proposal led by Senate Majority Leader Chuck Schumer and House Speaker Nancy Pelosi, as well as on his podcast Verdict with Ted Cruz on January 25.
However, the remarks on the eve of the anniversary of the attack have irked a number of high-profile right-wing and MAGA figures.
Fox News host Tucker Carlson, who has consistently downplayed the severity of the January 6 attack and even suggested it was a "false flag" operation orchestrated by federal agents, called Cruz a "legitimately smart" person who "doesn't use a single word by accident," after playing a clip of the senator's comments.
Carlson then mocked the senator's remarks.
"Of all the things January 6 was, it was definitely not a violent terrorist attack. It wasn't an insurrection," Carlson said.
"Was it a riot? Sure. It was not a violent terrorist attack. Sorry. So why are you telling us it was, Ted Cruz?
"What the hell's going on here? You're making us think, maybe the Republican Party is as worthless as we suspected it was. That can't be true. Reassure us, please, Ted Cruz."
Other conservative pundits condemned Cruz's comments on social media.
Sebastian Gorka, a former White House adviser to Trump, tweeted: "I'm so done with Ted Cruz.
"What are the odds he's the Senator who told President Trump not to speak tomorrow?" Gorka wrote, in reference to a cancelled press conference Trump was due to give on the anniversary. The former president was expected to use the event to repeat his false claims that he lost the 2020 election because of widespread voter fraud.
Right-wing commentator John Cardillo tweeted: "Ted Cruz followed Lindsey Graham and showed his true colors today"—a reference to reports that the South Carolina senator helped persuade Trump not to hold his January 6 press conference.
Yossi Gestetner, director of the Orthodox Jewish Public Affairs Council, wrote: "Video of @tedcruz today that the Jan 6th mass trespassing event violently cracked down by police was a 'violent terrorist attack on the capitol.'
"The game is over, folks. Go home and get a life. You are wasting your time with the GOP."
Elsewhere, memorial events for January 6 held in Washington D.C. look set to be largely attended by Democrats, with neither GOP House or Senate leaders planning to commemorate the day.
A number of Republican figures, including Senate Minority Leader Mitch McConnell, will be in Georgia on Thursday to attend the funeral of Johnny Isakson, a former GOP senator who died in December.
Cruz has been contacted for comment.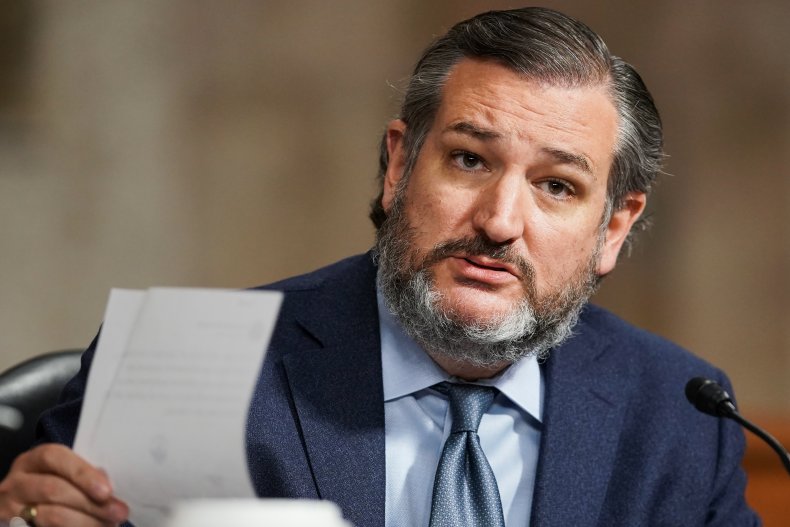 CORRECTION 01/07/21 10:31 a.m. ET: This article was corrected to state that Chuck Schumer is majority leader of the Senate not the House.