Opponents of Marjorie Taylor Greene are crying perjury after the Republican representative could not recall key details during proceedings that could block her from the ballot.
Greene took the stand Friday in an administrative hearing in Atlanta to push back on a legal challenge arguing her alleged participation in the January 6 insurrection disqualifies her from office. During the highly watched proceedings, Greene was asked about her past statements and social media posts leading up to the insurrection. Some opponents say her repeated answer of "I don't know" is an indication she was untruthful while under oath and is grounds for perjury charges.
Her Democratic challenger Marcus Flowers on Friday called her "Perjury Taylor Greene" when asked by MSNBC's Ari Melber if she was lying to cover up her role in fomenting political violence.
"Who is handling the upcoming MTG perjury prosecution?" tweeted Elie Mystal, justice correspondent for The Nation, as the proceedings played out.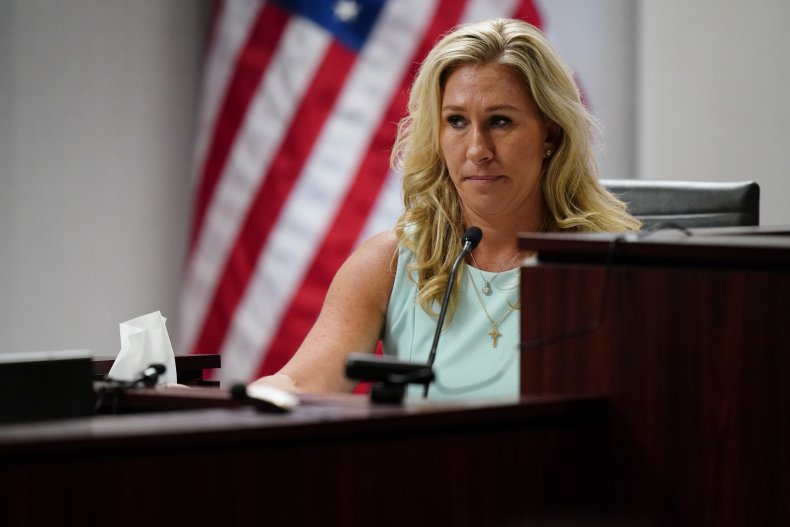 Advocacy group Free Speech for People brought the challenge against Greene, arguing that her role leading up to the January 6 insurrection made her ineligible to stand for reelection in Georgia under the 14th Amendment of the Constitution.
Ron Fein, the group's legal director, asked Greene about conversations she had about large protests gathering in Washington, D.C., when Congress was scheduled to certify the 2020 election on January 6, 2021. Greene said she couldn't remember.
Following the 2020 election, Greene posted a video promoting the January 6 protests. She repeated the debunked claim that the election was tainted by widespread voter fraud.
"You can't allow it to just transfer power peacefully," she said in the video.
At another point, Greene said she couldn't remember what she tweeted about before January 6.
Greene also said she didn't recall calling House Speaker Nancy Pelosi a "traitor" before reversing herself after being shown an article detailing comments she made about Pelosi.
At another point, Greene dodged a question about whether she believed the QAnon conspiracy theory.
"HAS SHE REALLY ABANDONED Q?" asked Twitter user KSelk, posting a video where Greene references Q, the shadowy figure behind the conspiracy. "or did she commit perjury?"
However, Roger Parloff, senior editor at the Lawfare blog, pointed out on Twitter the unique challenges of bringing perjury charges against Taylor Greene. He said that because this is an administrative proceeding, both sides didn't have the ability to collect and produce documents as they would in a civil or criminal trial.
With Georgia's primary election coming up, the administrative law judge in the case refused a request to gather documents and to make Greene sit for a deposition, according to Parloff.
"But what that means is that when MTG says 'I don't know' or says something that might not be completely candid, the challengers often have no way to challenge her testimony," Parloff said.
Newsweek reached out Greene's lawyer, James Bopp, for comment.