Marjorie Taylor-Greene and AOC Among 8 to Oppose Russian Asset Seizure Bill
Several of Donald Trump's congressional allies joined progressive Democrats this week in opposing a House bill urging President Joe Biden to seize the frozen assets of Russian oligarchs linked to President Vladimir Putin so the funds can be used to help Ukraine.
Representatives Marjorie Taylor Greene and Alexandria Ocasio-Cortez were among the eight legislators who voted against the Asset Seizure for Ukraine Reconstruction Act on Wednesday. From the Republican Party, Greene was joined by Representatives Madison Cawthorn, Thomas Massie and Chip Roy. The other three lawmakers were Democratic Representatives Ilhan Omar, Rashida Tlaib and Cori Bush, progressive members of the so-called Squad.
The House passed the measure in a 417-8 vote, and shortly afterward Biden asked Congress for new powers to confiscate and repurpose the assets of Russian oligarchs—powers that would be granted by the legislation. The bill, which was introduced last month, would seize assets from oligarchs "whose wealth is derived in part through political support for or corruption linked to Russian President Vladimir Putin."
The legislation would also allow for those proceeds to go to supporting Ukraine through such measures as post-conflict reconstruction, humanitarian aid and weapons for Ukrainian military forces.
If the legislation becomes law, those powers would be granted to Biden for two years, as long as Russia remains engaged in the conflict with Ukraine and the assets resulting from U.S. sanctions are valued at over $5 million.
A similar bill of the same name has been introduced in the Senate.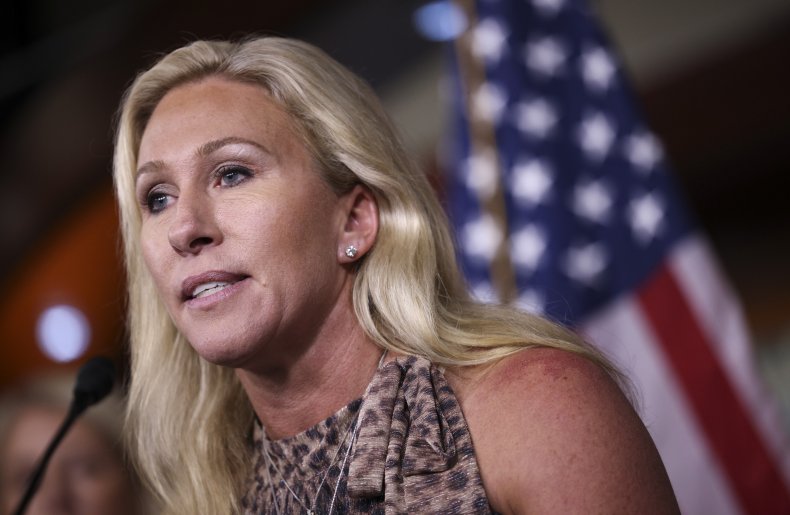 Although Ocasio-Cortez said oligarchs should be sanctioned, she argued that the reallocation of funds would be done without due process and set a "risky" precedent for future presidents.
"Oligarchs should suffer huge financial losses, which is why the congresswoman participated in designing and voted for the toughest sanctions in recent memory," an Ocasio-Cortez spokesperson told Newsweek. "But this vote asked President Biden to violate the Fourth Amendment, seize private property and determine where it would go—all without due process."
The spokesperson added, "This sets a risky new precedent in the event of future presidents who may seek to abuse that expansion of power, especially with so many of our communities already fighting civil asset forfeiture."
Ukrainian President Volodymyr Zelensky has called on world leaders to compensate Ukraine for its losses with proceeds from sanctioned property and central bank reserves.
During a virtual address to International Monetary Fund and World Bank leaders last week, Zelensky said frozen assets "have to be used to rebuild Ukraine after the war as well as to pay for the losses caused to other nations."
At the time, U.S. Treasury Secretary Janet Yellen said those actions could be authorized only by congressional action. Yellen's department is offering rewards to those who provide information that leads to "seizure, restraint, or forfeiture of assets linked to foreign government corruption, including the government of the Russian Federation."
Newsweek reached out to Greene's office for comment.
Update 4/29/22, 3:34 p.m. ET: The headline was updated for the sake of clarity.