Marjorie Taylor Greene Warns of Nuclear War With Russia, Calls for Protests
GOP Representative Marjorie Taylor Greene has raised alarms about the possibility of nuclear war, claiming that President Joe Biden and his administration are "sending" the U.S. into a direct conflict with Russia.
Biden and other top administration leaders have consistently said they do not want a war with Russia and will not send troops to fight in Ukraine. However, the president has repeatedly pushed for and sent substantial military aid to the Eastern European nation. In addition, Congress, with wide bipartisan support, has approved billions of dollars in support for Kyiv as it fights against Moscow's aggression.
Meanwhile, Greene, a Georgia Republican, has consistently opposed supporting Ukraine with military aid. While she has criticized Vladimir Putin's invasion, she has contended that Kyiv's forces cannot win and that Western support is only prolonging the conflict. In a Thursday morning Twitter post, she called for protests against the Biden administration's response to the war.
"Maybe now is the time to go 'into the streets' to stop this insane President and his cabinet from sending us into a NUCLEAR WAR with Russia. With our current fragile state, WW3 will destroy us all," she tweeted. "And it won't matter how you vote. Stop the drums of war! China is cheering."
In a follow-up post, Greene wrote: "Everywhere I go on Main Street America people say, 'our federal government is failing us.' NO ONE says, 'we must go to war with Russia.' NO ONE."
She added, "All of those in the DC bubble who want war with Russia should suit up and go fight it yourself. Take the all knowing commentators with you. Send your kids and leave ours alone."
No one in the White House or Congress has suggested sending U.S. troops to fight the Russians or engaging in other kinds of direct conflict with them. To the contrary, Biden has pushed back against taking any military action that could provoke Russia, such as a no-fly zone over Ukraine, and risk a nuclear confrontation.
Russia has the world's largest stockpile of nuclear weapons, with 6,255, according to the International Campaign to Abolish Nuclear Weapons. The U.S. has the second-largest number, with 5,550. China is a distant third with 350.
The U.S. has increased the number of troops it has stationed in Europe since Putin launched the internationally condemned invasion of Ukraine. Before the war, the number of U.S. troops in allied nations was 80,000, and that has been elevated to 100,000. Biden announced this week at the NATO summit in Spain that those numbers would remain elevated in an effort to deter Russia.
"In a moment when Putin has shattered peace in Europe and attacked the very, very tenets of the rules-based order, the United States and our allies—we're going to step up. We're stepping up," the president said Wednesday.
"We're proving that NATO is more needed now than it ever has been and it's as important as it has ever been," he added.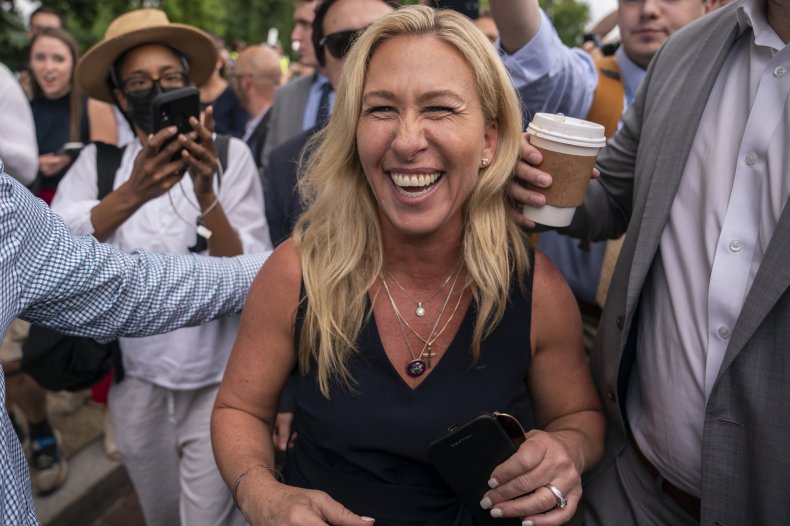 Newsweek reached out to the White House for comment.
Polling data collected by the University of Maryland from May 6 to 16 showed bipartisan support for mobilizing NATO support against Russia. Fifty-eight percent of Republicans said they viewed this effort "very" or "somewhat" favorably, as did 54 percent of independents and 85 percent of Democrats.
Furthermore, 64 percent of Republicans had a favorable view of supplying Ukraine with weapons, as did 65 percent of independents and 83 percent of Democrats.