Marjorie Taylor Greene Warns of U.S. 'Insanity' Over Crimea
Representative Marjorie Taylor Greene warned against the United States supporting Ukraine if its military tries to retake control of Crimea amid the Russian invasion.
Crimea, a region Russia annexed from Ukraine in 2014, could become a major site of combat during the next phase of the Russia-Ukraine war, which entered its 11th month last week, military experts have warned.
Russia's military has struggled to achieve substantial goals in recent months, allowing Ukraine to retake vast amounts of occupied territory, as Russian President Vladimir Putin faced pressure to turn the tide of the war in Moscow's favor.
Ukrainian successes are fueling optimism in Kyiv that its troops could completely repel Russian advances, as well as retake control over Crimea, despite the potential of another Russian mobilization. Ukrainian President Volodymyr Zelensky has pledged that the war would not truly be over until Crimea returns to Ukrainian hands.
However, this has invoked criticism from U.S. conservatives, including Greene, a Georgia Republican. Many in the GOP have become critical of Ukrainian leadership amid the war and have opposed military aid provided by the U.S. federal government to Ukraine.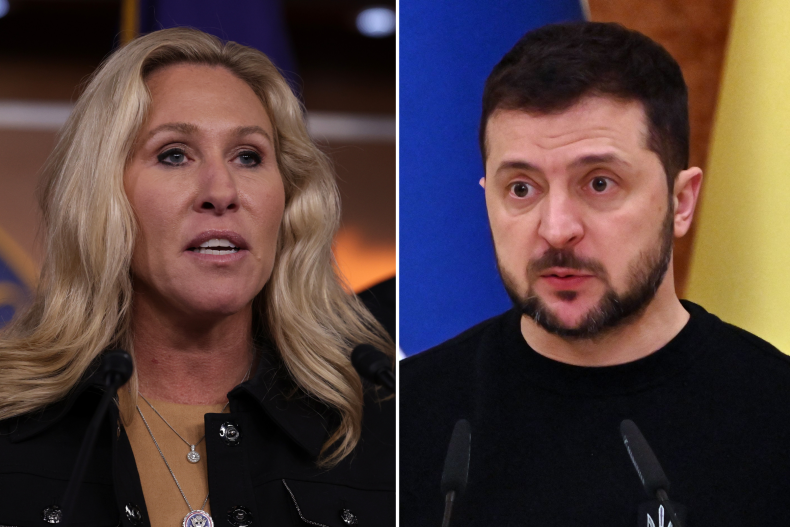 This aid, which has included powerful weapons such as HIMARS, has been credited with shifting the dynamic of the conflict in favor the Ukrainians. But it has come at a cost of billions of dollars, which conservatives argue should be spent elsewhere.
Greene on Monday raised concerns about why Ukraine would need to retake control of Crimea—as well as about the amount of military aid it would take for Ukraine to do so.
"Full blown insanity! Now the US warmongers say that in order to defend Ukraine that Ukraine must invade Crimea and take it back from Russia," Greene tweeted. "All US led, financed, supported, and stocked with military equipment and weapons of course. It's out of control."
Ukraine, despite Russia's illegal annexation, has maintained that Crimea is part of its own territory. The peninsula allows strategic access to the Black Sea, and Russia now houses its Black Sea fleet at Sevastopol.
The New York Times reported earlier in January that the Biden administration has become more willing to hear Ukraine's argument that it needs the power to strike at Crimea as it continues to consider more military aid for Ukraine.
Greene's Stance on Ukraine 'Puzzling': Former Ambassador
John Herbst, senior director of the Eurasia Center at the Atlantic Council and former U.S. ambassador to Ukraine, told Newsweek on Monday that Greene's tweet is "puzzling" because Greene and other conservatives consider themselves patriots.
He said conservatives who take this stance "don't seem to understand" that Ukraine, by fighting for its independence, has destroyed as much as half of Russia's military capacity, which he described as beneficial to American security interests.
"If you're a patriot, you should welcome American support for Ukraine," he said. "It's a very good investment in American security and American prosperity."
Herbst explained that it would set a "very dangerous" precedent to allow Russia to get away with taking Ukraine's territory. He also questioned why right-wingers who oppose Ukraine aid do not talk more about the war crimes committed by the Russian military.
Sarah Wilson Sokhey, a professor of political science at the University of Colorado, warned that Greene's rhetoric could further embolden the Russian government.
"I think it's really dangerous rhetoric to be using. It sends a public signal that there is potentially a source of a lack of support. It plants seeds of doubt about supporting Ukraine when, in fact, the U.S. has already committed military support and funding," she said.
She added that while not all Republicans agree with Greene's stance, Greene's language on Ukraine could affect future support for Ukraine by creating momentum for those opposing Ukraine aid. Herbst, meanwhile, said conservatives opposing aid could make a "ruckus" but are unlikely to affect aid packages.
Other conservatives have also spoken out against Ukraine taking back control of Crimea. Fox News host Tucker Carlson, who has faced scrutiny for his stance on Russia, also described this possibility as "truly crazy" during a broadcast last week.
"At the beginning, they said, 'Let's just push back Russia to pre-February 2022 borders.' That seemed kind of reasonable to most people, including us," Carlson said. "But taking Russian Crimea from Russia? Russia has said many times, and there's every reason to believe them, that would lead to nuclear war. But that's the new plan? Was this voted on? That's truly crazy."
Newsweek reached out to the State Department and the Ukrainian Ministry of Defense for comment.
Update 1/30/2023, 1:37 p.m. ET: This story was updated with comments from Sarah Wilson Sokhey.