Tucker Carlson Denounces Taking Back Crimea From Russia: 'Truly Crazy'
Tucker Carlson has called suggestions of Ukraine retaking Crimea "truly crazy," labeling the contested peninsula "Russian Crimea."
Moscow illegally annexed the peninsula in 2014, and throughout the past 11 months, Kyiv has remained adamant that Crimea is part of Ukraine's territory.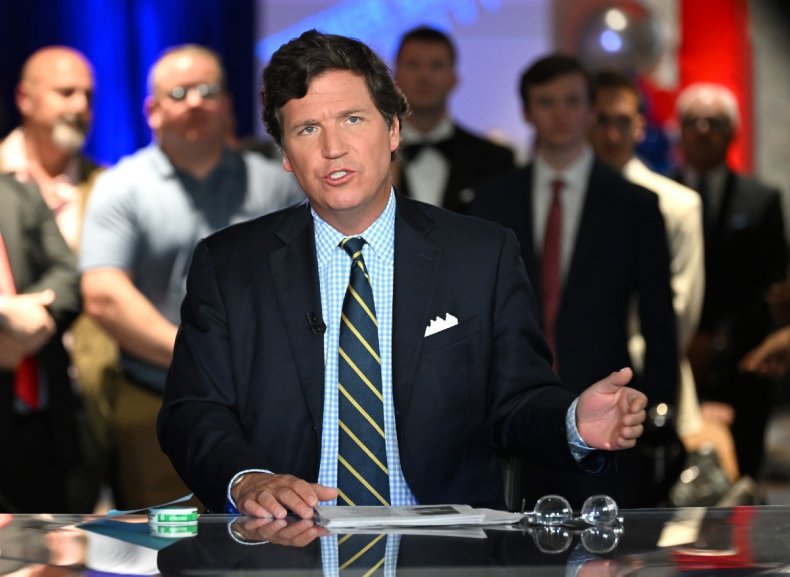 The Kremlin houses its Black Sea fleet at Sevastopol, and the peninsula is used by Russian forces as a key logistical hub and strategic base for launching attacks on Ukraine.
On January 18, 2023, The New York Times reported that the Biden administration was now putting more emphasis on Ukraine's ability to strike Russian assets in Crimea, after refusing to provide Kyiv with weaponry able to target the peninsula.
"Fears that the Kremlin would retaliate using a tactical nuclear weapon have dimmed, U.S. officials and experts said—though they cautioned that the risk remained," according to the outlet.
Speaking on his Fox News show on Wednesday evening, host Tucker Carlson referenced reports surrounding Crimea, making a distinction between Ukraine's pre-2014 and pre-2022 borders.
"Now, wait a second," Carlson told the audience. "At the beginning, they said, 'Let's just push back Russia to pre-February 2022 borders.' That seemed kind of reasonable to most people, including us.
"But taking Russian Crimea from Russia?" the host added. "Russia has said many times, and there's every reason to believe them, that would lead to nuclear war. But that's the new plan? Was this voted on? That's truly crazy."
Carlson has repeatedly drawn criticism for his analysis of the Russian invasion of Ukraine, seen as sympathetic to Moscow over Kyiv. Earlier this January, a Russian state TV analyst said Carlson would be the "one American we wouldn't want to kill."
Russian state TV has long shown excerpts of Carlson in broadcasts. During Ukrainian President Volodymyr Zelensky's December visit to Washington, the pundit zeroed in on the leader's attire as he appeared at Congress.
Zelensky "arrived at the White House like the manager of a strip club and started to demand money," Carlson said, before the clip was picked up by Russian state media.
Francis Scarr, a journalist working with the BBC Monitoring team, posted on Twitter that Russian state media had "showered" Carlson with praise over this critique of Zelensky.
"So far I've heard him called 'wonderful' and 'delightful', and I'm only halfway through the show I'm watching," Scarr added.
In March 2022, a memo published by the progressive Mother Jones magazine alleged that Russian state media had been told to include more clips of Carlson in their Kremlin-linked productions.
"It is essential to use as much as possible fragments of broadcasts of the popular Fox News host Tucker Carlson, who sharply criticizes the actions of the United States [and] NATO, their negative role in unleashing the conflict in Ukraine, [and] the defiantly provocative behavior from the leadership of the Western countries and NATO towards the Russian Federation and towards President Putin, personally," the Russian-language memo read, according to the outlet.