Russian State TV Using Tucker Carlson Clips to Promote War as Unrest Grows
Russian state TV is using clips of Fox News host Tucker Carlson to promote the country's war against Ukraine amid protests against Vladimir Putin's partial mobilization.
Clips of Carlson chastising the U.S. over its continued backing of Kyiv were broadcast to millions of Russians this week as the Russian president ramped up the country's war effort, according to Russian Media Monitor creator Julia Davis.
Protests against the mobilization in Russia continued on Saturday with at least 745 people detained, according to OVD-Info, a human rights watchdog that monitors police activity.
An ally of Putin has also threatened to send relatives of anti-war protesters to the front line in Ukraine.
News channels and TV pundits in Russia have regularly included clips from Carlson's show in a bid to sure up support for its illegal war with Ukraine.
On Saturday, Davis shared a video from Russian state TV where hosts played a translated clip of Carlson speaking on Fox News.
The footage shows Carlson saying "happy anniversary" to the now-seven-month conflict, before adding that it was impossible Ukraine could win a war against Russia.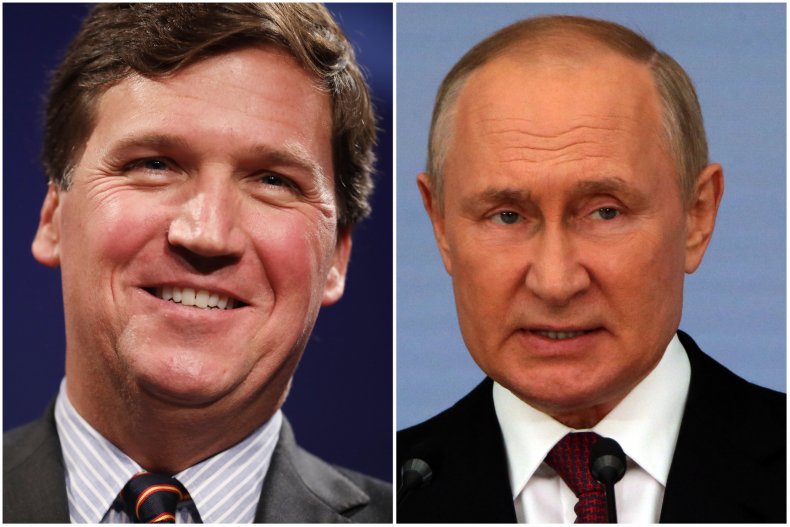 He later said: "It was clear, right away, that if Ukraine wanted to remain a sovereign country - and of course, all of us wanted that - Ukraine was going to have to reach some kind of negotiated settlement with Russia."
The Fox News host then noted how the war impacted Western economies and claimed the only person to benefit financially from the war would be Putin.
Referencing an article in Foreign Affairs magazine, Carlson then claimed the Joe Biden administration torpedoed a supposed peace deal between Ukraine and Russia with the hope of carrying out a regime change in Moscow.
Carlson said: "Biden's advisors wanted a total regime change war against Russia, apparently to avenge the election of Donald Trump, which they believe Putin was responsible for."
It was unclear whether Carlson's allegation that Biden wanted revenge was from the same article he referenced or whether it was his opinion. There is no evidence to suggest that Biden pushed to prolong the war due to Trump's 2016 election victory.
According to Reporters Without Borders, Russia ranks 155 out of 180 in terms of media freedom.
It said the Kremlin controls or has ties to many TV stations in Russia and all privately owned independent channels are banned from broadcasting with the exception for cable entertainment networks.
The Fox News host has previously been mocked over his claims that Putin was not, in fact, losing the war in Ukraine but actually winning.
Days after Carlson made the claim, Ukraine forced Russian troops to retreat from major strategic holds near Kharkiv. Many took to Twitter and referred to Carlson as "a master war expert."
In response to Ukraine's rapid gains, Putin announced a mobilization decree in order to draft more recruits for the war.
Russia is estimated to have lost tens of thousands of troops and thousands of military vehicles and equipment since the outbreak of the war.
But seemingly chaotic scenes were shared on social media following Putin's mobilization decree earlier this week.
One widely-shared video showed a drunken man staggering on the tarmac of an airport before he goes on what is believed to be a mobilization flight.
Newsweek has contacted the Fox News, the Kremlin and Foreign Affairs magazine for comment.
While Carlson claims Ukraine cannot win its defensive war against Russia, the Kremlin has previously launched invasions that have ended in defeat.
In 1989, the Soviet Union withdrew from Afghanistan following a disastrous campaign in an attempt to exert its influence in the region. Just two years later the Soviet Union collapsed.