Drunken Russian Conscripts Show Disarray of Putin's Mobilization
Chaotic scenes have been shared on social media following Vladimir Putin's mobilization decree amid reports that the authorities are looking to draft far more recruits than initially stated.
This week, the Russian president announced a partial mobilization where reservists would be called to active duty to prop up Russia's faltering invasion of Ukraine.
One video that has been shared widely shows a drunken man staggering on the tarmac of an airport before he goes on what is believed to be a mobilization flight.
"A group of not-necessarily-sober Russian conscripts on the territory of the Dolinsk-Sokol air base located in Sakhalin Oblast, Russian Far East," tweeted the account of Status-6, which covers armed conflicts.
Francis Scarr, from the BBC's Russian state television monitoring service, also shared the video, adding the message, "absolute scenes at an airfield in Russia's Far East where one man mobilized to fight in Ukraine was so drunk that he reportedly fell asleep in the long grass next to the runway."
A separate video posted on the Telegram account of news outlet Nexta shows a group of men at the side of a road next to a parked bus holding drinks and proposing toasts.
"I wonder in which cultures of the world is the ritual drinking of alcohol before a mass sacrifice?" said the message attached to the video, alluding to what might await Russian recruits when thrown into battle against Kyiv's forces.
Patrick Revell of ABC News tweeted a video that he said was from a "mustering station" in Russia where an officer "yells at angry, resentful men who have been mobilized. 'That's it- playtime's over. You're soldiers now!' the officer says."
Other videos widely shared over the last couple of days have shown men giving tearful goodbyes to family members before boarding buses.
The Kremlin has said that a total of 300,000 people with military experience would be called up but reports are emerging that groups thought to be exempt, such as university students, are also being targeted.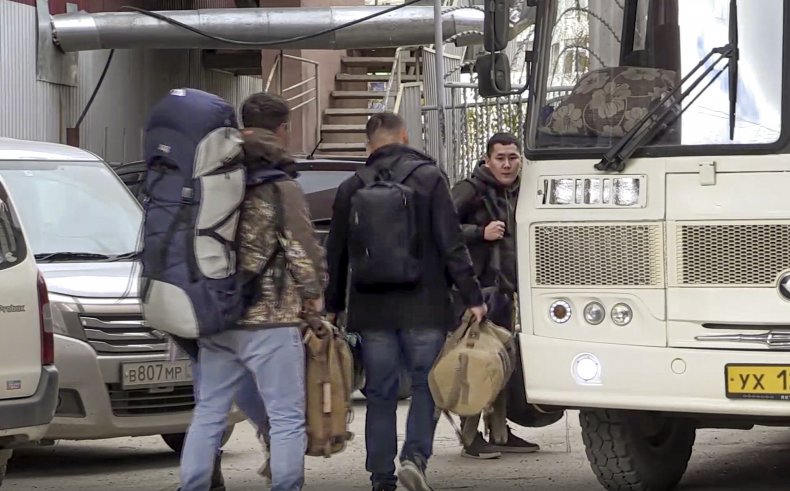 The independent Russian-language outlet Meduza said it had been told by a Russian government source that the mobilization intended to call up 1.2 million people, although Kremlin spokesman Dmitry Peskov has denied this. Newsweek has reached out to the Kremlin for comment.
Meanwhile, Scarr also tweeted a video of 63-year-old retired lieutenant colonel Alexander Yermolayev from the Volgograd region who said he had been called up to fight, despite the authorities stipulating that only reservists aged between 18 and 55 were eligible.
"He suffers from diabetes and cerebral ischemia, but said he hasn't undergone any medical checks and was passed fit to serve by a military doctor," Scarr wrote.
Putin's decree has sparked protests and the attempted flight from the country by huge numbers of Russians trying to avoid conscription.
BBC correspondent Will Vernon tweeted that a 17-year-old boy had told him that attending a protest against mobilization, he was detained and handed by police "a document that legally obliged him to go to the military enlistment office with his documents."
Ukrainian president Volodymyr Zelensky switched to Russian during his nightly address in an appeal to those in Russia, saying that men have "a choice to die or live, to become a cripple or to preserve health."
"Fight back. Run away. Or surrender to Ukrainian captivity. These are options for you to survive," he said. "Russian mothers—have no doubt that the children of the top officials of your state will not be sent to the war against Ukraine."