Conscription Chaos in Russia as Students Taken From Classrooms to Join War
Videos shared on social media show chaos, confusion and high emotions following Vladimir Putin's call-up of Russian citizens to join the fighting in Ukraine.
The Russian president's decree to partially mobilize his nation's population for the war has brought international condemnation, nationwide protests and an exodus of Russians desperate to flee the country. The conscription order affects reservists and ex-military personnel with "certain military specialties and relevant experience."
While the Russian military said that those studying full time would not be called up, mobilization officers reportedly arrived at a university in the nation's far east to enlist students.
A student at Buryat State University in Ulan-Ude, the capital of the Siberian republic of Buryatia, told news outlet The Village that national guard members and military police arrived "to take students straight from classes." The student also said a mobilization point had been set up.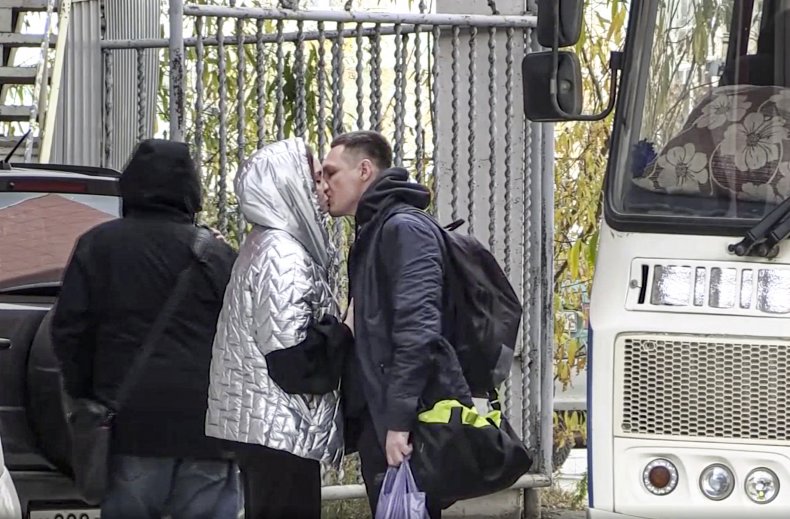 "The cops are on my campus, 10-15 people," a student wrote in a chat room. The Village reported. A local blogger said on social media networks that the police had arrived at the university at 7:48 a.m. Thursday.
By Friday afternoon, video from the outlet, which was also tweeted by Mediazona and purportedly shows the authorities arriving at the university and their vehicles outside the building, had been viewed more than 300,000 times.
Samuel Ramani, an associate fellow at the Royal United Services Institute, a London think tank, tweeted the video and described it as "an extraordinary example of the Kremlin's desire to go well beyond the rhetorical confines of its mobilization campaign."
Another video that was widely shared shows Russian officers on board a plane. Leaflets in the back of the seats suggested it belonged to Yakutia Airlines, which is based in the eastern Sakha Republic, where many people are being conscripted.
The clip was tweeted by Russian news website Grani.ru, with the message "mobilized in the plane."
Neither video has been independently verified, but they add to a picture of disarray in the implementation of Putin's conscription decree, which aims to call up 300,000 reservists.
Footage has been shared of families saying their goodbyes to men being sent off to the war in Ukraine. Meanwhile, independent protest-monitoring group OVD-Info said that among those called up since Putin's announcement were Russians arrested while protesting the mobilization.
Western leaders have called the mobilization an admission of Russia's failure to win the conflict in Ukraine since last February's invasion, while military experts have expressed doubt that it will offer the war effort any immediate benefit.
"They've already lost the equivalent of 20 percent of their entire military capability," said Dale Buckner, CEO of international security company Global Guardian. He was referring to a Pentagon estimate of 80,000 killed and wounded Russian soldiers.
"When you've lost the equivalent to two U.S. divisions, mobilizing 300,000 reservists who are not prepared, not equipped and not well trained is a delay tactic," he told Newsweek. "It's a Band-Aid at best."