Russian President Vladimir Putin's order calling up army reservists to fight in Ukraine is facing pushback—including, allegedly, from the son of his own press secretary.
Nikolay Peskov, 32, the son of Putin ally Dmitry Peskov, may have fallen victim to a prank call by a Russian YouTube channel, according to reports.
The hosts of Popular Politics allegedly called Nikolay Peskov live on air and pretended to be a military commissar, according to a report in the Ukrainian online newspaper Ukrainska Pravda.
A clip from the encounter has gone viral on Twitter, where it has been viewed more than 900,000 times since being posted on Wednesday.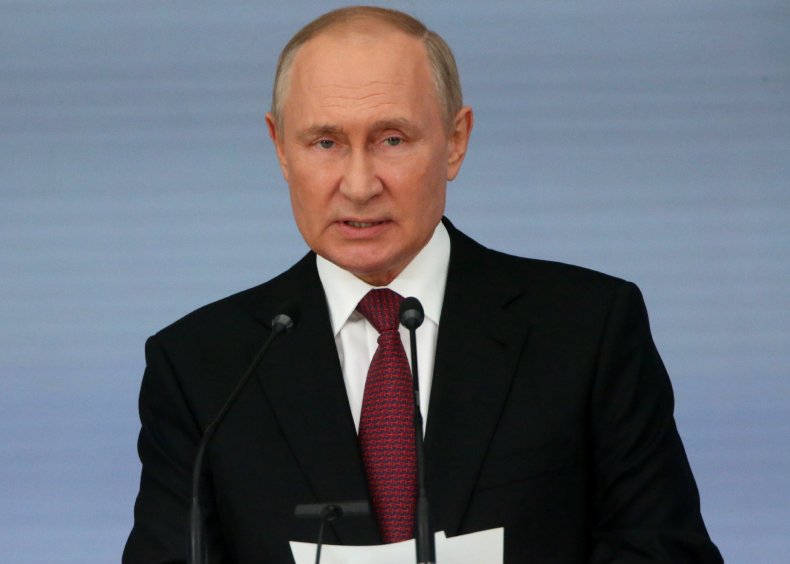 This comes after Putin announced on Wednesday that Russia would further escalate the conflict in Ukraine by ordering a partial mobilization of the Russian people against Ukraine.
One expert told Newsweek that Putin's partial mobilization could be his "political undoing," while another said it was "highly unlikely" that the call-up of up to 300,000 reservists would make any immediate difference to Russia's fighting power.
Many see Putin's push to replenish troops, which follows criticism of the war effort by Kremlin-allied military bloggers and television panelists, as an admission of failure.
The hoax against Peskov's son was a test of the belief among some analysts that the children of the elite and well-connected in Russia will be able to dodge the call-up.
In the video clip, Nikolay Peskov is asked to sign up as a volunteer to fight in Ukraine and report to the military commissariat at 10 a.m. the next day.
While appearing to be apprehensive of the call-up's validity, Peskov replied that he would not be turning up, according to Ukrainska Pravda's account.
"Of course I won't go there at 10 a.m. tomorrow. If you know that I am Mr Peskov, you should realise how entirely wrong it would be for me to be there," he was quoted as saying.
"I will resolve this at a different level. I need to understand in general what is happening and what rights I have."
"To be taken away tomorrow, believe me, neither you nor I need that," he continued.
"I have no problem defending my homeland, but I need to understand whether it's feasible for me to be there. I'm talking about certain political nuances."
Asked if a tick could be put next to his name as a volunteer to go to the front, Peskov reportedly replied: "No, don't tick that box for me."
He added: "I am ready to go, but not at your request: if Vladimir [Putin] tells me to go there, I will go."
Following Putin's announcement, demonstrations and protests have erupted in Russian cities, including Moscow.
Soon after Putin's announcement on Wednesday, flights to Armenia, Turkey and Georgia were reported to have sold out and six miles of traffic built up at Russia's border with Georgia on Thursday, suggesting some Russians are fleeing in response to Putin's decree.
Thousands of Russians were arrested for attending anti-war demonstrations in February and March, after the invasion of Ukraine began on February 24.
Newsweek has contacted the Russian Ministry of Foreign Affairs for comment.