Six Miles of Traffic at Russia's Georgia Border Amid Mobilization—Tracker
Six miles of traffic have built up at Russia's border with Georgia, the morning after President Vladimir Putin announced a partial military mobilization.
A Newsweek search on Yandex Maps shows a build-up of vehicles near the southern border, suggesting Russians are fleeing in response to the decree that reservists will be called up to fight in Ukraine.
At the time of writing, traffic is visible for a 6-mile stretch to the border checkpoint in Verkhnii Lars. Ekho Kavkaza, a Caucasus-based subsidiary of Radio Free Europe, published a video late on Wednesday showing a big queue at the checkpoint.
"People have already climbed into the oncoming lane. Some were out of line, some were standing earlier. It's impossible to pass," a voiceover states.
A Verkhnii Lars group on Telegram, set up for travelers who want to cross the border at the checkpoint, has grown by tens of thousands of members in a few hours.
Russians living in Moscow, St Petersburg, the southern city of Pyatigorsk, Mineralniye Vody in Stavropol Krai, Vladikavkaz and Krasnodar have all posted appeals for help.
"Will agree on a price, we need [assistance] urgently," wrote one St Petersburg resident.
"Hello! Is anyone from Moscow going tonight? I am a passenger with a small backpack. Gasoline with me," another asked.
One Telegram user asked if it was possible to pay to bypass the traffic at the border. "How to do it?" they wrote.
However, posts from those who said they were stuck in the traffic suggested this would not be easy. One wrote that they had only moved forward "500 meters in 3 hours" with "another 5.5 km" to go.
A motorist apparently traveling in the opposite direction posted: "We drove from Georgia to Russia quite quickly, but the traffic jam in the opposite direction is just gigantic."
A Telegram user who had made it to Georgia said she had been waiting for her son to join her for hours. "He has been standing in a fierce traffic jam from the Russian side for 4 hours," she wrote.
Yandex does not have an option to look up traffic conditions on previous days, but Newsweek searches on Yandex and Google Maps found that journeys to the border that "typically take" 10-15 minutes were taking four times as long on Thursday.
In the Telegram group, some expressed their frustration with the president, saying ordinary Russians were "just as against" the Ukraine war as "the rest of the world."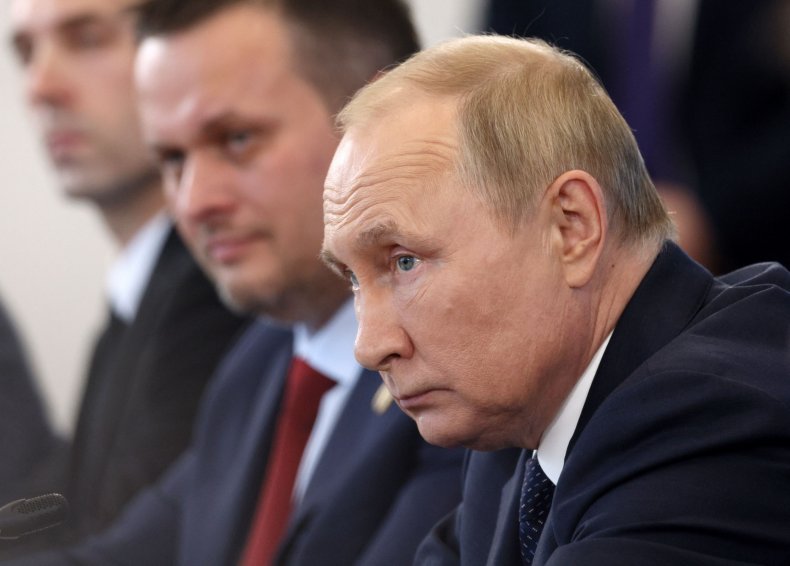 "It was not the Russians who unleashed the war, not the people, but the government, do you understand?" one wrote. "We did not elect him, we do not have free elections."
Earlier on Wednesday, after Putin's pre-recorded speech, the Russian online newspaper Lenta reported that flights to Armenia, Turkey and Georgia had sold out.
"All tickets for direct flights to Istanbul and Yerevan were sold out in a few minutes after Putin's address," the publication wrote on Twitter, alongside screenshots from airline websites.
The president said his partial mobilization was necessary "to protect the sovereignty, security and territorial integrity of Russia." It came after Ukrainian forces carried out a major counteroffensive.
Newsweek has contacted the Russian Ministry of Foreign Affairs and Georgia's Foreign Ministry for comment.