Marjorie Taylor Greene Wins GOP Primary and Is More Popular Than Ever
GOP Representative Marjorie Greene declared a massive primary victory in Georgia on Tuesday after she received a boost for her re-election campaign.
Greene, a prominent Donald Trump supporter who was endorsed by the former president, is known for her inflammatory remarks and for promoting the QAnon conspiracy theory in the past.
Greene not only received more than 50 percent of the GOP vote—avoiding a runoff race—she soared past the support she received two years ago when she first scored the Republican nomination to run in her district.
In 2020, Greene received only 40 percent of the vote during the primary, sending her to a runoff contest against John Cowan. She went on to clinch 57 percent of the GOP vote before defeating her Democratic opponent, who unofficially withdrew before the general election.
At the time Tuesday's race was called by the Associated Press, Greene had already received 70 percent of the vote. She ran against five other Republican candidates.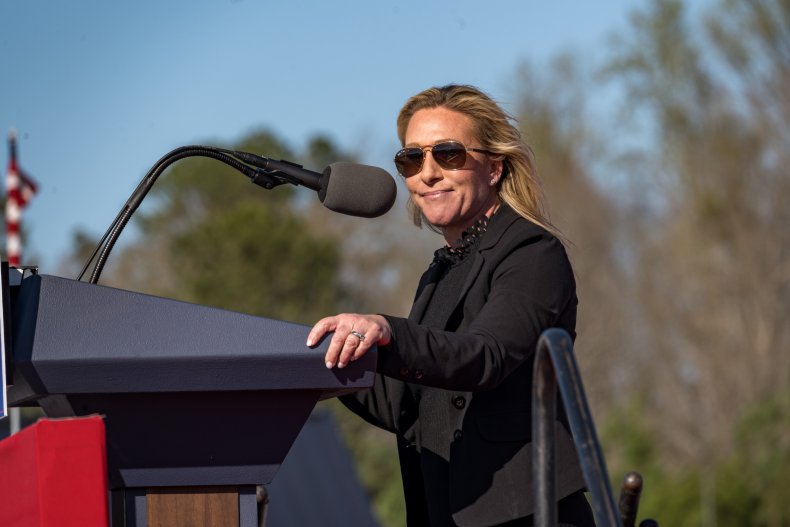 Weeks before the primary election, a group of voters in Greene's 14th Congressional District challenged her eligibility to run for office under the Constitution.
Citing her role in the January 6, 2021, Capitol riot, the group's lawsuit argued that the congresswoman had violated a Civil War-era provision under the 14th Amendment that prevents an individual who has taken an oath as a member of Congress from engaging in insurrection or rebellion.
However, an administrative law judge ruled against the challenge, finding that the Georgia voters lacked evidence to show Green "engaged" in an insurrection after joining Congress.
The recommendation then went on to Georgia Secretary of State Brad Raffensperger, who agreed to keep the congresswoman on the ballot despite helping to file the lawsuit challenging her eligibility.
Trump's biggest endorsement stake was in Georgia, where he endorsed challengers to two incumbents—Raffensperger and Governor Brian Kemp—as retaliation for their refusal to help him overturn the results of the 2020 presidential election.
President Joe Biden narrowly won Georgia's 16 electoral votes by a margin of 0.23 percent, or 11, 779 votes.
While Greene's critics had hoped to see her defeated in Tuesday's primary, as North Carolina GOP Representative Madison Cawthorn recently was, the overwhelming support for the congresswoman means her Democratic opponent—who had not yet been called when Greene's win was announced—will be in a particularly challenging contest come November.
The 14th Congressional District, which was created following the 2010 census, has only been represented by two members of Congress—Greene and former Representative Tom Graves, both Republicans.
Greene and Graves have had immense success in the district, always receiving more than 72 percent of the vote.