Marjorie Taylor Greene's Bill Would Allow People to Sue for COVID-19 Vaccine Discrimination
Representative Marjorie Taylor Greene (R-Ga.) is pushing back on the potential for vaccine passports and introduced a bill that would allow people to file a lawsuit if a business refused them service because they weren't vaccinated against COVID-19.
The We Will Not Comply Act that Greene introduced on Thursday would prevent businesses engaged in "interstate commerce" from "discriminating" against a person based on their vaccine status. The goal was to address the issue of vaccine passports, which have been floated as a possible requirement to travel on an airplane or attend a venue that's above the social gathering limit.
If a person feels they've been discriminated against because they haven't been vaccinated or refuse to wear a mask, Greene's bill would allow them to file a lawsuit.
"It's called Corporate Communism. Massive corporations are doing the dirty work of [President Joe] Biden and the Democrats. People should have the right to choose whether to wear a mask or get a vaccine," Greene told Newsweek. "They shouldn't have to deal with judgement, hate or denial of public accommodations due to personal health decisions."
It would also prohibit public colleges from requiring students to be vaccinated. Airlines haven't said if a vaccine will be required to travel, but if Greene's bill becomes law, it'll be illegal for them to deny someone from flying if they haven't been vaccinated. However, it won't be applicable to non-citizens entering the United States.
"Our bill seeks to provide a vaccination carve-out for our citizens, not all persons traveling to the United States," Greene told The Washington Examiner.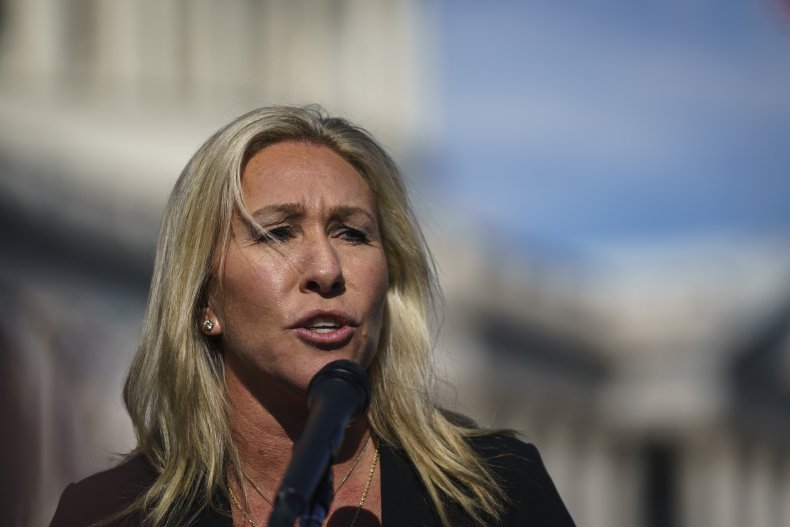 Vaccines are key to achieving herd immunity and returning to normal, and if all goes according to plan, America could reach the 70 percent vaccination threshold this summer or early fall, according to Dr. Anthony Fauci, director of the National Institute of Allergy and Infectious Diseases (NIAID).
Some people aren't interested in getting vaccinated, though, which presents challenges for the entire country reaching herd immunity. The federal government can't force a person to be vaccinated against their will, legal scholars told Newsweek last year. However, they can make life uncomfortable for those who won't get inoculated.
Jacobson v. Massachusetts, a precedent-setting 1905 Supreme Court case, gives states the power to require vaccination to engage in certain activities. Certain vaccines are already required to attend school and the same could be true for COVID-19 inoculations. Any mandate would likely need to have an exception for those who can't be vaccinated for health reasons and possibly those with a religious exemption.
Greene's We Will Not Comply Act would also express to the Senate that Jacobson should be overturned.
"This case set a terrible precedent that endorses mandatory state vaccination laws under the 'police power,'" Greene said in a statement.
Along with the We Will Not Comply Act, Greene introduced the "Fire Fauci Act." The legislation would reduce Fauci's salary to nothing and cite "numerous findings" about Fauci's "evolving and contradictory advice on COVID-19."
Fauci has faced criticism from some Republicans for his evolving opinion on public health measures and timelines. However, the infectious disease expert rejected there was anything malicious in his comments, saying that as knowledge and the situation evolves, so did his recommendations and opinions.
Newsweek, in partnership with NewsGuard, is dedicated to providing accurate and verifiable vaccine and health information. With NewsGuard's HealthGuard browser extension, users can verify if a website is a trustworthy source of health information. Visit the Newsweek VaxFacts website to learn more and to download the HealthGuard browser extension.