Marjorie Taylor Greene's Fire Fauci Act Becomes Georgia Rep.'s Most Supported Legislation
Representative Marjorie Taylor Greene's push to remove Dr. Anthony Fauci from his position of director of the National Institute of Allergy and Infectious Diseases (NIAID) is up to 16 cosponsors, the most of any of her bills, but it's unlikely to succeed in Congress.
Greene, a controversial congressional figure, has been targeting Fauci, a longtime presidential adviser, since the end of last year. She's taken issue with his evolving stance on public health measures and has pushed for him to be investigated and fired because of how he handled the COVID-19 pandemic.
At 16 cosponsors, her bill, the Fire Fauci Act, is her most co-sponsored legislation, according to Congress.gov. Initially tied with the Second Amendment Preservation Act at 15 cosponsors, the legislation targeting Fauci gained a 16th cosponsor at the end of September when Representative Michael Cloud, a Texas Republican, signed onto it.
Nick Dyer, a spokesperson for Greene, told Newsweek Fauci was "wrong every step of the way" since the first case of COVID-19 in the United States. He accused Fauci of selling "lies" to the American people and credited it for why Greene's bill is "so popular" among Republicans. "It's long past time for him to go," Dyer added.
Although called the Fire Fauci Act, the bill wouldn't actually terminate his employment. Instead, it would reduce the salary of the director of the NIAID to $0 until a new director is appointed by the president and confirmed by the Senate.
Introduced in April, the bill would also kickstart an audit of Fauci's emails, policy memoranda and financial transactions from October 1, 2019, through December 31. A report would then be submitted to Congress regarding the results of the audit.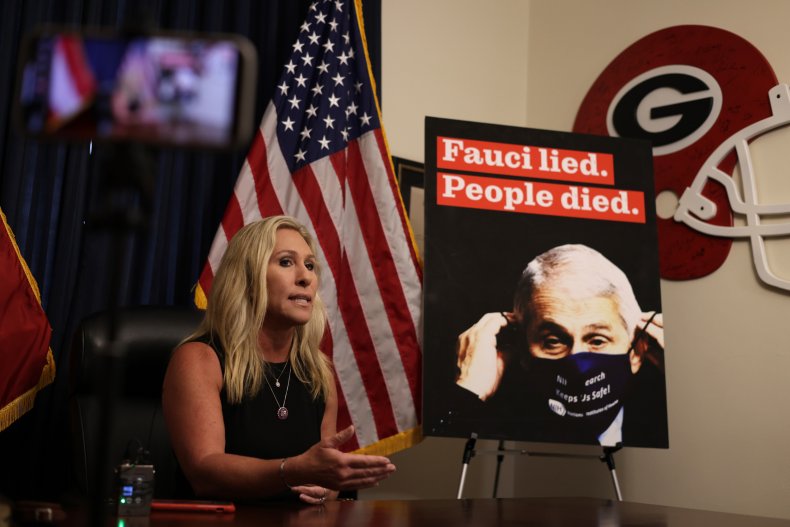 Greene's bill took particular issue with Fauci's salary and claimed he "failed to provide Americans with accurate information" about the pandemic. She called out his evolving stance on mask-wearing, which he first said was unnecessary for those who were not high risk and did not feel sick but later backed universal mask-wearing.
Fauci denied having done anything improper during the COVID-19 pandemic and has frequently explained that his recommendations have changed to match increasing knowledge about SARS-CoV-2. Initially, it was believed there was little asymptomatic transmission, making the need for universal mask-wearing unnecessary.
Greene also disagrees with Fauci's assessment that the response to the pandemic is vaccination and public health measures, not one or the other and that the prevention measures, such as mask-wearing and social distancing could be necessary well into 2022.
America's seen a resurgence of spikes in COVID-19 cases as the highly transmissible Delta variant took hold in the country, causing additional deaths and hospitals to be overwhelmed. As has been the case with other waves, about two months after it started, cases are starting to decline. Sunday marked the fourth week in a row that the country saw a downturn in cases, but Fauci has cautioned not to become complicit.
On Sunday, Fauci told CBS News' Face the Nation that it's "too soon to tell" whether people should limit who they see for the winter holidays. He advocated for focusing like a "laser" on continuing to drive cases down, which can be accomplished by vaccinating the unvaccinated and administering booster doses to those who are eligible.
While Biden had hoped for boosters to be widely available in September, the Food and Drug Administration (FDA) only advised they be given to those who are over 65 years of age or under 65 but considered high risk for developing serious disease or a frontline worker.
Fauci's comment that it's "too soon" to make a judgment call about Christmas prompted criticism from many Republicans, including former President Donald Trump's son, Donald Trump Jr. The NIAID director pushed back on the criticism, according to Politico's Christopher Cadelago, who posted on Twitter that Fauci said he would be spending Christmas with his family and encouraged people, especially those who are vaccinated to have a "good, normal Christmas."
Although Greene's bill continues to gain cosponsors, it's unlikely to garner enough support to become a law. Republicans are outnumbered in both the House and the Senate and even if it got enough Democrats to sign onto it, it's unlikely Biden would sign it, as he's continued to back Fauci as a premier expert in the field of infectious disease.
Greene has agreed to trade her vote on the infrastructure bill for Speaker of the House Nancy Pelosi's support on several items, including the Fire Fauci Act.
Updated 1/4/2021 - 2 PM ET -This article has been updated with comment from Nick Dyer, Greene's spokesperson.