Texas Representative Dan Crenshaw harshly criticized fellow Republican Representative Marjorie Taylor Greene on Monday for carrying on what he called "petty and childish attacks" on social media rather than offering anti-censorship legislation.
Crenshaw made the comments on his official Instagram account, where he wrote in his stories: "She [Greene] doesn't want solutions and she doesn't care if you get censored. She just wants to be a victim so she can keep asking you for campaign donations. It's a scam."
His posts came after the Georgia congresswoman was permanently suspended from Twitter over the weekend for repeatedly violating the platform's policy against sharing COVID-19 disinformation.
In a Sunday statement, Greene wrote of her ban: "Twitter is an enemy to America and can't handle the truth. That's fine, I'll show America we don't need them and it's time to defeat our enemies."
Crenshaw called out the Georgia lawmaker for her comments regarding the suspension, suggesting to her via Instagram that "instead of playing the victim about censorship maybe use your position as a LEGISLATOR to help pass LEGISLATION against censorship."
He continued, "Luckily I've already done all the hard work for you and drafted a bill that would change Section 230 to prohibit political censorship. Want to co-sponsor before I introduce it? Or prefer to keep up with petty and childish attacks? Your call."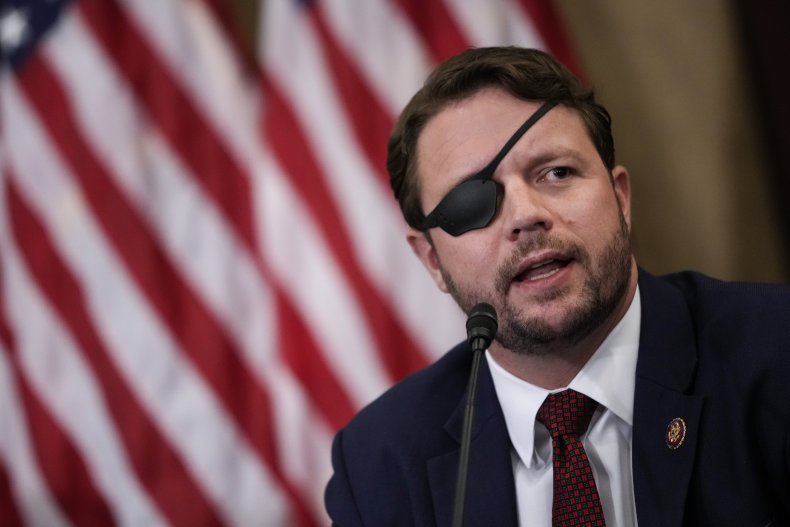 Crenshaw also provided a link to his proposed legislation.
Greene responded to Crenshaw's rebuke by also posting on Instagram. She claimed the former Navy SEAL "spends more time attacking America First Republicans because he (not so secretly) hates Trump."
Greene also posted a picture of a voting roll call document that showed Crenshaw didn't vote on last summer's "The ESG Disclosure Simplification Act," which requires public companies to disclose key information to shareholders.
Greene wrote, "Unfortunately, Dan doesn't always walk in the chamber to vote to stop Democrat bills, even when he's in town. Republicans would have stopped Maxine Waters' bill, but Dan couldn't be bothered to vote."
The back-and-forth between the two continued. Crenshaw wrote of Greene's message: "Haha, oh Marjorie, this is your big comeback? That I missed a vote once? Over a bill that went nowhere anyway? Who told you this was a good counter point?"
He later posted a photo of Greene seated at a table and wrote, "This was the moment you went for a few drinks instead of voting on the NDAA [National Defense Authorization Act]. Before bringing up missed votes, you might want to check your own record."
The mudslinging between the two GOP politicians first began before Greene's Twitter ban. Crenshaw had appeared on Fox News on December 30 and suggested President Joe Biden use FEMA resources to set up new COVID-19 testing sites.
Greene scoffed at the suggestion, writing on Instagram that "FEMA should not set up testing sites to check for Omicron sneezes, coughs, and runny noses." She also said Crenshaw "needs to stop calling himself conservative, he's hurting our brand."
This elicited the following comment from Crenshaw: "Hey, Marjorie, if suggesting we should follow Trump policy instead of Biden mandates makes you mad, then you might be a Democrat—or just an idiot."
Crenshaw has also been critical of Greene and the House Freedom Caucus in the past, calling the members of the conservative group "grifters" and "performance artists" during an early December speech to the Texas Liberty Alliance PAC.