Marjorie Taylor Greene Calls Twitter 'Enemy to America' After Permanent Ban
Twitter suspended Georgia Republican Rep. Marjorie Taylor Greene's personal account on Sunday for a tweet it said violated its policies.
Greene's office confirmed to Newsweek that the account has been suspended.
The social media giant suspended Greene's account Sunday morning after she criticized Republican Rep. Dan Crenshaw because he called for using FEMA resources to bolster COVID testing sites.
Crenshaw told Fox & Friends on Thursday that the government should deploy Federal Emergency Management Agency resources to boost COVID testing sites and open up new ones amid the spread of the Omicron variant.
"No FEMA should not set up testing sites to check for Omicron sneezes, coughs, and runny noses and we don't need FEMA in hospitals, they should hire back all the unvaccinated HCW [health care workers] they fired," Greene wrote on Twitter. "He needs to stop calling himself conservative, he's hurting our brand."
Crenshaw had said on the show: "This is what we saw happen during the Trump administration. They should be using our resources to increase those supply chains to get those monoclonal antibodies out to people faster, and President Biden announced this—we just haven't seen results from it, helping us get more health-care workers from the military or from FEMA to aid in some of these hospitals that are feeling a little bit overwhelmed."
In a post on Gettr on Sunday, Greene slammed Twitter for suspending her account:
"When Maxine Waters can go to the streets and threaten violence on Twitter, Kamala and Ilhan can bail out rioters on Twitter, and Chief spokesman for terrorist IRGC can tweet mourning Soleimani but I get suspended for tweeting VAERS statistics, Twitter is an enemy to America and can't handle the truth. That's fine, I'll show America we don't need them and it's time to defeat our enemies."
In a statement sent to Newsweek on Sunday she wrote:
"They can't successfully complete a Communist revolution when people tell the truth. Social media platforms can't stop the truth from being spread far and wide. Big Tech can't stop the truth. Communist Democrats can't stop the truth. I stand with the truth and the people. We will overcome!"
The suspension appears to be permanent, with the Georgia lawmaker racking up five strikes against her for violating the platform's COVID information policies, reported the New York Times.
"The consequences for violating our COVID-19 misleading information policy depend on the severity and the type of violation and the account's history of previous violations," a Twitter spokesperson told Times reporter Davey Alba.
Greene's personal Twitter account was previously suspended for violating the platform's COVID-related policies. In one instance in August, the Georgia Representative claimed that the COVID vaccines are failing and are not slowing the spread of the virus.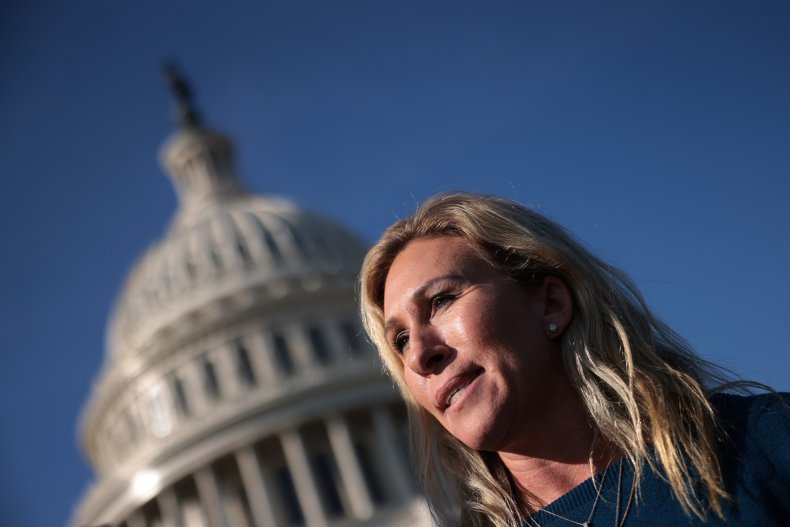 A Twitter spokesperson told Newsweek at the time that her account will be in "read-only mode" for a week because of "repeated violations" of Twitter's rules. A seven-day account lock is placed after "four strikes," according to the social media platform. One more "strike" could result in permanent suspension.
In another instance last month, Greene claimed that the COVID variants are "hardly killing anyone." She was referring to the Omicron variant, her spokesperson told Newsweek at the time.
Similarly, Twitter temporarily suspended Greene's account in July after she said that COVID "was not dangerous for people under the age of 65 who are not obese."
Newsweek contacted Twitter for more information and will update this article with any response.