Mark Cuban, Who Endorsed Joe Biden, Laments 'Absolutely Zero Charisma' in Administration
Mark Cuban, billionaire entrepreneur and owner of the Dallas Mavericks, recently criticized President Joe Biden's administration for lacking charisma.
In an interview with Politico published on Wednesday in which the publication asked Cuban and others to grade Biden's first year in office, Cuban gave the president an overall B grade for his performance so far.
Cuban said that the he thinks "the glaring problem is that there is absolutely zero charisma in the Biden administration."
"It may be unfortunate that it is even a consideration, but in a social media and sound-bite world where everyone is a performer, someone has to have some charisma that connects to people and overwhelms memes, headlines and soundbites as a source of information," Cuban said.
But Cuban said that on the "plus side" he believed the U.S. is "in an AI and semiconductor arms race to be the dominant military and economy of the world."
"It is a zero-sum game we have to win," Cuban said.
"The Biden administration is technologically literate and the U.S. Innovation and Competition Act and the NDAA will make a huge difference and hopefully allow us to win this race," Cuban added, referring to the National Defense Authorization Act, the defense spending bill Biden signed into law in December.
The U.S. Innovation and Competition Act is pending legislation that passed the Senate in June and is intended to improve the U.S.'s ability to compete with China. It includes billions for research grants and would boost semiconductor manufacturing.
During the 2020 presidential campaign, Cuban endorsed Biden, and said that unlike former President Donald Trump, Biden "actually wants to run a country."
One year into his presidency, Biden continues to face low approval ratings. A survey released by Gallup on Wednesday found 40 percent of U.S. adults approve of the president's job performance.
"Among post-World War II presidents elected to their first term, only Donald Trump had a lower first-year average rating, at 38.4 percent. Bill Clinton's first-year average was similar to Biden's, but all other first-year presidents averaged 57 percent or better," Gallup said.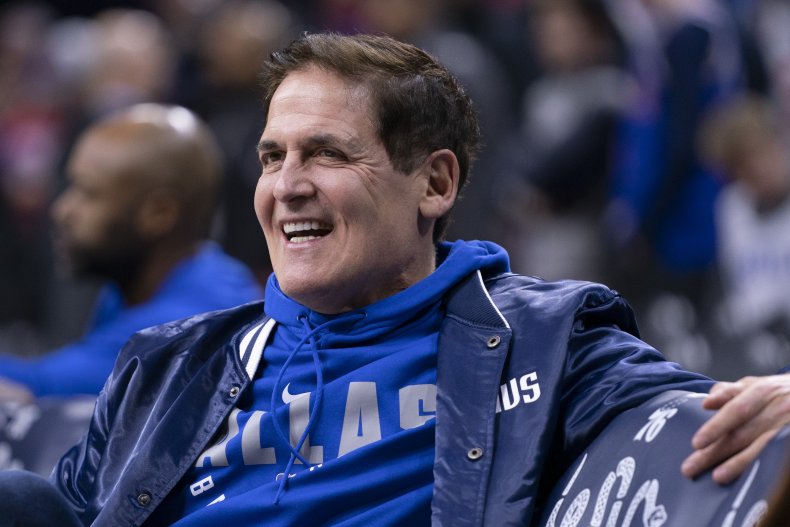 Speaking to reporters on Wednesday, Biden said that in 2022, he will get out of the White House more often and speak to the public.
"I'm going to do public (forums). I'm going to interface with them. I'm going to make the case of what we've already done, why it's important and what we'll do, what will happen if they support what else I want to do," Biden said.
Biden also said that he wants to be "deeply involved" with Democratic Party in the midterm elections this year.
Newsweek reached out to the White House for comment, but did not receive a response before publication on Thursday morning.