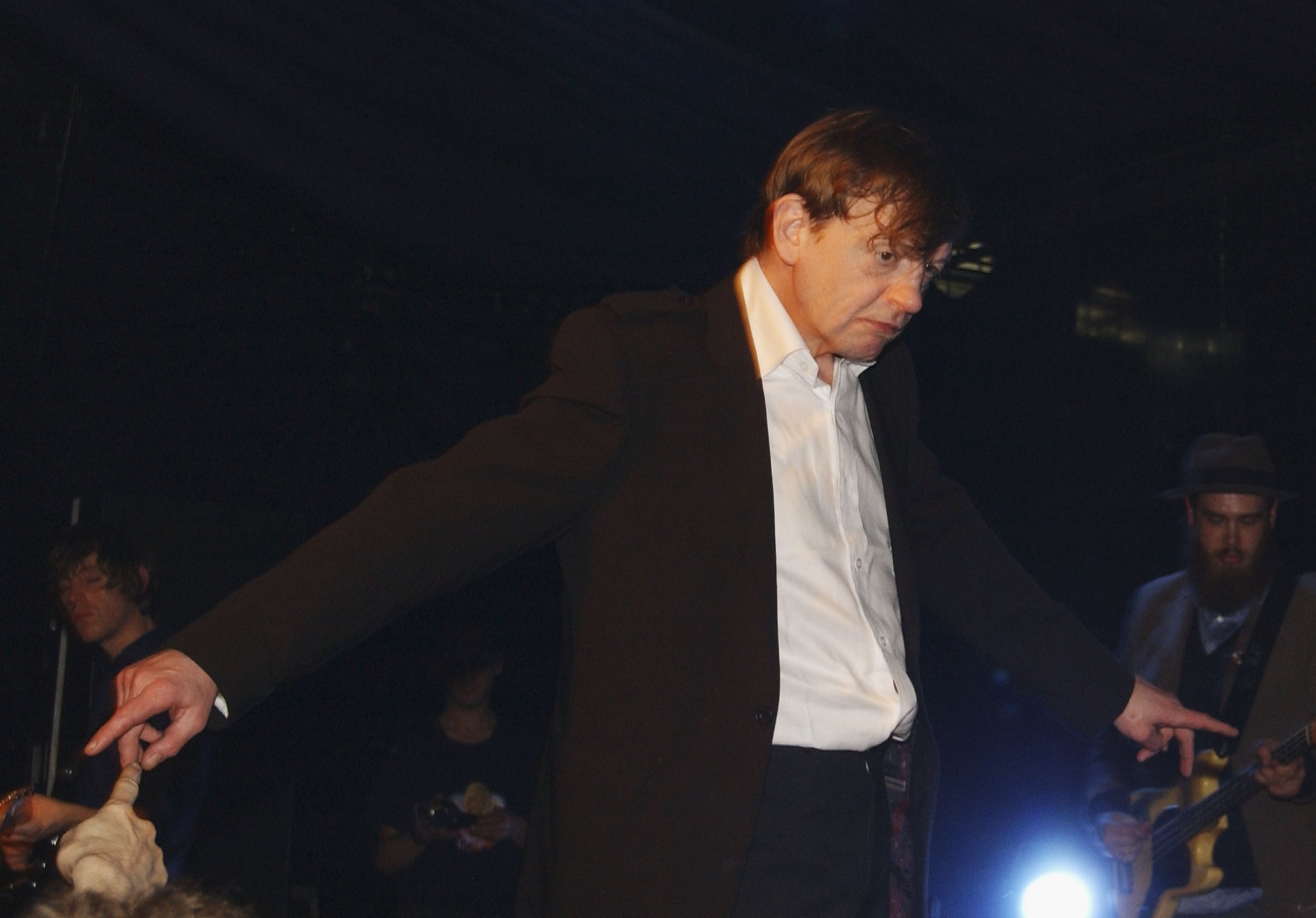 Mark E. Smith was brilliant, cantankerous, relentless, mercurial, infuriating and incomparable—often all at the same time.
Journalists feared him, fans idolized him, bandmates alternately adored and resented him and far more bands than one could name in the space of this article were influenced by his caustic, stream-of-consciousness approach to songwriting and performance. Smith, who died this week at 60, was never boring.
And he never stopped. As longtime frontman of the the Fall, whose lineup appeared to change every time he sneezed, Smith was absurdly prolific, releasing 32 studio albums dating back to 1979's Live at the Witch Trials (roughly an album a year). His vocal style was gruff and sneering, his lyrics elliptical—populated with eccentric characters and confounding historical references—and repetitious all at once. ("I'm plagued with graduates reading things into the songs," he once said of fans attempting to parse his words.)
But his music, which inspired obsessive devotion, was often overshadowed by Smith's erratic and authoritarian personality. Fist fights, firings, frazzled nerves, onstage meltdowns—they were all part of Fall lore, which would require several encyclopedia volumes to chronicle in full. This resulted in a combative relationship with the press. As the book Mark E. Smith and the Fall: Art, Music and Politics notes, "journalists simultaneously relish and fear interview encounters" with the temperamental rocker.
Since Smith died on Wednesday, stories and tributes have been pouring forth. Here are 29 wonderfully weird and truly excellent stories about the legendary frontman. (If you have a Mark E. Smith story you're dying to share, please email me.)
1. He fired people for insane reasons.
Smith reportedly fired a studio engineer for ordering a salad. This story went viral on Twitter after Smith died and appeared in several obituaries. It may have originated in a 2008 Telegraph profile, which describes some of the singer's most mercurial axings.
2. He once fined his drummers £5 every time they played the tom-tom.
This is one of many remarkable stories that surfaced in Guardian writer Dave Simpson's 2006 attempt to track down every former member of the Fall.
3. He hired and fired the same drummer nine times.
The drummer in question, Karl Burns, often objected to Smith's leadership style, according to that Guardian piece. The friction between the two men culminated in a physical altercation at a 1998 concert: Smith deliberately knocked over the drummer's cymbal stand, and Burns retaliated by punching Smith onstage.
4. He claimed to have fired one bandmate on the guy's wedding day.
Accounts of Marc Riley's dismissal from the Fall vary. Smith claimed to have fired the future BBC DJ on his wedding day, while Riley has maintained that Smith fired him by phone the month after he was married. (Smith's account, according to the BBC, was that "he got rid of Riley because he didn't like the fact Riley was questioning the writing credits, or the fact he danced to Deep Purple in a nightclub while on an Australia tour in 1982.") Regardless, Smith later mocked his ex-bandmate with a Fall song titled "Hey Marc Riley."
5. There was only one crucial member of the Fall.
Smith was legendary for firing bandmates on a whim, to the point where the Fall's constantly changing lineup became a source of amusement for fans. He hired and fired more than 50 bandmates over the years. (Even Wikipedia could barely keep track of the group's membership.) Smith once famously quipped: "If it's me and yer granny on bongos, it's the Fall."
6. He used to send Christmas cards to the NME offices every single year.
And signed each card "Your pal, Mark E. Smith," according to The Guardian.
7. He also once wrestled an NME reporter to the ground.
And then attempted to bite the guy on the neck! (The reporter, Mark Beaumont, has just published his own account of the altercation, which includes the phrase "bites down on my throat like a pissed cheetah on a startled journalistic gazelle.")
8. He punished his bands for playing lousy shows.
After one gig, he gave one slap across the face per bandmate. (According to The Telegraph, Riley was in the band at this time and dared to fight back.)
9. He thought Gorillaz was "kiddie rap."
In 2010, Smith guested on the great Gorillaz album Plastic Beach, despite having no clue who or what Gorillaz was. "I actually thought Gorillaz were some kiddie rap, like helping out Dizzee Rascal or something," the bandleader said in a subsequent interview with Clash. "Where I live in Manchester, Gorillaz mean jack shit, honestly."
Related: Mark E. Smith, frontman of the Fall, has died
10. He heard Pavement and thought it was the Fall.
Or maybe Smith was joking? Either way, he wasn't impressed, as he told Melody Maker in 1993: "People were coming up to me saying 'listen to this', and playing me Pavement records on a Walkman, and I just asked, 'What live tape is that of ours? Is that from Holland in 1987 or something? That's a fucking drum riff I wrote. The cheek!'" (The following year, Smith said he'd never really listened to Pavement in an interview with music critic Mark Prindle. In recent years, he remained disinterested in new artists, telling The Guardian in 2017 that "the standard of music these days is fucking terrible.")
11. He apparently wasn't impressed by Suede either.
Suede drummer Mat Osman tweeted a remarkable story about the time Suede opened for the Fall on a handful of dates. "Everyone told us [Smith] could be rough on support bands but he was great," Osman tweeted. On the drive home from the tour, Osman and his bandmates flipped on the radio and, as he recalls it, heard this exchange between Smith and the broadcaster, Richard Skinner:
12. He never read his own autobiography.
The book, Renegade: The Gospel According to Mark E. Smith, was written by a ghostwriter and published in 2008. When a Telegraph reporter interviewed Smith and noted that the book mentioned the influence of Johnny Cash, Smith groaned and gestured at his ghostwriter: "'Oh no, he hasn't put that in, has he?"
13. His handwriting was…bad.
According to the writer and Fall expert Geeta Dayal:
14. He claimed to have had a premonition of September 11.
Smith hit rock bottom in the 1990s, when he was arrested on assault charges shortly after getting into an onstage fist fight in New York. He spent two nights in a jail in lower Manhattan. "The prison was opposite the World Trade towers," he told The Telegraph. "When I was released, I found myself in front of them, talking to a cop." He claimed this caused him to envision the 9/11 attacks before they happened.
15. He used his psychic powers to earn money.
From that same Telegraph piece: "In the early days of the Fall, he financed the band by giving Tarot readings to local housewives."
16. He once "rescued" his drummer and sound guy from being seduced.
It was 1981, and the Fall was on tour in Austin. "The mixing guy and the drummer were kidnapped by these fucking weirdoes," Smith later recounted to journalist Kevin Perry. "There were all these birds in miniskirts with their tits out. They were all very attractive. We were looking through the blinds and we could see the drummer and the sound guy in the middle of all this. I said, 'We've got to get them out!' Me and the bass player did this sort of weird attack. We broke in through the fucking skylight. We got them, but they weren't very pleased about it. They were in their underpants with hard-ons and white powder all over their faces. I said: 'Get in the van, you fucking cunts! Say goodbye to Austin, matey. You're going back to the misery.'"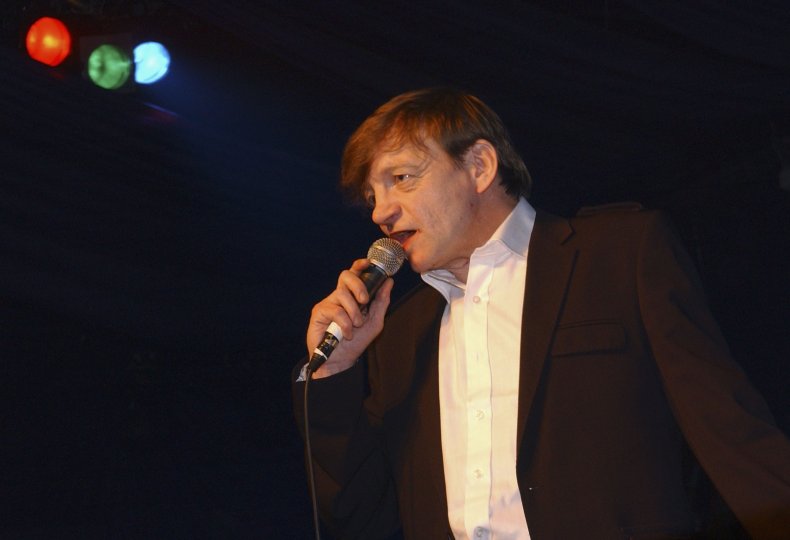 17. He used his dentures to freak people out.
A priceless anecdote from Perry's GQ remembrance of Smith: "At the New Oxford in Salford, he broke a conversational lull by asking: 'Do you ever suffer from hallucinations?' then promptly popped out his dentures and gurned toothlessly around the bar."
18. He had an occult phase.
"But you can't really go around talking about it," Smith later told a punk zine, "or people will just come out with facts, books and lists… 'oh yeah, Crowley, blah blah blah…' All these boring farts, you know." Smith later said that he knew people who were into witchcraft and titled his first album Live at the Witch Trials just to irritate them.
19. He couldn't vote because he hated the internet.
In a 2016 interview with Channel 4 News, Smith scoffed at social media and computers, and he claimed that he couldn't vote in England's Labour Party leadership election because of his disinterest in going online. "Half the country is not interested in computers," Smith claimed on camera. "Why does everybody have to be online?" (Fair question.) He said some other stuff, too, but it's impossible to hear because most of the sentence got bleeped out.
20. He did not care for Elton John.
Smith, quoted in 2017, describing the state of new music: "A lot of it sounds like when I was 15 and I'd go round to a long-haired guy's flat to score a joint and they'd always put on some fucking lousy Elton John LP."
21. Or Prince fans.
Smith, in the same interview: "Prince's manager once told me that I was the only person other than Prince who can recruit from the streets." The Guardian: "Are you a Prince fan?" Smith: "No. They're weird, aren't they, Prince fans?"
22. Or… squirrels?
In 2008, the Royal Society for the Prevention of Cruelty to Animals began investigating Smith after he boasted of killing squirrels who were eating his garden fence.
23. He threw champagne in a fellow performer's face before playing Glastonbury in 2015.
"They got a bit cheeky so they were taught a lesson," Smith told The Guardian, referring to the band Fat White Family. "I don't think they're fans anymore." Evidently Smith spilled some champagne on his own pants, causing one outlet to report that he had peed his pants before the set.
24. He won NME's Godlike Genius award in 1998, and then mocked NME onstage.
When his name was called, he loitered awkwardly near the stage instead of approaching the podium. Then he took the microphone and quipped, "I think the achievement should go to the people who read NME and can manage to read it from cover to cover."
25. He once told off a television presenter on air because he confused him for somebody else.
"I was in a different studio and I couldn't see who I was talking to," Smith explained, cackling, in a subsequent Guardian interview.
26. He poured beer on his tour bus driver's head.
The 2005 incident occurred while the bus was hurtling down a highway, somewhere in Arizona, according to an old Guardian piece, and resulted in most of Smith's bandmates quitting en masse. No word about the poor driver.
27. He abandoned his drummer at a service station after a fight.
The band had to recruit a new drummer less than an hour before their gig at the 1999 Reading festival. So they recruited the manager of the Chemical Brothers, Nick Dewey. "He was led into the band's tour bus to find Mark E. Smith passed out topless on a sofa," The Guardian reported. "The band member who led him in woke Smith by punching him in the face."
28. He performed drunk, drooling and with a black eye.
Ex-Fall bassist Steve Hanley once said that Smith would "rather do 10 great gigs and 10 rubbish gigs than anything in the middle." Newsweek reporter and Fall fan Michael Edison Hayden found this to be true when he saw the band perform in 1998.
"I saw the Fall at this little club called Coney Island High that doesn't exist anymore," Hayden recalls. "I went with my friend Ross, who is now a college professor. We were roommates at NYU, and Ross listened to every Fall album over and over. Even the weird, really obscure ones. We used to listen to them while we played video games and stuff. We were really psyched for the show.
"I remember that Mark E. Smith just staggered out on stage drunk out of his mind. He had a black eye and looked like he was drooling. He started reading from the track lists and stuff instead of singing the lyrics. He started fiddling with the band's equipment and amplifiers and stuff. I don't think they got through three songs. He kept falling down and stuff." At the time, Hayden felt let down by the show. Today, "I look back on it with a lot of fondness," he says. "It's probably one of my favorite shows I've ever been to. What else were the Fall going to do live?"
29. He had a sweet side.
Smith could be warm and generous…sometimes. According to one story (which seems to have originated in a 2010 Quietus piece), he once comforted a young girl who had lost her teddy bear. The rocker supposedly proceeded to send her postcards, which he signed "Mark E. Bear." Whether or not that story is true, bandmates do say Smith had a warmer and kinder side.