Review: Gorillaz's 'Humanz' Is an Unstable Soundtrack for an Unstable Moment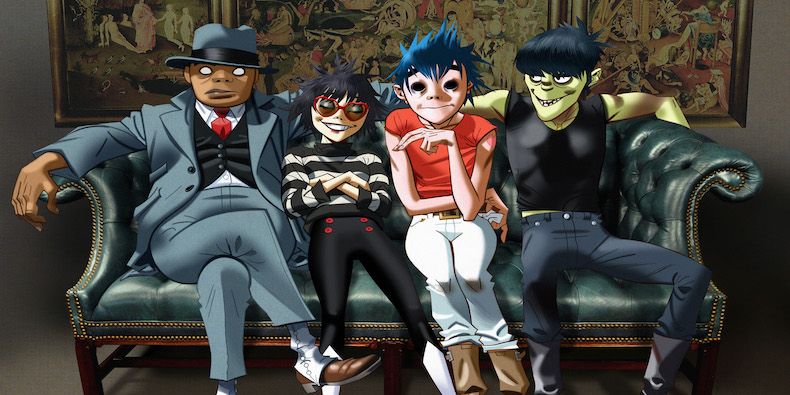 When the new Gorillaz album was being made—pieced together through a process I imagine looking more like Willy Wonka's Inventing Room than any conventional recording session—Damon Albarn instructed his collaborators to imagine a fallen world in which Donald Trump was president.
It was late 2015, early 2016. A Trump win was still a dystopian fantasy, an unimaginable absurdity. Lots of past Gorillaz tracks have grasped at the unimaginable (the surrealist parable of "Fire Coming Out Of The Monkey's Head," the ecological apocalypse of "Plastic Beach"). But this was more immediate. In a recent interview, Pusha T (who appears on the 14th track, "Let Me Out") recalled being asked to conceptualize this album as "a party for the end of the world, like if Trump were to win." When the prophecy came true, Pusha T was spooked. Did Albarn know something he didn't?
Gorillaz, the world's self-proclaimed most successful (and certainly best) "virtual band," is officially comprised of animated characters with names like "Noodle" and "2-D." The iconography surrounding the group is cartoonish and, well, fake. But in reality, the project is masterminded by Blur veteran Albarn and comic book artist Jamie Hewlett, and the anxieties that permeate Gorillaz's fifth album, Humanz, are profoundly and immediately real. Aided by a typically kaleidoscope array of guest appearances, Gorillaz has made an unusually scattered album swathed in sociopolitical dread.
Humanz is eclectic, moving from sputtering electro-funk ("Strobelite") to hollowed-out gospel weirdness ("Hallelujah Money"), but tends to revolve around the world-weary electronic pop that's been Damon Albarn's trademark since Blur (temporarily) dissolved. On the downbeat "Busted and Blue"—the only song without a guest feature—Albarn frets about technology's domination over humans: "Where do they come from / The wires that connect to us?" On "Ascension" (which really does sound like a thumping dance party for the end of the world), Vince Staples panics that the sky is falling and salutes America, "where you can live your dreams long as you don't look like me."
The result is flickeringly great, but not as cohesive as previous Gorillaz outings, particularly 2005's brilliantly twisted Demon Days. That album's influence looms large on "Hallelujah Money," a woozy capitalist dirge sung by the English singer Benjamin Clementine. The song was made available the day before Trump's inauguration, and it contains the most direct allusions to the tweeter-in-chief: references to nationalist anxieties and "building walls ... even stronger than the walls of Jericho." The track, with its gospel choir and burbling synthesizer arrangements, achieves some strange, distinctly 2017 pathos.
Every Gorillaz album lives and dies by its guest collaborations. Previous albums have featured some genuinely bonkers appearances—Dennis Hopper's bizarro monologue on Demon Days, Bobby Womack's death-defying wail on "Stylo," Lou Reed's weirdly great bit on "Some Kind of Nature." There are more guest spots than ever on Humanz (particularly from the hip hop world: De La Soul, Danny Brown, D.R.A.M, etc.), but few that are as head-spinning or joyously bizarre. There are highlights: Vince Staples and Brown deliver strong verses on "Ascension" and "Submission," respectively, and the immortal Grace Jones lifts "Charger" to almost hysterical heights. Also: "Momentz" is yet another Gorillaz/De La Soul mood-lifter, from the team that brought you "Feel Good Inc."
Related: When Bobby Womack met Gorillaz
But most of the guest performers remain within their comfort zones. The album winds up feeling more like a compilation, lacking anything like the mournful closing suite of songs that tied together Plastic Beach and solidified its conceptual arc. On the final track, "We Got the Power," Albarn corrals Jehnny Beth (of Savages) and Noel Gallagher (of Britpop rivals Oasis) for a grand finale that's big on self-empowering platitudes but not quite as fun as Liam Gallagher's salty tweet blasting the whole affair (yes, he called Albarn a "gobshite").
On "Ascension," Albarn cuts to the heart of the bewildering present age: "In these times of sedition / Well, nothing is dull." He is right. And even on Gorillaz's messiest and most uneven work, nothing is dull.