Mark Hamill Responds to Trump Jr.'s Doctored Adam Schiff Image With Photo of President As Jabba the Hutt
Star Wars legend Mark Hamill is the latest celebrity to weigh in on the fallout from the tweet sent by Donald Trump which shows the president's head superimposed onto an image of fictional boxer Rocky Balboa.
Trump's tweet on Wednesday, which linked his face with the body of actor Sylvester Stallone in his youthful prime, left many scratching their heads and sparked many responses on Twitter.
In what appeared to be a defense of his father, Donald Trump Jr. joined in the fun and mocked the head of the house intelligence committee, Adam Schiff, who is presiding over the impeachment inquiry into the president, by tweeting a doctored image of him in a leotard.
Trump Jr. tweeted: "Not to be outdone, @RepAdamSchiff releases a clearly non-doctored photo of his own!"
Hamill retweeted the image, with a collage of four unflattering images of President Trump, only one of which is genuine.
One depicts his face on top of an overweight man wearing boxing gloves and a nappy, another shows his face merged into what appears to be the Star Wars character, Jabba the Hutt.
A further image shows him in a pair of stars-and-stripes shorts in a boxing ring, while the only real image shows him playing tennis, but in a physical condition contrasting sharply with the chiselled body of Stallone.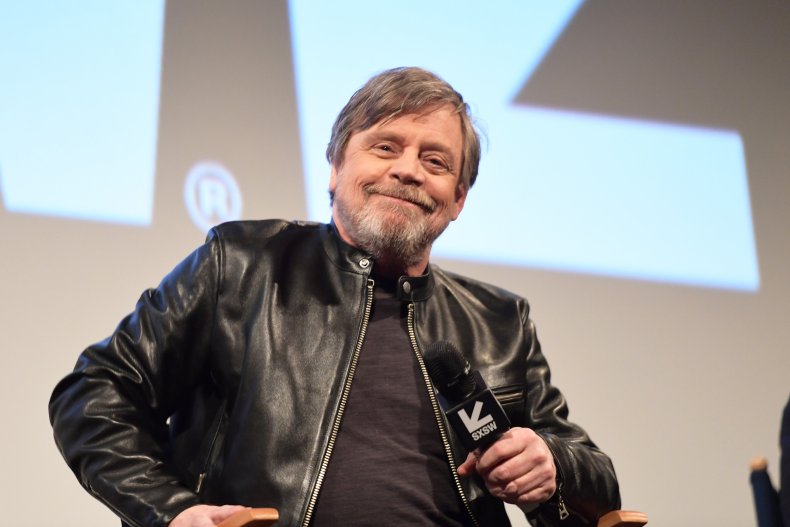 Hamill refers to the comparison between Trump Jr. and the character Fredo Corleone, the doomed weakling son of mob boss Vito Corleone in the Godfather films, by writing: "Hey Fredo- Not to be outdone, can you guess which of these 4 photos was clearly NOT non-doctored?"
Trump Jr.'s father has also used the epithet "Fredo" to disparage frequent Trump critic and CNN host Chris Cuomo, who has taken offence at the Godfather reference, because he says it disparages Italian-Americans.
Hamill also got political earlier this week in the wake of the poor reception received by First Lady Melania Trump who was booed when she went to a "Be Best" youth opioid awareness event in Baltimore, tweeting the hashtag #BooBest, which was widely shared.
There has been a puzzled response to the president's tweet which came out with no caption or context while he was playing golf on his vacation at Mar-a-Lago and was liked more than half a million times.
The Washington Examiner suggested that the post referred a comment he made to supporters at the Keep America Great rally on Tuesday when he recounted how doctors had told him to "show us that gorgeous chest" during a hospital visit for a check up.
Meanwhile, the journalist Jeet Heer, who writes for The Nation, summed up the mixed reaction to the president's image succinctly, by tweeting: "This is both sad and funny on a whole new level."