Rajon Rondo Sits Away From Teammates During Lakers Loss, Gets Roasted by ESPN's Mark Jackson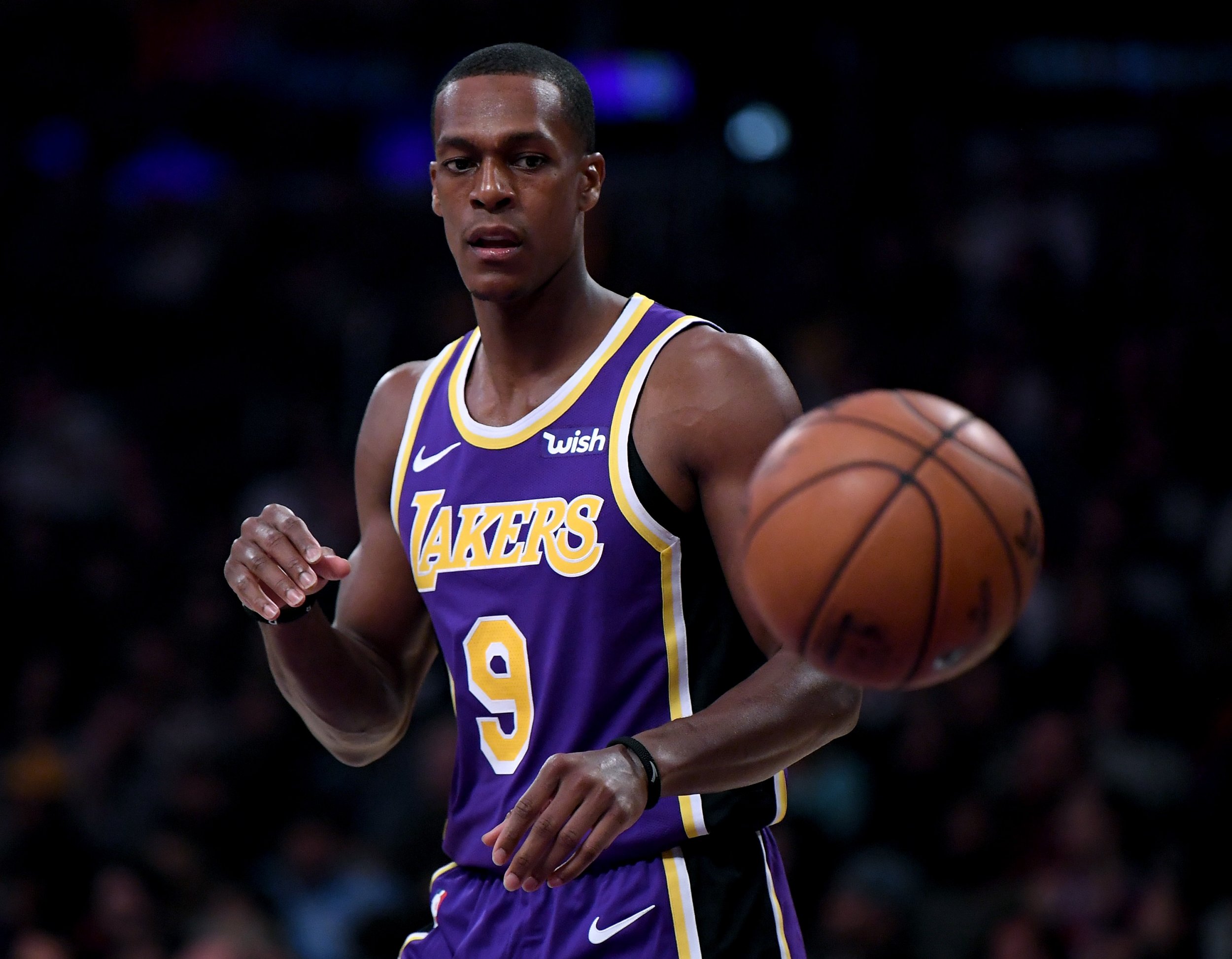 ESPN analyst Mark Jackson has blasted Rajon Rondo for sitting away from teammates, suggesting the veteran point guard epitomizes the Los Angeles Lakers' lack of a "winning culture."
On Wednesday night, with the Lakers down 115-97 at home against the Denver Nuggets and just over 50 seconds left on the clock, Rondo exited the game and opted to sit down in the front row, half a dozen chairs away from the bench.
Whether it was a petulant act or a genuine mistake remains to be seen, but it was obvious what Jackson thought of it.
"Look where Rondo is sitting," Jackson said as the cameras panned to the Lakers point guard.
"Unless he's coming into the game, there's no excuse for that. That can't happen, for whatever reason, that can't happen."
It was not the first time Lakers players have sat away from the bench. In February, LeBron James was a few empty chairs away from the rest of his teammates as the Lakers got absolutely obliterated by the Indiana Pacers.
Earlier this month, Rondo and JaVale McGee also opted to put some room between them and their teammates. Both gestures were taken as a sign that not was all well within the Lakers' dressing room, which has reportedly been beset by internal fractures since the franchise looked ready to trade half of its roster to land Anthony Davis in February.
The five-time All-Star has remained in New Orleans, but the Lakers' team spirit has never recovered and the Purple and Gold have won just four of their last 11 games.
"That can't happen, that's not a winning culture" Jackson continued as the camera remained fixed on Rondo.
"He might be doing it for the right reasons, but there's no right reasons for it. That's unacceptable."
The point guard, however, had other ideas.
"I've done it like maybe eight, 10 times this year," Rondo was quoted as saying by ESPN. "I don't know why it's a big deal now."
Rondo had a difficult night on the court too. He finished with four points, shooting 28.6 percent from the field, although he added seven rebounds and 11 assists.
The Lakers' defeat against the Nuggets was their fourth in a row and saw them slip to 30-35 for the season, 6.5 games behind the Los Angeles Clippers, who hold the eighth and final playoff spot in the Western Conference.