Mark Kelly Says Listen to Border States, as DHS Draws Fire On Immigration
Secretary of Homeland Security Alejandro Mayorkas faced a political onslaught this week during his appearances on Capitol Hill. Republican lawmakers grilled the nation's topic public safety official on his record responding to the surge at the border and the Biden administration's move to lift the Title 42 public health order barring certain migrants from seeking asylum.
Appearing before the House Appropriations, Homeland Security, and Judiciary committees, Mayorkas received criticism for the administration's inability to stem a historic migration surge that has seen officials encounter nearly 2.5 million people at the border since President Joe Biden took office.
This week's questioning of Mayorkas during the Homeland Security hearing, which Newsweek attended, saw Republican Congressman Michael Guest of Mississippi tell Mayorkas that he "lied to the American people when [he] said the border is secure."
Mayorkas denied it.
At one point during the Judiciary Committee hearing, where Newsweek also was present, Ranking Member Jim Jordan of Ohio claimed in his opening statement that the surge at the border "Is not an accident. It's deliberate. It's on purpose. It's by design."
Mayorkas did not get an opportunity to address that accusation.
The Department of Homeland Security predicts that lifting Title 42 could see border encounters jump from 7,000 people to 18,000 people a day. Citing this figure, Homeland Security Committee Ranking Member John Katko of New York expressed concern over the Department's ability to respond to such a surge, saying it had already "lost operational control."
While Republicans have offered some of the most scathing criticism regarding the administration's handling of the situation, the border has proven to be a divisive issue within the Democratic Party itself, as lawmakers representing the border find themselves at odds with progressives over how to both respond to Title 42 and address the border crisis as a whole.
"I think it's important that folks listen to folks that have to deal with this every day," Democratic Senator Mark Kelly told Newsweek during a conversation at the Capitol. "I spend a lot of time on the border. I represent a border state."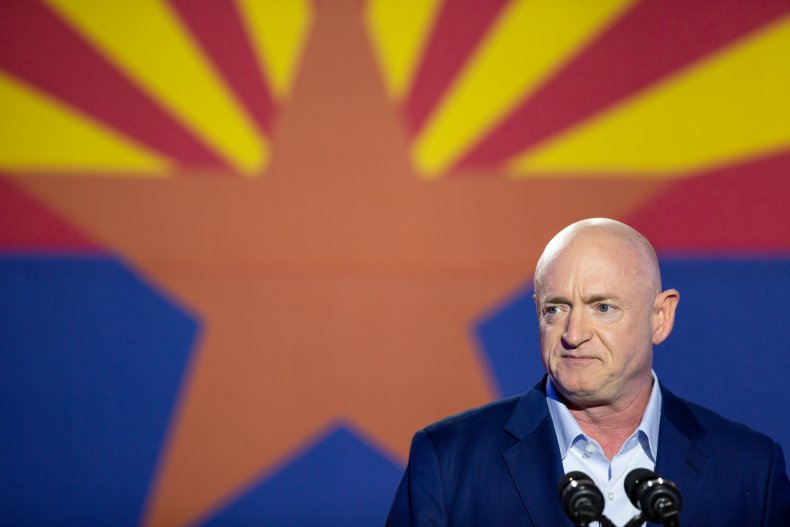 For border states like Texas and Kelly's Arizona, with significant Hispanic populations and large conservative voting blocs, following progressive ideals around immigration could put a lawmaker at odds with the people they represent.
"We're all not going to be on the same page with every single issue," Kelly told Newsweek. "I would say that the folks that haven't seen this firsthand and don't have constituents that are calling — I'm on the phone with sheriffs and mayors in southern Arizona all the time — If you don't you don't have that experience, I think it's just natural to have a whole different opinion on the thing."
"If there're issues surrounding the coast, I think it's best for people to get information from folks that represent a coastal state," Kelly added. "As a border state senator who's spent a lot of time down there, I realize that we've got significant security issues, and Washington has done an inadequate job over decades dealing with this."
Upon news of the administration's plans regarding Title 42 in late March, Kelly joined his fellow Arizona Democrat Kyrsten Sinema in urging the president to hold off on removing Title 42 until an adequate response plan was put in place.
Similarly, Democratic Texas Representatives Vicente Gonzalez and Henry Cuellar, who represent two of their party's more vulnerable border districts, each joined Texas Republicans in calling for the administration to keep Title 42 in place.
Mark Jones, a political fellow at Rice University's Baker Institute for Public Policy, told Newsweek that he expects the issue to continue to present an internal challenge for Democrats while remaining a winning topic for Republicans.
"It's an issue that really motivates the Republican base, with really little blowback from inside the Republican Party," Jones told Newsweek. "But it's also an issue that divides Democrats — the progressive wing wants to see a much more tolerant, open, and compassionate border policy, and moderates who are more comfortable with maintaining the status quo, or at least not moving too far from the status quo."
Jones said the issue has placed President Biden "between a rock and a hard place." If he cracks down on the border the progressive wing will feel alienated, but if his administration implements more lax rules it would likely enable Republicans to target moderate Democrats.
Republican attacks on Democrats over the border, disputed or not, are the type of claims that Jones said can energize the Republican base. And with just 32% of voters expressing approval of Biden's handling of immigration, according to a February 2022 poll by the Center for American Political Studies at Harvard University, this could be the type of issue that becomes weaponized against moderate Democrats in swing districts and states.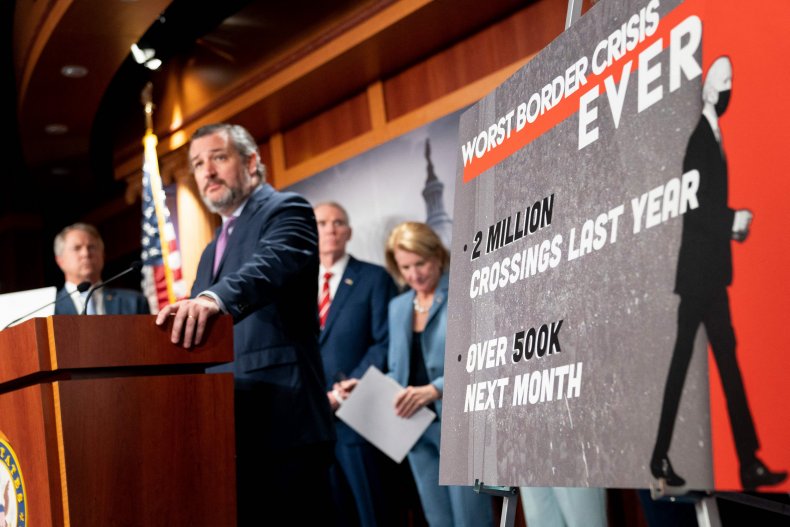 Jones emphasized that while progressives on the coasts may favor a narrative "that immigration is good and that open borders are good," this sort of approach does not play well at the border itself. Here, Jones said, people bear the brunt of the issue as local services in their generally small- to medium-sized cities become overwhelmed and institutions are stressed.
This can spell political disaster for the Democrats who represent these areas. Jones said polling by the Baker Institute found that with a large increase of undocumented immigration the individuals move to neighborhoods where Hispanic citizens already reside, and those citizens then find themselves competing for jobs, and for resources in schools and health care facilities.
Lawmakers like Kelly may be closest to the issue, yet handling of the border is likely to remain contested within the Democratic Party. And as long as the Biden administration handles the situation as it has been, Jones suspects it will remain a political weapon to be wielded by Republicans.
He said that this will be an issue for Kelly in particular as he heads toward reelection in 2022. And should Cuellar lose to progressive challenger Jessica Cisneros, who has received support from Progressive Congresswoman Alexandria Ocasio-Cortez of New York, Jones suspects the GOP will target her heavily, drawing on progressive immigration rhetoric.
As Democrats face further criticism over inflation and reactions to Biden's handling of Ukraine remain mixed, Jones said they have little ability to distract public attention from the border surge. When it comes to messaging around this issue, he said only Republicans can slow the momentum they've established.
"As long as Republicans avoid rhetoric and actions that can be construed as racist or anti-immigrant by a majority of Latinos, it's pretty much a winning issue," Jones told Newsweek. "[Democrats] can hope that some Republicans overreach and undercut immigration policy by making it appear as racist, as opposed to focused more on law and order."