Mark Meadows Says Democrats Are Chasing 'Vengeance' from Trump Impeachment
The former White House Chief of Staff Mark Meadows said Democrats were chasing a "viral moment" and "political vengeance" by going ahead with former President Donald Trump's second impeachment trial this week.
Meadows told Fox News on Sunday that Democrats were using the impeachment process to score "political points" against Republicans, and argued that the whole impeachment process was unconstitutional.
The top Trump administration official added that the trial centred on the Capitol riots of January 6 would be a piece of "political theater," as he sought to downplay proceedings on the eve of the trial.
Speaking to the Sunday Morning Futures show, Meadows said: "This impeachment process they're going through is unconstitutional. It's all designed for nine House Democrats to do two things: to get political vengeance and have a viral moment."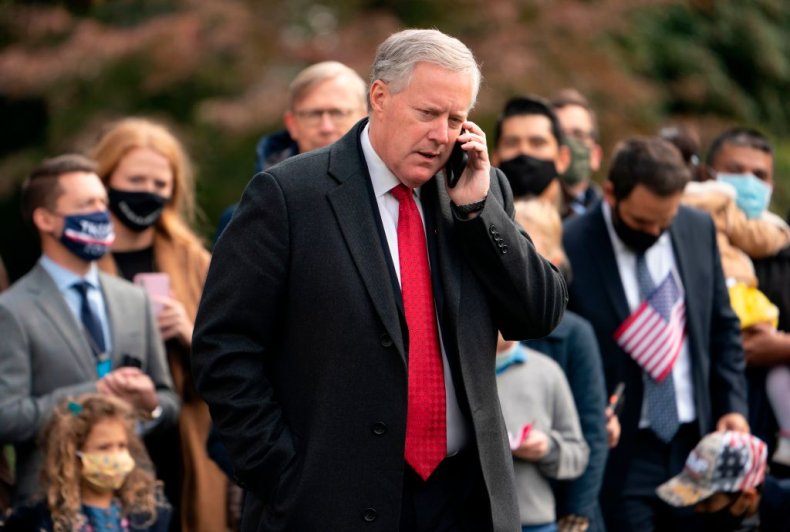 "There's a whole lot of blame going around, but yet not a whole lot of accountability," the former White House chief of staff later added. "That accountability needs to rest with where it ultimately should be, and that's on Capitol Hill."
Asked how he saw the impeachment trial unfolding, Meadows said the process would be "political theater," and accused Democrats of trying to make a "political point" and violating due process by putting Trump on trial in the upper chamber for a second time.
"This whole impeachment is designed to remove someone from office, President Trump is a private citizen, at this point, and yet they have to continue to go ahead and try to put forth some kind of narrative that scores political points," Meadows said. "But we've seen it before, the American people are not going to have it."
Newsweek has contacted Trump's office for further comment. This article will be updated with any response.
The former president's impeachment trial is scheduled to begin at 1 p.m. on Tuesday, and will be streamed by C-SPAN along with most other major networks. Trial rules will have to be agreed before the opening arguments of House impeachment managers and Trump's defense team are heard.
After the opening arguments have been delivered, senators will be able to probe witnesses, the defense and the prosecution. It is unlikely that Trump will be convicted of the incitement of insurrection charge, as 17 Republicans would have to break with their party and vote with Democrats.
Before the trial began, 45 Republicans voted to dismiss the trial altogether, dubbing it unconstitutional. Only five GOP senators backed the Democratic push for a second impeachment trial.