When Will Donald Trump's Second Impeachment Trial Begin?
President Donald Trump's second impeachment trial in the Senate is slated to begin on Tuesday, nearly three weeks after Trump left office.
Senators will convene on Capitol Hill at 1 p.m. ET to begin the trial. C-SPAN will livestream the trial, and many major television networks are also expected to cover the proceedings.
Senate Majority Leader Chuck Schumer announced Monday on the Senate floor that he, Minority Leader Mitch McConnell, the House Impeachment Managers and Trump's legal team agreed upon an "eminently fair" trial structure. According to Schumer, the House impeachment managers will have 16 hours over the course of two days to present their arguments. Trump's attorneys will also have 16 hours over two days to present the former president's defense.
Before each side presents its case, the Senate will deliberate the constitutionality of the trial for up to four hours and vote on whether to proceed, according to The New York Times. Fifty-five senators previously voted against dismissing the impeachment trial, allowing the proceedings to move forward.
The trial will pause on Friday afternoon before sundown in recognition of the Sabbath and will reconvene on Sunday afternoon, a request made by one of Trump's lawyers that Schumer said all other parties agreed to approve. Once each side has finished presenting its case, Schumer said there will be equal time given for senators to pose their questions and for closing arguments.
A vote on whether to convict or acquit Trump will be held after senators complete their deliberations. A conviction would require two-thirds of the Senate to vote in favor.
"If the former president is convicted, we will proceed to a vote on whether he is qualified to enjoy any office of honor, trust or profit under the United States," Schumer said Monday.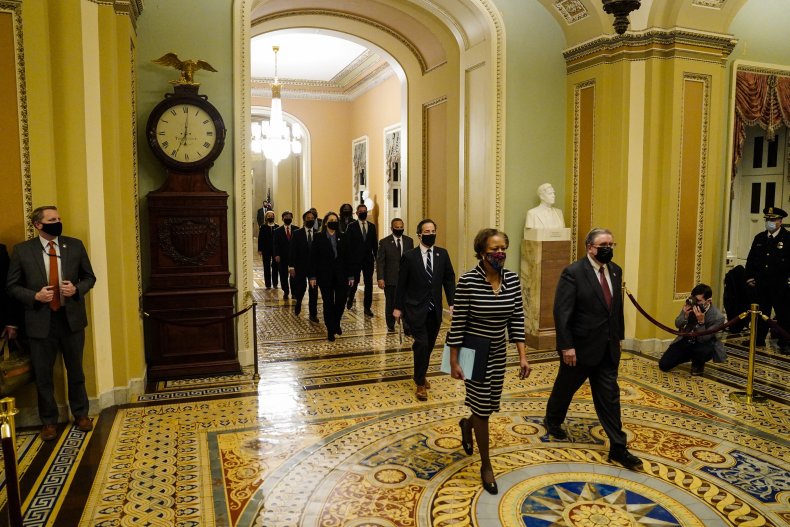 According to the Senate's rules for impeachment, last updated in 1986, every question posed by a senator must be presented in writing and submitted to the presiding officer of the trial for consideration. Every question that is accepted for consideration can be argued for up to one hour by the defense and the prosecution each "unless the Senate otherwise orders," the rules say.
While the chief justice of the Supreme Court typically presides over impeachment proceedings—as Chief Justice John Roberts did for Trump's first impeachment trial—trials for former federal officers are more lenient. Democratic Sen. Patrick Leahy of Vermont, the president pro tempore of the Senate, will preside over Trump's second impeachment trial and will thus review the written questions senators submit for consideration.
It is not yet clear how long the impeachment trial will last, though Democrats have said in recent weeks that they want a short trial so they can move forward on pursuing their party's legislative agenda under President Joe Biden's new administration.
Trump became the first president in U.S. history on January 13 to be impeached twice in the House. He was first impeached in December 2019, when the Democrat-led House found him guilty of abuse of power and obstruction of Congress. Trump was acquitted by a Republican-led Senate in February 2020.
The House charged Trump with incitement of insurrection one week after a mob infiltrated the Capitol Building as both chambers of Congress were trying to certify the results of the 2020 presidential election on January 6. In a pre-trial brief, House Impeachment Managers wrote of what they said was a "grievous betrayal" by Trump on January 6, in which they said he "incited a violent mob to attack the United States Capitol during the Joint Session, thus impeding Congress's confirmation of Joseph R. Biden, Jr. as the winner of the presidential election."
Rep. Jamie Raskin of Maryland is serving as the lead manager for the House's impeachment team. Also serving as impeachment managers are Reps. Diana DeGette of Colorado, David Cicilline of Rhode Island, Joaquin Castro of Texas, Eric Swalwell of California, Ted Lieu of California, Stacey Plaskett of the U.S. Virgin Islands, Madeleine Dean of Pennsylvania and Joe Neguse of Colorado.
In response to the article of impeachment, Trump's defense team argued in a pre-trial brief that pursuing an impeachment trial after Trump left office was unconstitutional and requested that senators either dismiss the article against Trump or vote to acquit him.
Trump's defense team consists of attorneys Bruce Castor, David Schoen and Michael van der Veen.
This will be the fourth impeachment trial held in U.S. history. The first trial was held in 1868 following former President Andrew Johnson's impeachment, and another was not held until former President Bill Clinton's trial in 1999. No U.S. president has been convicted in the Senate after being impeached in the House.
Updated 2/08 at 5:14 p.m. ET: This article has been updated to include details about the trial structure announced by Senate Majority Leader Chuck Schumer on Monday.