White House Chief of Staff Gives Chocolate to Trump Supporters After Meeting COVID-Infected President
White House chief of staff Mark Meadows handed out chocolate to a group gathered outside the hospital where President Donald Trump is being treated, apparently not adhering to social distancing guidelines and having been reportedly in close quarters for several days with the president, who has been diagnosed with the coronavirus.
Footage on Fox News showed a group of people outside Walter Reed National Military Medical Center, where Trump is being treated, to show their support for the sick president.
Anchor Laura Ingraham said that Trump had found out about the group's devotion and had sent Meadows to hand out chocolates, courtesy of the commander-in-chief.
"I want to read the message from Mark Meadows," Ingraham said over images of the chief of staff wearing a mask and handing out the treats to people who look to be much closer than the six-foot social distancing requirements.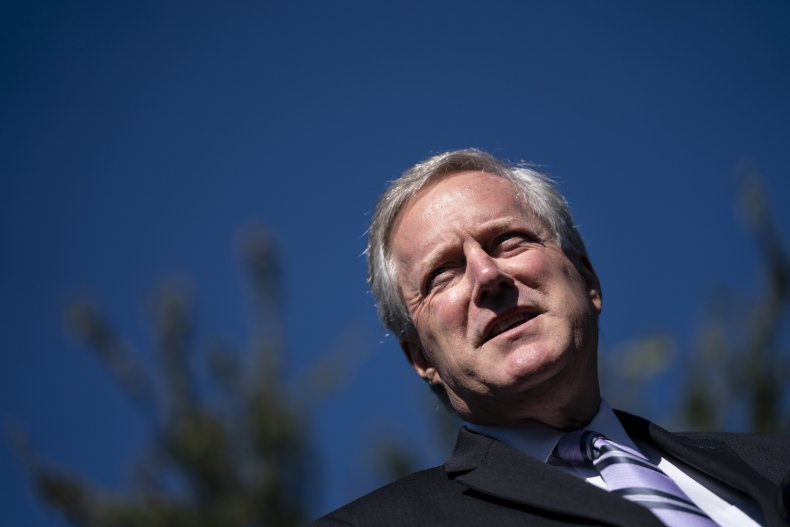 Citing Meadows, Ingraham said: "This is the kind of president we have. He's in the hospital with COVID, he sees the supporters out in front of the hospital live on your show, he sends me out to give Trump chocolate kisses to them as a thank you for the love and support they are sending his way."
Meadows has been in close quarters with the president over the last few days. On Tuesday, he travelled with him on Air Force to Ohio for the first presidential debate. He was also on the presidential plane on Wednesday coming back from campaigning events Minnesota, Time reported.
Meanwhile NBC News reported that Meadows was among the group of White House officials and confidants who had travelled with adviser Hope Hicks whose positive test for COVID-19 came back on Thursday. Newsweek has contacted the White House for comment.
Earlier on Friday, Meadows had been challenged over why he was not wearing a mask during a press gathering outside the White House. He had told reporters that after a personal meeting with Trump, the president and the first lady, Melania Trump "remain in good spirits."
Given that Meadows had met with the president who has tested positive for the coronavirus and was now addressing an assembled crowd, CNN's Jim Acosta asked him "why aren't you wearing a mask?"
Meadows responded: "I've obviously been tested. We're hopefully more than six feet away and if there's any concern there from a guidance standpoint — we have protocols in place."
"All of you that have interacted with him know that and so even with the wide circle around the president we find that he's having to deal with this like so many millions of other Americans and people around the world have had to do," he added.
Also on Friday, Trump's campaign manager Bill Stepien became the latest in the administration to test positive for the disease and was said to be experiencing "mild flu-like symptoms" Earlier RNC Chair Ronna McDaniel and former counsellor to the president, Kellyanne Conway, had been given the same diagnosis.
The graph below by Statista shows the world leaders who have contracted Covid-19.