Mark Meadows Lashes out at Dr. Fauci over COVID Death Toll Blame Game
Former White House chief of staff Mark Meadows called Dr. Anthony Fauci inconsistent on Thursday night as he hit back at the top infectious disease expert's claim that political division and "mixed messages" were to blame for the COVID death toll.
The ex-Trump administration official told Fox News that inconsistency was "the only thing consistent" about Dr. Fauci, and suggested he was forgetting talks they had while former President Donald Trump was still in the White House.
Speaking to The Ingraham Angle last night, Meadows said: "Dr. Fauci is the same one that said every recommendation he made to President Trump, President Trump followed. Now we have a new administration, we have a new Dr. Fauci that seems to forget some of the conversations that he and I had."
The former White House chief of staff added: "The only thing consistent about Dr. Fauci is his inconsistency." He later said the The National Institute of Allergy and Infectious Diseases (NIAID) director had been inconsistent on the efficacy of face masks and the timeframe for a COVID vaccine's approval and delivery.
Newsweek has contacted the NIAID for comment.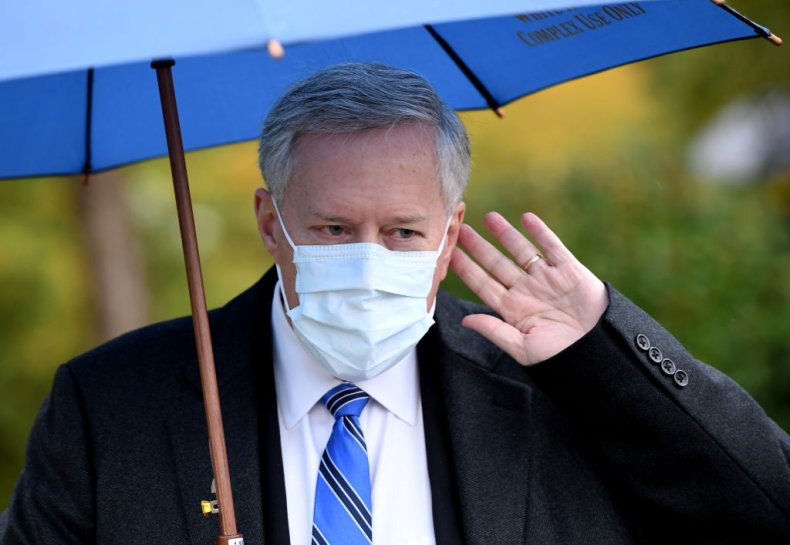 Meadows lashed out at Dr. Fauci in response to remarks the expert made in an interview with NBC News' Today show on Thursday morning.
Speaking to the network, the NIAID director said he would have been "shocked" in the early days of the COVID-19 pandemic if someone had told him what the U.S. death toll would be a year later.
Asked what he believed went wrong as the Trump White House and public health officials tried to combat the virus, Fauci said: "One of the things I keep harkening back to, that you can't run away from, is that we had such divisiveness in our country that even simple common sense public health measures took on a political connotation."
"It wasn't a pure public health approach—it was really, very much influenced by the divisiveness we had in this country. And mixed messages were coming from Washington, that's for sure," he later added.
Over the past year, more than half a million Americans have died as a result of COVID-19 infections. According to the latest Centers for Disease Control and Prevention (CDC) data, the U.S. death toll stood at 527,726 as of Thursday night.
Officials also recorded a little more than 1,500 new deaths and an extra 60,264 cases in a single day. California, Ohio and Texas are among the states with the highest death rates of the past week. The national death rate for the past week stands at 3.7 people for every 100,000 infected by COVID-19.