Former White House Chief of Staff Mark Meadows has complained about a "backchannel" between American and Chinese scientists in the early days of the COVID pandemic after Dr. Anthony Fauci's emails were released on Tuesday.
In an interview with Fox News on Wednesday, the ex-Trump administration official said some scientists at the National Institutes of Health (NIH) were "not really looking at [COVID] in a truly investigatory manner" as he referred to emails sent to and from Fauci.
He added that anyone working for the U.S. government had to "put the interest of the American people first," and argued the email dump showed that may not have been the case.
Speaking to Fox News, Meadows said: "Well I've been very consistent that we should have looked at the Wuhan lab. I can tell you it was late one evening when President [Donald] Trump called me when we discovered that there was taxpayer dollars going to the Wuhan lab through the NIH grant process.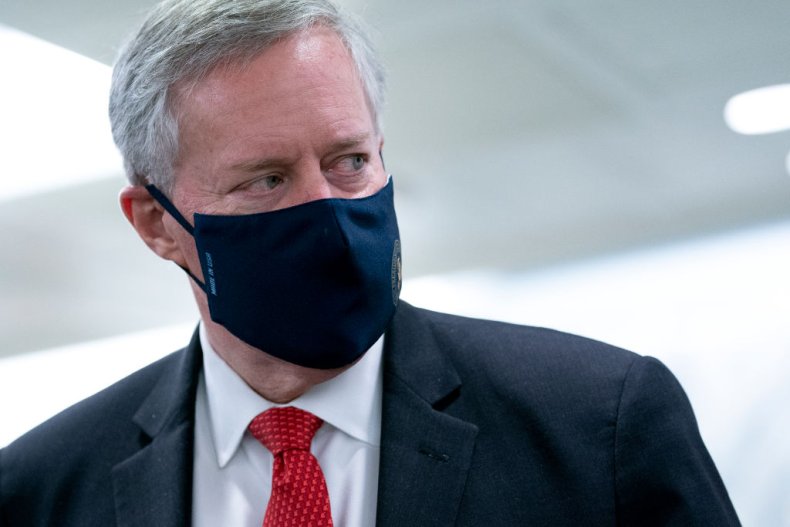 "And he said let's stop it, and he stopped it immediately. And yet what we see is this backchannel between some in the NIH having discussions with other scientists in China, and they're not really looking at it in a truly investigatory manner.
"And that's problematic. When you have people working for the American government, they should put the interest of the American people first, and sadly it doesn't appear from some of these emails that that was happening."
Newsweek has contacted the NIH for further comment.
In an email chain released by BuzzFeed News on Tuesday, the NIH director Dr. Francis Collins appeared to suggest that it was a "conspiracy" to believe that COVID could have leaked from the Wuhan Institute of Virology in China.
The April 16 email from Collins shared a link to reporting that the Wuhan lab could have been the source of a leak. It was titled "conspiracy gains momentum" in the subject line.
Fauci responded to the heavily-redacted email from Collins at 2:45 a.m. on April 17, but his response was also redacted by the National Institute of Allergy and Infectious Diseases.
Dr. Fauci also spoke with George Gao, the Chinese Center for Disease Control and Prevention director, after he told Science magazine that the U.S. was making a mistake by not telling people to wear face masks.
"I saw the Science interview, how could I say such a word 'big mistake' about others?" Gao wrote to Fauci. "That was journalist's wording. Hope you understand. Lets work together to get the virus out of the earth."
The NIAID director replied: "I understand completely. No problem. We will get through this together."