Mark, Patricia McCloskey Now Face Law Suspension After 2020 Incident With BLM Protesters
Mark and Patricia McCloskey may soon lose their law licenses as a result of their 2020 encounter with Black Lives Matter (BLM) demonstrators.
Alan D. Pratzel, chief of Missouri's chief disciplinary counsel, has submitted a request to the state's supreme court asking for the couple's licenses to be suspended, according to local radio station KCUR 89.3. In the filings, he cites the misdemeanor charges that the McCloskeys pleaded guilty to as a result of their brush with BLM in St. Louis.
Amid the nationwide protests against racial injustice last year, Mark and Patricia McCloskey made headlines in June 2020 for a photo that showed them pointing guns at a passing crowd of BLM protestors. The crowd had been making their way through the gated community to the home of a former St. Louis mayor nearby.
Later that month, the couple pleaded guilty to separate misdemeanor charges stemming from the incident. Mark McCloskey pleaded guilty to a charge of misdemeanor fourth-degree assault and was ordered to pay $750, while Patricia McCloskey pleaded guilty to misdemeanor harassment and was ordered to pay $2,000. They were later ordered to surrender their guns as part of their guilty pleas.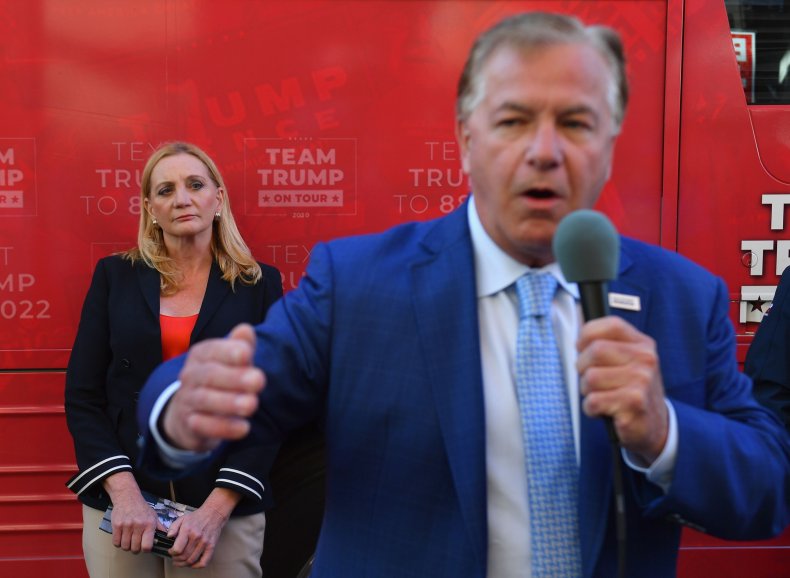 In his argument, Pratzel claims that the McCloskeys' actions last summer showed "indifference to public safety" and "moral turpitude," and deserve the proposed discipline. Despite the fact that Republican Missouri Governor Mike Parson pardoned the couple's convictions on July 30, 2020, Pratzel argued that their "guilt remains."
Pratzel also highlighted an unrepentant statement that Mark McCloskey made after pleading guilty last year.
"The prosecutor dropped every charge except for alleging that I purposely placed other people in imminent risk of physical injury; right, and I sure as heck did," he said. "That's what the guns were there for and I'd do it again any time the mob approaches me, I'll do what I can to place them in imminent threat of physical injury because that's what kept them from destroying my house and my family."
Newsweek reached out to the McCloskeys for a comment but did not hear back before publication.
Mark and Patricia McCloskey were both admitted to the Missouri bar in 1986. Together, they operate the McCloskey Law Center, a firm in St. Louis focused on personal injury, medical malpractice, vehicle accident and defective product cases.
Mark McCloskey is also currently running for U.S. Senate as a Republican, seeking to fill the seat held by Senator Roy Blunt. Blunt, also a Republican, will not be pursuing reelection in the 2022 midterms.
The couples' brush with nationwide attention brought them a measure of celebrity status within the Republican Party. They were among the public figures invited to speak at the Republican National Convention in 2020.