At RNC, Gun-Toting St. Louis Couple Says Dems Want to Destroy Suburbs
On the first night of the 2020 Republican National Convention, Mark and Patty McCloskey—a St. Louis, Missouri couple who became well-known after brandishing firearms at racial justice protesters—championed President Donald Trump as a defender of "law and order" while labeling the Democrats as a lawless radical mob.
"Whether it's defunding the police, ending cash bail so criminals can be released back out on the streets the same day to riot again, or encouraging anarchy on our streets," Mark McCloskey said, "it seems as if Democrats no longer view the government's job as protecting honest citizens from criminals, but rather protecting criminals from honest citizens."
He added that "radicals" who marched outside of his home also want to "walk the halls of Congress," stating, "This is Joe Biden's party. These are the people who will be in charge."
"They are not satisfied with spreading the chaos and violence into our communities, they want to abolish the suburbs altogether by ending single-family home zoning," Patty said. "This forced rezoning would bring crime, lawlessness and low-quality apartments into thriving suburban neighborhoods."
Patty's comment aligns with Trump's recent message that the Democratic Party seeks to end the safety of "suburban housewives."
Her comment also refers to Affirmatively Furthering Fair Housing, a regulation implemented on July 16, 2015 by the U.S. Department of Housing & Urban Development (HUD) under Democratic President Barack Obama which would've required communities to offer low-income housing in suburban areas as a way of giving poor, disabled, single-parent and other marginalized people the ability to live in desirable neighborhoods.
On January 5, 2018, HUD Secretary Ben Carson suspended the regulation and was sued the following May by a coalition including the National Fair Housing Alliance, the American Civil Liberties Union and other groups. The following September, a D.C. federal district court ruled that the plaintiffs lacked legal standing since they weren't a local or state government directly affected by the regulation.
Biden supports reinstating the regulation.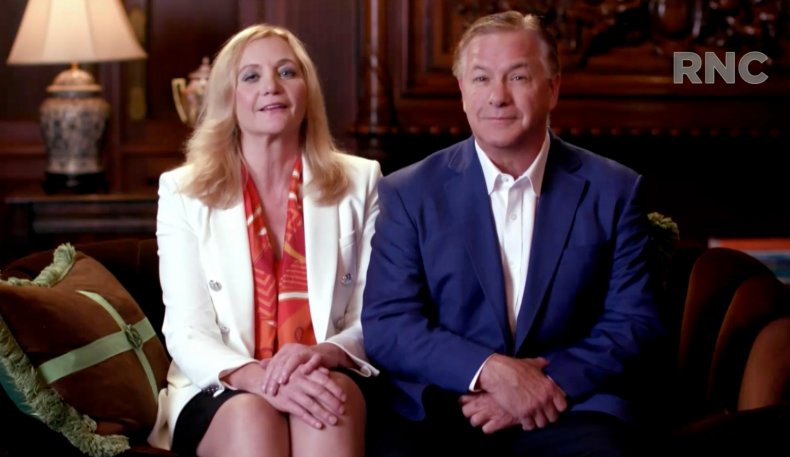 On June 28, the couple gained notoriety after images and videos captured them pointing guns at Black Lives Matter protesters who marched outside of their mansion in a gated community while on their way to the house of St. Louis Mayor Lyda Krewson.
While telling the protestors to leave, Patty aimed a handgun at the protesters while Mark held a rifle. The couple was alternately vilified for threatening a peaceful protest against police brutality or hailed as gun owners defending their home after some protests had devolved into looting.
An investigation found that while protesters stayed on the street and sidewalk and off of the McCloskeys' lawn, some protesters threatened to return armed as well.
St. Louis Circuit Attorney Kimberly Gardner charged the McCloskeys with unlawful use of a gun, a low-level felony. Fox News, Breitbart and Trump denounced the felony charge which is still active. St. Louis Circuit Attorney Kim Gardner has said she doesn't want jail time for the couple, but would prefer community service.
Missouri Attorney General Eric Schmitt said he believes the charges should be dismissed under the Castle Doctrine, a law which justifies deadly force for those defending their homes against intruders.