President Donald Trump on Wednesday morning said that "suburban housewives" would vote for him in November, arguing that they want "safety."
However, a recent poll suggests that a majority of women living in the suburbs disapprove of the president.
"The 'suburban housewife' will be voting for me. They want safety & are thrilled that I ended the long running program where low income housing would invade their neighborhood. Biden would reinstall it, in a bigger form, with Corey Booker in charge!" Trump tweeted.
While it's unclear exactly how women will vote in November, a recent poll conducted by NPR/PBS NewsHour/Marist showed that 66 percent of suburban women disapproved of the job Trump is doing, with 58 percent saying they "strongly disapproved."
On Friday, The Washington Post reported that an average of national polls since late June shows that women voters overwhelmingly favor Democratic presidential candidate Joe Biden over Trump–by a margin of 23 percentage points.
Democrats are also hopeful about Biden chances due to the results of the 2018 midterms, when exit polls by CNN showed that women backed Democratic candidates over Republicans by a margin of nearly 20 percent. That represented the largest gap in three decades, according to Politico.
"There was a gender gap when it came to [2016 Democratic presidential candidate] Hillary Clinton, but now there is a gender chasm," GOP strategist Sarah Longwell told The Post.
Overall, national polls and surveys carried out in key swing states suggest that Biden is favored to win in November.
The latest average of national polls, according to Real Clear Politics, shows the Democratic challenger ahead of the GOP incumbent president by nearly 7 points. Biden also appears to be ahead in Florida, Michigan, Pennsylvania and Wisconsin—states that went blue for former President Barack Obama in 2008 and 2012 before flipping red for Trump in 2016.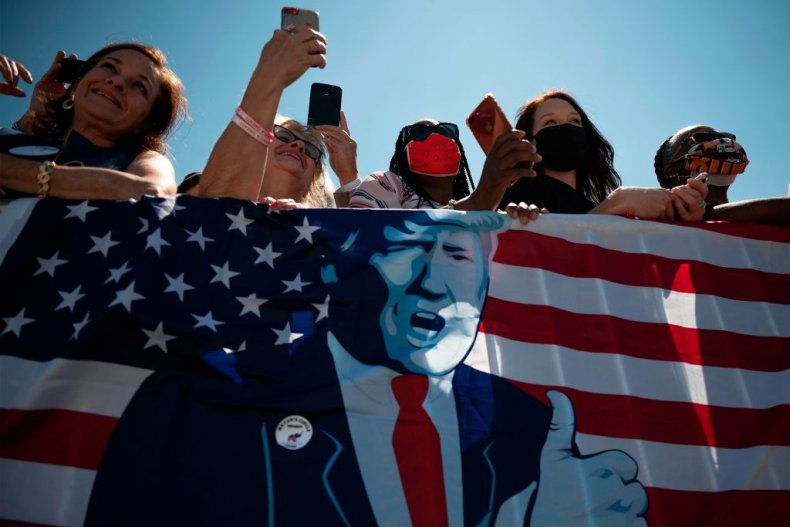 A new Election Forecast released Wednesday by FiveThirtyEight showed Biden winning in 71 percent of 40,000 different simulations. Trump only won in 29 percent. But Nate Silver, the founder and editor of the site, pointed out that these results were similar to what was forecast ahead of the 2016 election.
Trump campaign officials have consistently dismissed negative polling for the president, arguing that pollsters are generally biased against Republicans. They have pointed to the results of the 2016 election as well, when most polls and forecasts suggested Clinton would win.
However, Trump pulled off a series of wins in key battleground states, propelling him to a big win in the Electoral College—despite Clinton having garnered nearly 3 million more individual votes.