St. Louis Gun Couple Could Go to Prison For Up to 4 Years, But Don't Expect Any Jail Time
A St. Louis couple have been charged with felony unlawful use of a weapon for pointing guns at protesters outside their mansion.
Mark and Patricia McCloskey, who are white, drew guns as protesters marched past their mansion, located on a private street in an affluent neighborhood, on their way to St. Louis Mayor Lyda Krewson's home on June 28.
In a statement announcing the charges against the couple on Monday, St. Louis Circuit Attorney Kim Gardner said: "It is illegal to wave weapons in a threatening manner at those participating in nonviolent protest and while we are fortunate this situation did not escalate into deadly force, this type of conduct is unacceptable in St. Louis."
Gardner, who is the city's first Black Circuit Attorney, added: "The people of St. Louis have elected me to pursue equal justice under the law fairly and impartially, and that is what I intend to do."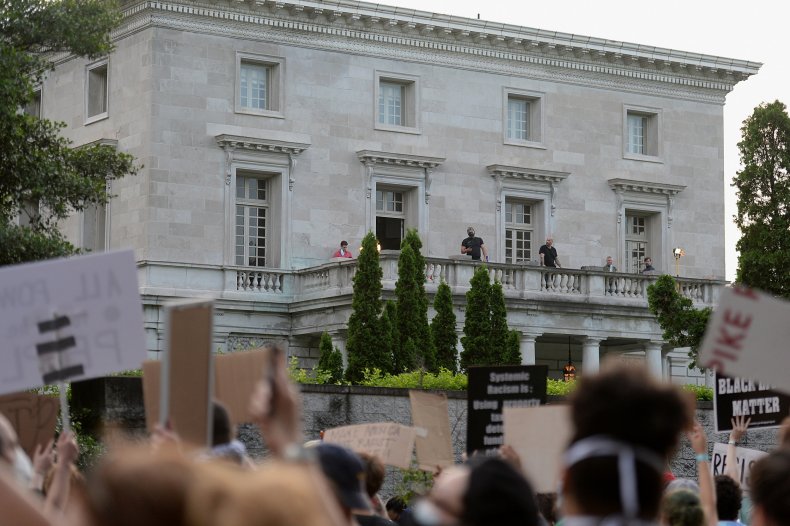 In an appearance on Fox News Monday night, Mark McCloskey said: "It's a totally upside-down world. The circuit attorney has apparently decided her job as a prosecutor isn't to keep us safe from criminals but to keep the criminals safe from us." He added: "We're not going to apologize for doing what's right."
Joel Schwartz, an attorney for the couple, said the decision to charge the McCloskeys was "disheartening as I unequivocally believe no crime was committed."
In a statement provided to Newsweek, he added: "I, along with my clients, support the First Amendment right of every citizen to have their voice and opinion heard. This right, however, must be balanced with the Second Amendment and Missouri law, which entitle each of us to protect our home and family from potential threats."
The McCloskeys face up to four years in prison if convicted of the felony charges.
But in her statement, Gardner said she was open to recommending a diversion program, like community service, for the McCloskeys to "reduce unnecessary involvement with the courts."
However, Missouri Gov. Mike Parson has said he would pardon the couple if they are convicted.
"Without a doubt," Parson, a Republican, told Fox News host Sean Hannity on Monday when asked about a pardon.
"I will do everything within the Constitution of the State of Missouri to protect law-abiding citizens and those people are exactly that."
Pardon has previously indicated he would exercise his pardon powers if the couple faced criminals charges. "I don't think they're going to spend any time in jail," Parson said in a radio interview last week.
Parson also blasted Gardner for bringing charges against the couple. "Kim Gardner's action toward the McCloskeys is outrageous," he wrote on Twitter on Monday.
"Even worse, the Circuit Attorney's office has admitted there is a backlog of cases and dozens of homicides that haven't been prosecuted, yet she has accelerated this case forward."
Parson co-authored Missouri's Castle Doctrine when he was in the Legislature. The law justifies deadly force for those who are defending their homes from intruders.
Missouri Attorney General Eric Schmitt said on Monday that he had filed a brief requesting that the charges against the McCloskeys be dismissed under the Castle Doctrine.
"The right to keep and bear arms is given the highest level of protection in our constitution and our laws, including the Castle Doctrine," Schmitt said in a statement. "This provides broad rights to Missourians who are protecting their property and lives from those who wish to do them harm."
The incident took place amid protests against police brutality in St. Louis, sparked by the killing of George Floyd, a Black man, in Minneapolis police custody on May 25.
On June 28, hundreds of people marched to Krewson's home to demand her resignation after the Democratic mayor read out the names and addresses of some people who called for the police department to be defunded during a Facebook live stream. Krewson has since apologized.
According to a police report, the McCloskeys, who are both personal injury attorneys, heard a "loud commotion" and saw a large group of people break an iron gate marked with "No Trespassing" and "Private Street" signs.
Mark McCloskey confronted protesters with a semi-automatic rifle, yelled at them and pointed the weapon at them, according to police. Patricia McCloskey then emerged with a semi-automatic handgun, pointed the gun at protesters and yelled at them to "go."
Protesters feared "being injured due to Patricia McCloskey's finger being on the trigger, coupled with her excited demeanor," the statement said. No shots were fired.
In an interview shortly afterward, Mark McCloskey said he ran and got his rifle, fearing that he and his wife would be injured or killed by protesters.
This article has been updated with a statement from Joel Schwartz.