Mark Sanford Officially Announces GOP Primary Challenge to Trump, Slams President Over Growing Deficit
Former Republican South Carolina Governor Mark Sanford officially announced a 2020 primary challenge to President Donald Trump on Sunday, slamming the president and Washington lawmakers over their failure to address the nation's ballooning deficit.
"I think we need to have a conversation about what it means to be a Republican. I think that as a Republican party we have lost our way," Sanford told Fox News Sunday anchor Chris Wallace during the interview in which he made the official announcement.
"The epicenter of where I'm coming from is that we have lost our way on debt and deficits and spending," he explained. "The president has called himself the 'King of Debt,' has a familiarity and comfort level with debt that I think is ultimately leading us in the wrong direction."
As Sanford noted, the federal deficit has increased substantially since Trump took office, despite the fact that it was shrinking during his predecessor President Barack Obama's second term. According to the Congressional Budget Office, the deficit will increase to $1 trillion next year. Meanwhile, the total national debt currently stands at more than $22 trillion.
During Obama's second term, the deficit decreased by an average of 11 percent per year. In Trump's first two years, the deficit increased dramatically, by an average of 15 percent per year. The problem has been compounded by the president's tax cuts, which primarily benefited the wealthiest Americans and corporations. Those tax breaks are projected to add some $2 trillion to the national debt over the coming decade, unless they are reversed.
Sanford has now officially joined former Republican Congressman and radio host Joe Walsh of Illinois and former Massachusetts Governor Bill Weld as a primary challenger to Trump. The South Carolina Republican has long been critical of the president and the direction his political party has taken.
"I think we need to have a conversation on the degree to which institutions and political culture are being damaged by this president," Sanford said during his interview Sunday. "Those institutions and that political culture are really the glue that holds together our balance of power."
In August, the president referred to Sanford, Walsh and Weld as "Three Stooges" in a tweet, dubbing Sanford "Mr. Appalachian Trail" in reference to the former governor's extramarital affair. Sanford faced a scandal in 2009 after it came out that he claimed to be hiking on the East Coast when he was really in Argentina visiting his girlfriend. The hashtag #AppalachianTrail trended on Twitter following Sanford's announcement on Sunday.
Despite three primary challengers, Trump remains very popular with Republican voters, with opinion polls showing that the president has an approval rating of well over 80 percent among conservatives. At the same time, primary challenges have historically signaled the downfall of incumbent presidents.
Presidents Lyndon Johnson, Gerald Ford, Jimmy Carter, and George H.W. Bush all lost their reelection campaigns after opponents from within their respective political parties challenged them in the primaries. Weld made that point in an August interview with CNN about his campaign, stating that his first goal was to win the New Hampshire primary.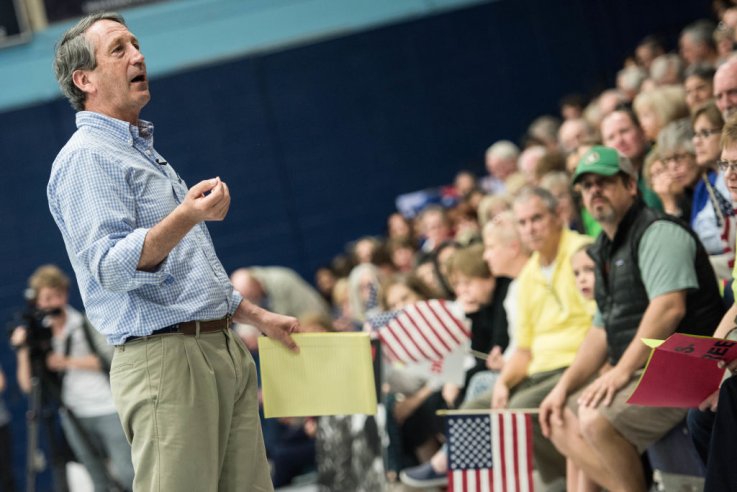 "My aim is to win the New Hampshire primary and if that happens, I think all bets are off," he said. "That's never happened. It's true that the five presidents running for reelection who had a primary challenge all lost or dropped out. They didn't lose the primary but they all lost for reelection," he asserted. "So, history is not on Mr. Trump's side."
However, some Republican leaders are working to make it more difficult for anyone to challenge the president. The Republican parties of South Carolina, Nevada, Arizona and Kansas are reportedly planning to forego primaries altogether. Walsh slammed the news Saturday, accusing the GOP of attempting to rig the election in Trump's favor.
"It's wrong, the RNC should be ashamed of itself, and I think it does show that Trump is afraid of a serious primary challenge because he knows his support is very soft," Walsh said, according to Politico. "Primary elections are important, competition within parties is good, and we intend to be on the ballot in every single state no matter what the RNC and Trump allies try to do," he added.
Mark Sanford Officially Announces GOP Primary Challenge to Trump, Slams President Over Growing Deficit | U.S.