GOP Presidential Challenger Bill Weld Confident He Can Win New Hampshire Primary: 'History Is Not on Mr. Trump's Side'
Republican presidential hopeful Bill Weld believes he can beat Donald Trump in the GOP's New Hampshire primary, arguing that "history is not" on the president's side.
Discussing his primary challenge to Trump Tuesday morning on CNN New Day, the former Massachusetts governor said he saw this run as a defining moment in his political career.
Weld argued that it was necessary to challenge the president over his attacks on democratic institutions, as well as for his racism.
"I think the country is kind of at a tipping point and unless people stand up and are counted, and plant a flag and say what the president is doing is unconscionable, we're headed down the wrong path and we may wake up in a year or two with our Democratic institutions in turmoil," said Weld, who served as governor of Massachusetts from 1991 to 1997.
During the segment, Weld slammed President Trump for constantly lashing out at the media and making racist attacks against minority lawmakers.
Asked by CNN anchor John Berman if he was actually aiming to win the presidency or just to hurt Trump's chances at reelection, Weld voiced confidence in his ability to do both.
"My aim is to win the New Hampshire primary and if that happens, I think all bets are off," he said. "That's never happened. It's true that the five presidents running for reelection who had a primary challenge all lost or dropped out. They didn't lose the primary but they all lost for reelection," he asserted. "So, history is not on Mr. Trump's side."
Weld insisted that a primary win in New Hampshire was "doable" for his campaign, saying he was talking to "many more voters than Mr. Trump is" in the Granite State.
As Weld pointed out, serious primary challengers have signaled failure for incumbent presidential campaigns: Lyndon Johnson, Gerald Ford, Jimmy Carter, and George H.W. Bush all inevitably lost their reelection bids after opponents from within their respective parties challenged them in the primaries.
In addition to Weld, former Republican South Carolina Governor Mark Sanford is considering a primary challenge to the president. But despite claiming that Trump is taking the country in the "wrong direction," Sanford has said he would inevitably vote Republican and support the Trump if he were the nominee.
Weld, however, disagreed with that perspective.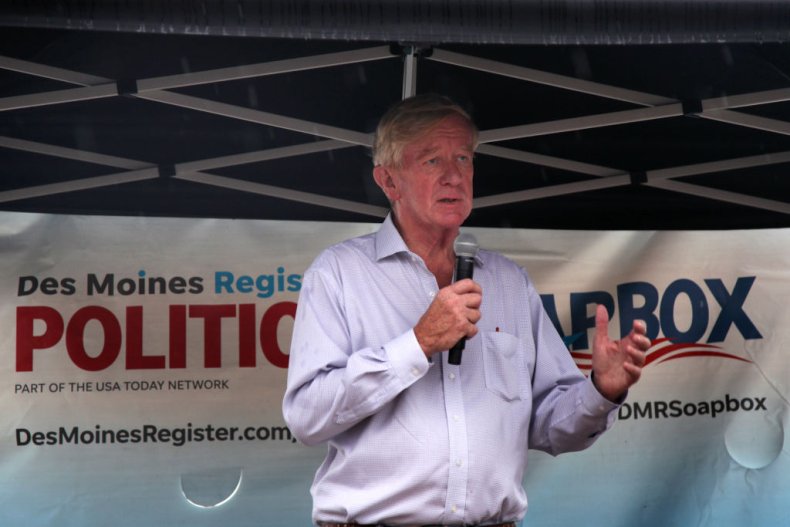 "I'm a big admirer of Governor Sanford. I like him a lot, but that's a major difference [we have]," Weld told CNN.
"I have said, and I mean it, that I would never support Donald Trump for president of the United States," he asserted.
In 2016, Weld actually joined the ticket of Libertarian presidential candidate Gary Johnson, the former governor of New Mexico, as the party's vice presidential candidate. The two men received significant national attention for their campaign and won just over 3 percent of the popular vote.
An Emerson GOP primary poll from June indicated Weld was holding just 17 percent of support among Republican voters, compared to Trump's 83 percent. Weld, however, pointed to recent polls showing Trump losing to every major Democratic candidate, arguing that voters want change.