Crowd Outside Mark Zuckerberg's Home Protests Political Disinformation on Facebook: 'Wake the Zuck Up'
Protesters gathered outside Mark Zuckerberg's San Francisco home on Monday to protest Facebook's use of personal data and lack of regulation for misleading political posts.
In a tweet, Aaron Black said: "A large protest is happening outside of Mark Zuckerberg's home right now. Members of his community are calling him out for allowing foreign governments to interfere in our elections, misleading voters with fake political ads, violating antitrust laws, and selling their privacy."
The protesters gathered at Zuckerberg's home on Presidents Day chanted, "Wake the Zuck up."
Queenie Wong, a reporter at CNet, tweeted: "Wake the Zuck Up! Zuck sold out democracy. Don't sell my private data. Those are some of the phrases written in chalk outside of Zuckerberg's house in SF."
There was also a sister protest in Palo Alto, where Zuckerberg also has a house, which saw protesters holding up a sign that read "Truth Matters" above the highway.
The protests were organized by groups including Media Alliance and Global Exchange and were part of the groups' Protest Facebook campaign.
A statement on the Protest Facebook campaign website explained: "This year's US presidential elections are in jeopardy—in part because San Francisco Bay Area technology company Facebook refuses to take responsibility for the lies, hate, and disinformation that are being spread using its platform.
"Facebook refuses to take down advertisements by US politicians that feature even the most blatant falsehoods. It freely allows microtargeting that directs disinformation at vulnerable communities that is hidden from everyone else. And its efforts to stop the spread of toxic lies and hate are too little, too late."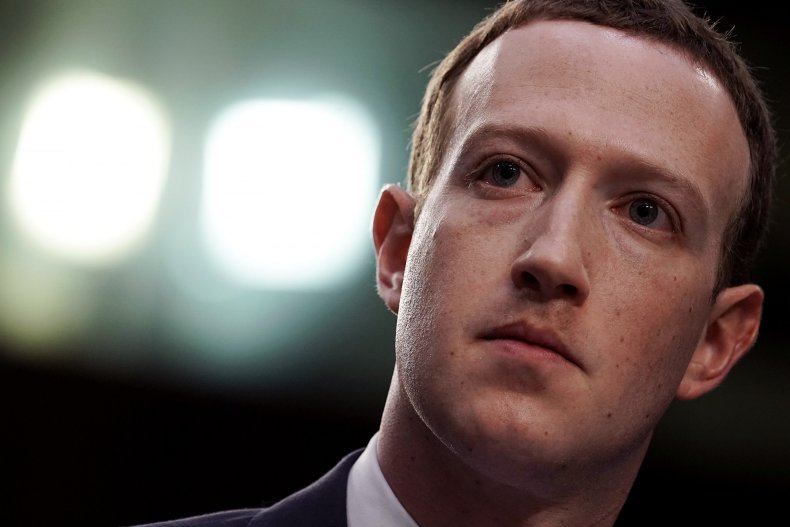 In 2018, it was revealed that approximately 87 million Facebook users' data were leaked to Cambridge Analytica and last year Zuckerberg defended Facebook allowing politicians to pay to target specific demographics with disinformation around the 2016 presidential election.
However, this was not Facebook's first data scandal, as in 2011, Facebook settled with the Federal Trade Commission over privacy charges, and in 2007, Zuckerberg had to apologize for his Beacon project which shared users' online purchases with their friends.
While the protesters gathered outside Zuckerberg's home in the Mission District of San Francisco, he was in Brussels, Belgium, to lobby European officials in charge of digital policies.
Sundar Pichai, the chief executive of Google's parent company, Alphabet, and John Giannandrea, senior vice president for artificial intelligence at Apple, also visited Brussels.
This week, the European Commission will address regulation for Artificial Intelligence and the digital economy, which could impact tech companies like Facebook, Google, and Apple. The first draft of the policy will be released on Wednesday.
Facebook has been contacted for comment on the protests.