'Married at First Sight': These Are All the Couples That Are Still Together
Can a marriage between two complete strangers, who only just met on their wedding day, survive? It's a question that Married at First Sight has attempted to answer for the last six years, and, in some cases, couples have even managed to fall in love with spouses they didn't know existed before they met at the altar.
The reality show, which was modeled after a Danish dating show of the same name, first premiered in the U.S. in 2014 with relationship experts and therapists pairing couples together solely based on their compatibility, which was determined through a series of tests. For eight weeks, couples had to live together as husband and wife, and at the end of the trial, they would determine whether or not to remain married or get a divorce. Since the American debut, experts have paired 29 couples together, and five more entered the ring when Season 10 premiered in January.
In the current season, couples have barely scratched the surface of what it takes to make a marriage between strangers work. The upcoming episode, which airs on Wednesday, will give viewers a glimpse at the final days of the casts' honeymoon in Panama, after which they will go home to Washington D.C. and figure out how to co-exist as partners. Although some couples seem to be a perfect match, there are a few that certainly have their work cut out for them if they expect to remain married at the end of the trial.
Despite the many upsets couples face as they get to know one another while already married, Married at First Sight has had some success—although only a small percentage. Of the couples to be matched since Season 1, only eight are still married.
See below for all the couples who have managed to stay together after appearing on Married at First Sight.
Jamie Otis and Doug Hehner
The pair were one of the first Married at First Sight couples. Otis and Hehner were matched by the experts back on Season 1 and they are still married to this day. The couple even renewed their vows while celebrating their one-year anniversary and have since welcomed a daughter, Henley Grace, who was born in August 2017. Despite experiencing multiple miscarriages, Otis and Hehner announced they were finally expecting their second child back in October 2019.
"We heard the HEARTBEAT for the first time at our fertility specialist!!! And we finally have a due date! Our family will be expanding by two little baby feet & a while [sic] lotta love on May 14, 2020," Otis wrote alongside an Instagram post of the family posing with an ultrasound image.
Along with raising their daughter and preparing for the family's newest addition, Otis and Hehner also host the podcast, Hot Marriage Cool Parents.
Ashley Petta and Anthony D'Amico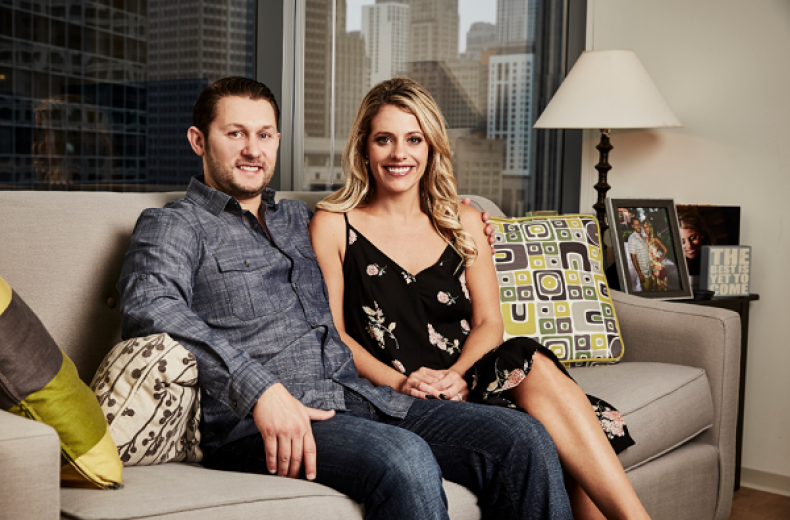 The year was 2016 when Ashely and Anthony were paired together on Season 5. The couple have since welcomed a daughter, 1-year-old Mila, and celebrated their third anniversary as husband and wife in August 2019. As untraditional as finding his wife on a reality show may be, D'Amico was full of praise for Married at First Sight on his anniversary.
"3 years ago today I was getting home from a work trip, only hours before my groomsman arrived to Chicago. In 8 very short hours I'd be marrying a stranger. A Leap of faith that I could have never imaged to turn out like it did. #MarriedAtFirstSight 3crazylife," he wrote in a post on Twitter at the time.
Shawniece Jackson and Jephte Pierre
Jackson and Pierre didn't necessarily get off to the best of starts when they wed during Season 6 of Married at First Sight in 2017. However, the couple's bond managed to withstand communication issues, infidelity and a mental health crisis, and they are still together. One year after welcoming their daughter, Laura Denise, they celebrated their two-year anniversary in August 2019, calling it a "huge milestone."
"Two years ago we married as strangers, got pregnant and almost didn't make it to year one. Now two years later, we stand here with our 1-year-old daughter, in our house that we bought together, looking at each other—best friends and life partners," they wrote in a statement to Madame Noire. "Having the support of the experts from day one has been pivotal in our ability to get through these hurdles. They saw something in us before we even saw each other."
Danielle Bergman and Bobby Dodd
One of the more successful couples of Season 7, Bergman and Dodd tied the knot back in 2018. They have since welcomed a daughter, Olivia Nicole, who will celebrate her first birthday later this month. The couple was thrilled to become first-time parents last year. "The second we laid eyes on her, we both knew that she is exactly what we waited our whole lives for," the duo said in a statement to People magazine following Olivia's birth.
Stephanie Sersen and AJ Vollmoeller
Viewers weren't entirely sure Sersen and Vollmoeller would make it to the finish line at the end of their eight-week marriage run on Married at First Sight Season 8. Although they initially hit it off at their wedding and were the first couple to consummate their marriage, in the weeks following their honeymoon Vollmoeller's temper became a big problem for the couple. Arguments occurred easily and often between the pair, but the Philadelphia natives were able to work through their differences with the help of the experts and are still married today.
In an interview with Philadelphia Weekly, Sersen said they were still "super strong as a newly married couple can be for not knowing each other."
"It's been amazing. AJ and I just laugh all the time. we have so much fun together," she said. "He cooks. I work a long day, and when I get home, he has dinner ready for me on the table. I have all our events planned. I just think we complement each other really well."
Kristine Killingsworth and Keith Dewar
Yet another initially rocky relationship that made it through the storm—Killingsworth and Dewar encountered a number of problems as the newlyweds got to know each other during the eighth season of the show. However, they pulled through and celebrated their first anniversary in September 2019. Killingsworth credited their willingness to take risks for helping them survive.
"The easiest part of marriage this year was taking risks together. We started with what we feel was the ultimate risk, so every decision we've made since has flowed easily," she told People in September.
Deonna McNeill and Gregory Okotie
The couple are still going strong after appearing on Season 9 of the show and deciding to stay married following the eight-week trial.
Elizabeth Bice and Jamie Thompson
Bice and Thompson faced a few bumps in the road during their experience on Season 9 of Married at First Sight, but in the end they decided to stick it out and remain married. In an August 2019 interview with Newsweek, Thompson gushed over his wife and the "energy she brings into the relationship."
"She is vibrant and genuinely excited to live everyday life. And for me, I need that spark more than anything," he said.