Meet the New and Returning 'Married At First Sight' Dating Experts
Married At First Sight is heading to San Diego for Season 15 in the hope of finding five perfect couples who will finally get the "happily ever after" they deserve.
Matched by four experts in the fields of relationships, sex, marriage counseling, and psychiatry, 10 individuals will find the person they have been paired with, and meet for the first time at the altar.
Then, overseen by the experts, the 5 couples will do everything married couples do and would have done, from meeting the parents and friends to moving in together and going on their honeymoon.
This season, some new faces are joining the expert panel, ready to share their wisdom following Dr. Viviana Coles' departure. Newsweek has everything you need to know about the new and returning Married At First Sight Dating Experts.
Meet The New and Returning Married At First Sight Dating Experts
For Season 15 of Married At First Sight, series regulars Dr. Pepper Schwartz and Pastor Calvin Roberson have been joined by two new faces, DeVon Franklin and Dr. Pia Holec.
Sadly, a familiar face on the expert panel Dr. Coles will be missing from the show this season, after stepping down from the role due to other work commitments.
Announcing the news on Instagram, Dr. Coles wrote: "I have always stayed busy with meaningful projects in my professional and personal life."
"I have decided to focus more of that energy on new exciting opportunities to further my mission to help others in their intimate relationships," she continued.
"I won't be returning to Married at First Sight next season."
She added: "I believe in the MAFS process and in my colleagues and will continue to wish them and all of the upcoming participants the best."
The New Experts
DeVon Franklin
DeVon Franklin is a Hollywood producer, author, preacher, and motivational speaker.
He is best known for the films Heaven is Real and Miracles from Heaven, starring Jennifer Garner.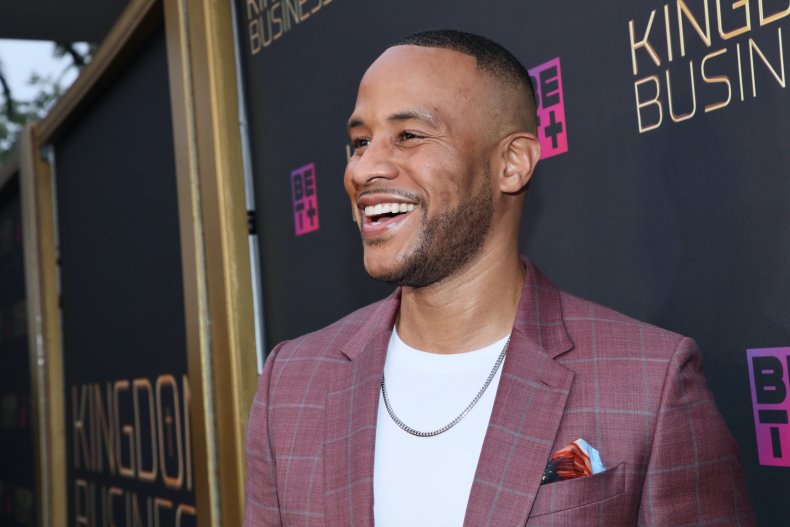 Franklin is also a New York Times best-selling author for his book, The Wait, which he co-wrote with his then-wife, actress Meagan Good.
The pair wed in 2012 after meeting on the set of Jumping the Broom but sadly they filed for divorce in December 2021.
After the news was announced he was joining Married At First Sight, Franklin took to Instagram stories to address criticism about taking on the role as a divorced man, revealing he was going to turn down the role at first.
He said: "I was going to tell them 'No' because I felt shame and that voice in my head said, 'you're a failure, how can you help anybody save their marriage when yours didn't work out,'" he added. "That voice in my head also had me thinking about what would 'people' say? Would 'people' approve or disapprove? And then I had to ask myself: Is this how I'm going to live the rest of my life? In fear about what 'people' say? And who are 'people' anyway? So I went back to the @mafslifetime team and told them YES, I'll still come. I REFUSE TO LIVE IN FEAR OR SHAME!"
He then went on to say "something powerful" happened to him during filming when he was able to help a couple due to his own life experience.
Dr. Pia Holec
Dr. Pia Holec is a renowned psychotherapist who specializes in sex and couples therapy.
She studied Clinical Psychology at the Chicago School of Professional Psychology, graduating in 2016, and is currently a psychotherapist at Gentle Healing and Resilience Psychological Services, according to her LinkedIn.
As detailed in her bio for Resilience Psychological Services, Dr. Holec has worked with individuals, couples, and families with concerns including anxiety, depression, mood disorders, personality disorders, psychosis, PTSD, complex trauma, obsessive-compulsive disorders, and addictions.
She also specializes in the treatment of Female Hyposexual Arousal Disorder, Dyspareunia, Vaginismus, Premenstrual Dysphoric Disorder, Premature Ejaculation, Erectile Dysfunction, unconsummated marriages, gender dysphoria, and LGBTQ+ issues.
You can follow Dr. Holec at @sexdrpia on Instagram now.
The Returning Experts
Dr. Pepper Schwartz
Dr. Pepper Schwartz is a sociologist and sexologist who has been a part of The Married At First Sight Family since the very beginning. On the show, she serves as a compatibility expert.
Schwartz graduated from Washington University in St. Louis with a BA and MA and an MA and Ph.D. in Sociology from Yale University.
She is also the author and co-author of several books, magazines, and online columns about sexuality. Schwartz is well known for her groundbreaking work with Philip Blumstein in the book American Couples: Money-Work-Sex in 1983.
Schwartz has since appeared on several television shows as a sex expert, including The Oprah Winfrey Show, Dateline, and Dr.Phil.
Pastor Calvin Roberson
Pastor Calvin Roberson has been a long-running expert on Married At First Sight, taking on the role from Season 4 onwards in 2016. Today, he is the lead pastor and founder of Progression Church in Atlanta, Georgia.
Roberson is a marriage counselor, who graduated from Oakwood University with a Bachelor's degree in Theological Studies and Music. He then went on to become a Pastor after earning the title of Master of Divinity from Andrews University in Michigan.
In 1990, he also obtained a law degree from Columbus Law School.
He published the critically acclaimed book, The Gospel of Non-Sense in 2012, and with his wife, Wendy Roberson, they run their counseling practice. Most recently, Roberson published his book, Marriage Ain't For Punks, a guidebook for couples struggling with their marriage.
Speaking to The List, Pastor Cal shared why he said "yes" to appearing on Married At First Sight.
He said: "As I researched and looked at it and talked to the CEO of the production company or what have you, I found out that they really believe in marriage. This is not about drama. They don't create drama. They don't create situations just for TV.
"They actually believe in marriage and they try to find people to be happy. And I've found that's been consistent in the 10, 11 seasons that I've been on."
Married At First Sight airs Wednesdays at 8 p.m. ET on Lifetime.