Are 'Married at First Sight' Stars Mia Bally and Tristan Thompson Still Together?
Married At First Sight groom Tristan Thompson was shocked when he wasn't able to board a plane with his new bride, Mia Bally. The couple was slated to fly to Cancun, Mexico, for their honeymoon, but Bally was arrested on felony stalking charges.Despite the hiccup in their relationship, it appears the duo hasn't called it quits just yet.
Unlike other reality stars, Bally made her Instagram account private, thus It's unclear from social media if she and Thompson were able to work things out. According to previews for future episodes of Season 7, Bally and Thompson seemingly continued to film after the incident, making it possible they tried to work on their marriage after she was arrested. Click here to read more about her charges.
Since Bally was charged with three counts of stalking, one of the main questions from fans has been why Lifetime allowed her to be cast on the series but the network wasn't notified about her criminal history when they ran her background check. "The warrant for Mia's arrest was filed after her background check had been completed by production," a spokesperson for Lifetime told Newsweek.
In a sneak peek clip, producer Eric Detwiletells Thompson what they discovered after Bally was arrested. "We ran every background check possible—the warrant, it was a shock to all of us," he said. "We were able to track down the actual copy of the warrant that was used to arrest Mia." Detwile added: "I think what's important about what's in here is that there are two sides to every story. We don't know Mia's story yet."
Thompson was confused. "I'm feeling a sense of disbelief because this is my wife and even though I have trust in God this is a serious test of my faith," he says in Tuesday's episode. "I mean, this is a whole lot to deal with."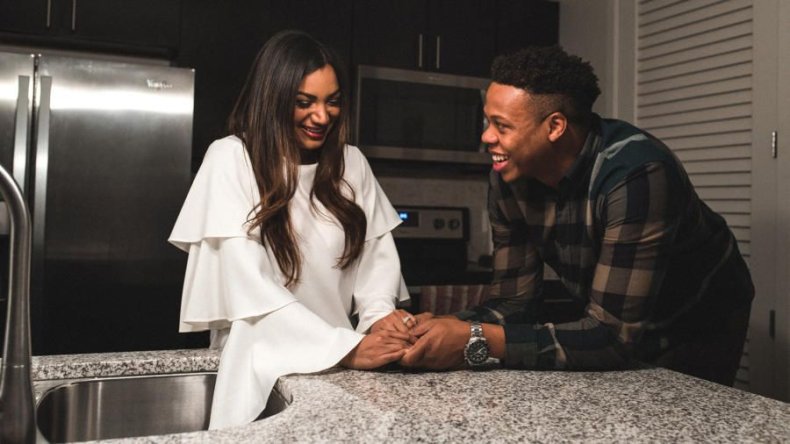 Despite the MaFS couples not having a high success rate, executive producer Chris Coelen stood behind the series in 2015. "The people [the experts] present are the people we move forward with and document," he told People magazine at the time. "There's no debate. The experts always say there is no exact science and no guarantees." He added the matchmaking is done "based on a high degree of research."
While producers accept applications, they also seek out singles. "The men and the women are treated exactly the same. We go to bars, mixers, singles events and church groups," Coelen said. "We also go on every dating site you could possibly think of—OkCupid, Match.com, Tinder, Hinge. We also go on Facebook, talk to family and friends and try to make the pool as big as possible." At the time, he said applicants went through "highly accredited third parties," so it's not clear how Bally got through.
MaFS airs Tuesdays at 9 p.m. ET on Lifetime.
This story has been updated to include a statement from Lifetime about Bally's warrant.