Sen. Marsha Blackburn was accused of racism after she launched a fierce attack on Ketanji Brown Jackson during her Supreme Court confirmation hearing on Monday.
In her opening statement, the Tennessee Republican linked Jackson, the first Black woman nominated to the nation's highest court, to a number of culture war issues that have aggrieved conservatives.
Blackburn accused Jackson of supporting the "progressive indoctrination of our children," wanting to put "hardened criminals" on the streets and being lenient with child porn offenders, repeating allegations leveled by Sen. Josh Hawley that fact-checkers have deemed misleading.
She went on to claim that Jackson had once written that every judge harbors a personal, hidden agenda. "I can only wonder: what's your hidden agenda?" Blackburn asked Jackson, who was not permitted to answer.
"Is it to let violent criminals, cop killers and child predators back to the streets? Is it to restrict parental rights and expand government's reach into our schools and our private family decisions? Is it to support the radical left's attempt to pack the Supreme Court?"
Blackburn then said that Jackson had praised The 1619 Project, which began as a collection of essays re-examining the legacy of slavery in the U.S. and is now a bestselling book.
"You've made clear that you believe judges must consider critical race theory when deciding how to sentence criminal defendants," Blackburn said. "Is it your personal hidden agenda to incorporate critical race theory into our legal system?"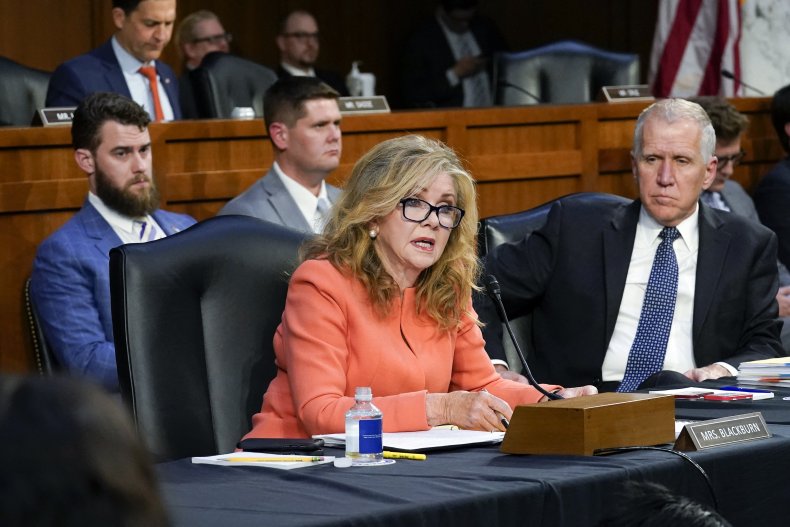 Blackburn's remarks prompted an outcry on social media, with some suggesting her remarks were designed to pander to "a racist base."
"My takeaway from Day 1 confirmation hearings for Judge Ketanji Brown Jackson is GOP senators like Marsha Blackburn, Josh Hawley making it obvious they are seek to play to a racist base," Shanlon Wu, a former federal prosecutor, tweeted.
Tennessee state Rep. Gloria Johnson wrote that Blackburn "isn't trying to hide her agenda, she puts her ignorance and racism right up front."
"Last year @MarshaBlackburn and her GOP pals were absurdly claiming that CRT was taught in grades K-12. This year it's something a Supreme Court nominee is trying to incorporate into the federal legal system. I wonder where the big bad CRT monster will pop up next year," Tennessee state Rep. John Ray Clemmons wrote.
Singer Stella Parton tweeted: "Talk about racists, all Marsha Blackburn could focus on was Judge Brown Jackson's race. Never once realizing as she was reading her carefully prepared notes written by a staff member that the judge was smarter than her in first grade."
Writer Jay Arnold tweeted: "Marsha Blackburn cosplaying Phyllis Diller accusing Ketanji Brown Jackson of having a 'personal hidden agenda' on critical race theory while literally demonstrating race-based discrimination was the most racist Republican moment of the year."
Patrick McGinnis, an author and venture capitalist, wrote that Blackburn had used "poorly constructed misrepresentations" of past interviews and writings to attack Jackson. "This kind of political malpractice doesn't serve the American people. Find something real to [question] or accept that the person is qualified," he said.
Blackburn hit back at criticism of her remarks in a tweet on Monday night.
"I'm not afraid to ask tough questions to a nominee for the highest court in our nation," she wrote. "American families' way of life depends on having a constitutionalist court, but the media and the left will attack anyone who dares to ask important questions."
Ahead of Monday's hearing, New York University law professor Melissa Murray told Newsweek that Republicans would use the hearings to create "durable" sound bites that can be deployed for political purposes in an election year.
"It's really about having a durable sound bite that can be then deployed later for political purposes against the entire Democratic Party," she said.
Blackburn's office has been contacted for additional comment.