Two of Democrats' most important demands will be included in the nearly $2 trillion stimulus package that Congress is finalizing to fight the economic impact of the coronavirus pandemic, according to lawmakers: a "Marshall Plan" for hospitals and provisions on money doled out to struggling industries.
"I'm pleased that our two main issues—workers first and a Marshall Plan for hospitals—are very strongly in the bill," Senate Minority Leader Chuck Schumer (D-N.Y.) told reporters late Monday night.
The plan—named after the post-WWII act that sent aid to reconstruct Western Europe—would give billions of federal dollars to hospitals across the country. Schumer expressed confidence to Democrats on a conference call Tuesday afternoon that he'd secured about $130 billion in low-interest loans for hospitals, or roughly $50 billion more than Republicans originally suggested, while community health centers and other health care providers would receive about $150 billion, according to a person familiar with the call.
The final figures have not yet been released. The money also would be used for medical supply shortages—hospital beds, ventilators, personnel—particularly at rural and small facilities.
The second provision Democrats pushed for—stricter oversight—would rein in the Treasury Department's broad discretion to dole out $500 billion in loans and loans guarantees to corporations, a departure from Republicans' original proposal that Democrats labeled a "slush fund."
House Speaker Nancy Pelosi (D-Calif.) said on CNBC Tuesday morning that the final agreement will mirror a portion of a separate proposal she released Monday, which included oversight of the large chunk of money for businesses by having an inspector general and congressional panel review how and to whom Treasury provides funds to.
"That was a major, overarching concern," Pelosi said on the network. "When they put out their bill, it was all corporate America."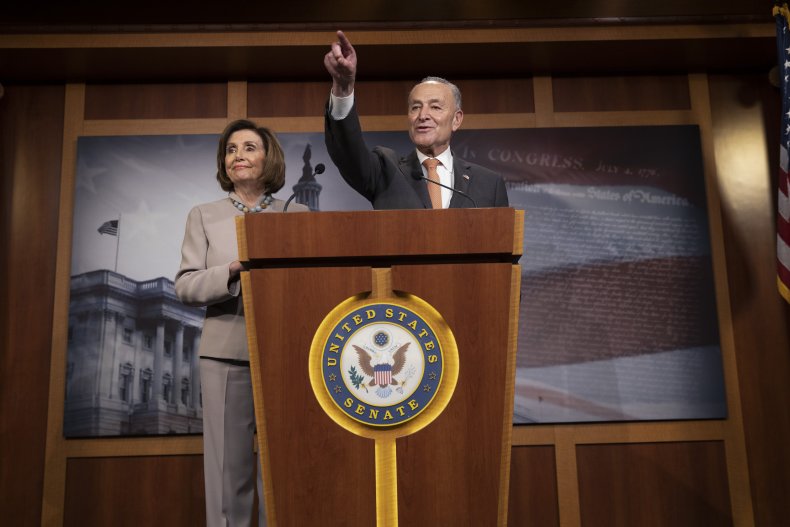 It's expected that the plan will prohibit companies that receive government money from buying back their own stock, laying off workers and issuing executive bonuses.
All signs point toward congressional leaders and Treasury Secretary Steven Mnuchin—who's been negotiating on behalf of the White House—striking a final deal late Tuesday. Mnuchin remained on Capitol Hill late into the night Monday as talks continued between Schumer Democrats and Republicans.
"I believe we're on the five-yard line," Senate Majority Leader Mitch McConnell (R-Ky.) said on the floor. "This majority has gone out of its way to make this as bipartisan and open as possible. The administration has bent over backwards to work with Democrats and address their concerns."
Schumer expressed similar optimism on the floor. "Last night, I thought we were on the five-yard line. Right now, we're on the two." he said.
Tensions flared in recent days as negotiations took longer than expected, and Democrats blocked two key procedural votes to advance toward a final vote because they'd yet to reach an end product.
The stimulus package is also set to include individual checks for Americans, bailouts for the travel industry that's been hamstrung from worldwide travel restrictions, hundreds of billions of dollars in loans to small businesses that can later be forgiven and an expansion of unemployment insurance.