Marshawn Lynch Gets Trademark Approved for 'I'm Just Here So I Won't Get Fined'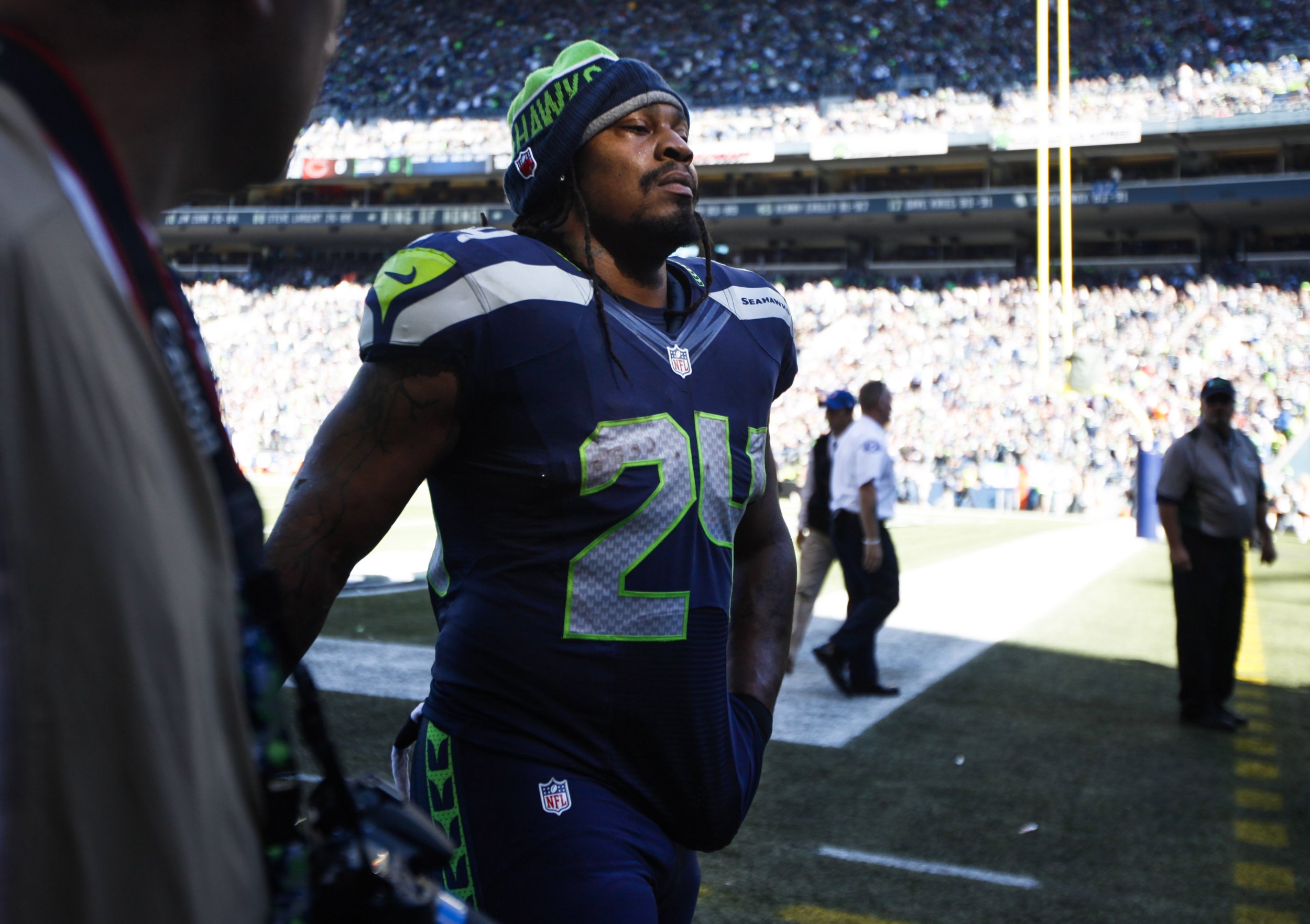 Seattle Seahawks running back Marshawn Lynch said the phrase "I'm just here so I won't get fined" over and over again at the most recent Super Bowl media day in January 2015. On Tuesday, nearly a year later, the U.S. Patent and Trademark Office approved the phrase as a registered trademark, ESPN reports.
Lynch has a unique history with the media—failing to show up for press conferences, getting fined and choosing a word or a phrase to repeat ad nauseum rather than responding to questions from reporters. He's chosen terse replies like "yeah," "nope" and "maybe," as well as short phrases like "Thank you for asking," "I appreciate it" and "I'm thankful."
Just a few days before the Seahawks' second Super Bowl in as many years, he set a timer for the requisite five minutes and then answered more than 20 questions with "I'm just here so I won't get fined." The next day, he told reporters, "Ain't nothing changed from yesterday. I'm still the same person I was yesterday, and I got the same thing for you that I had yesterday," and proceeded to answer questions with, "You know why I'm here." His press-conference performances have captured a great deal of attention, despite the fact that he dodges every question.
Soon after the Seahawks lost to the New England Patriots on February 1, Lynch filed to trademark the phrase, "I'm just here so I won't get fined." Lynch's official clothing brand, Beast Mode, has been selling T-shirts featuring the phrase and the player's face for $34 since April, according to ESPN.
Lynch, 29, has been off the field for weeks after he underwent surgery to repair a sports hernia in November. He has been going through rehab in San Francisco. Reporters, fans and fellow players have been waiting to hear whether he'll be well enough to get back in the game for the playoffs.
"Right now, Marshawn is in a place where he could run around anybody if he wanted to," Tareq Azim, Lynch's trainer, told FoxNews.com on Tuesday. ""In a couple of days from now if he can just build on the confidence that he's acquired in the last week here, he'll be able to run through everybody confidently. He's got the confidence to run around people but 'Beast Mode' runs through people. That's what we want to finalize. He's not far from that at all."