Martha McSally Fumbles Over Support For Trump During Mark Kelly Debate
A Republican senator appeared to sidestep several questions on whether she was proud to support President Donald Trump during an on-air election debate with her Democratic opponent.
Sen. Martha McSally (R-Az) is engaged in a tight race with Mark Kelly for the state senate, which the latest opinion poll suggests is leaning in Kelly's favor.
McSally was grilled on Trump's record but repeatedly steered her answers back toward the administration's tax-cutting agenda, rather than focusing on the president himself.
Asked if she was proud of her support for Trump, McSally said: "I'm proud to be fighting for Arizona every single day."
The interviewer interjected: "Is that a yes or a no for President Trump?" but she continued: "Putting legislation on Trump's desk. You look at the legislation we put on his desk, it is to cut Arizona taxes."
The interviewer followed up by saying: "It sounds like she is proud of her support for President Trump." To which she replied: "I am proud to be fighting for Arizona, the question is why was he wanting to support Bernie Sanders," while gesturing to Kelly.
McSally has been forced to tread a thin line between wooing independents and undecideds, while not alienating her Republican base.
During Tuesday's debate she accused Kelly of being "bought and paid for by Chuck Schumer, whose path to power goes through Arizona."
McSally said: "My opponent is claiming that he's not a politician, or not even a Democrat, but that's counterfeit."
Kelly hit back that he would be less partisan than the Republican incumbent.
"We need independent leadership in Washington," he said.
Matt McDermott, a pollster who watched the debate, tweeted: "Seriously, how is it possible that Martha McSally has been running for Senate for four years and isn't prepared to answer a question as easy as 'Do you like Trump?'"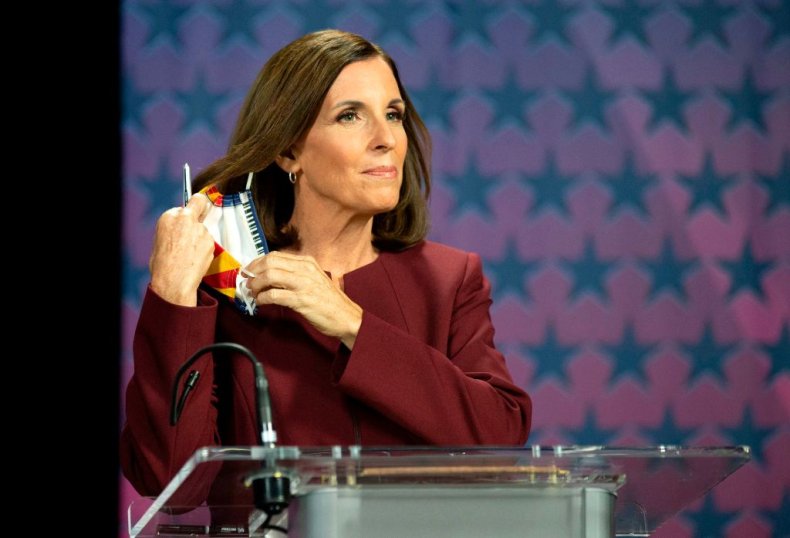 A New York Times-Siena College poll released Monday gave Democratic presidential nominee Joe Biden an 8 point lead over Trump in Arizona.
The poll surveyed 655 likely voters between October 1 - 3. It had a 4.2-point margin of error.
Trump won the popular vote in Arizona by 48 percent to 45 percent in 2016.
The state will hold a special election for the senate on November 3 to fill the seat left by John McCain after his death in 2018. Former U.S. Senator Jon Kyl filled the role for several months before his resignation left a gap for McSally, whose appointment triggered the upcoming vote.
McSally was the first female pilot in the Air Force to fly in combat; while Kelly is a Navy captain and NASA astronaut who campaigns on gun violence after his wife, former Arizona representative Gabby Giffords, was shot in the head and nearly killed in 2011.