Civil rights leaders take aim at controversial voting reforms
Fund to preserve historic Black churches gets $20 million donation
Political leaders in Georgia to attend special service at MLK's old congregation
Several states cancel MLK Day parades amid Omicron COVID surge but others go ahead with on-site virus testing
Senate's only Black Republican kickstarts 'listening tour' series
Tim Scott, of South Carolina, is starting a series of videos on his youtube channel which he claims is a response to the fiery rhetoric from all political factions on race - but announced his "listening tour" with some harsh words about President Joe Biden.
In conjunction with Martin Luther King Jr. Day, Scott said he recently held constituent focus groups on topics like generational wealth would refocus a fraught national conversation on race. But he also took the opportunity to criticize Biden's recent speeches on voting rights.
Last week in Atlanta, Biden likened the wrongs of 1960s-era civil rights battles to modern-day election subversion efforts, including GOP-backed laws passed after President Donald Trump lost reelection in 2020 - something Scott claims is "misleading".
Are retailers changing opening hours today?
As Martin Luther King Jr. Day is a federal holiday, meaning many government offices are shut and some private businesses close in observance, some remain unaffected or offer more limited services throughout the day. But are retailers observing the day?
Most, it appears, are not, with Costco maintaining its daily hours from 10am to 6pm or 8.30pm today. Similarly, retail giants Walmart and Target are keeping most of their stores open today.
FULL STORY: Martin Luther King Day 2022 Store Opening Hours for Costco, Walmart, Target and More
'Act in our community's best interest': Major MLK parades canceled in COVID hotspots
In Los Angeles, the major annual parade honoring Martin Luther King Jr. has been canceled for the second year in a row due to the pandemic, while organizers in Texas confirmed the parade in Fort Worth was still not due to go ahead this morning.
The Greater Fort Worth Martin Luther King Jr. Holiday Committee Inc. said the decision was taken with "great remorse" but that the legacy of MLK "compels us to act in our community's best interest".
Those organizing events around the National Holiday say that despite many not going ahead, people should see it as "not a day off, but a day on". Smaller events such as clothing drives are still going ahead in communities across the U.S. - many with free pop-up COVID testing and vaccination sites.
MLK's granddaughter calls on people to campaign against voting rights reforms
Yolanda Renee King - a seasoned speaker and activist - entered prominence when she made her first major speech in the 2018 March For Our Lives student-led demonstration on gun control.
Now, the granddaughter of King and his wife, Coretta Scott King, Yolanda is calling to attention the importance of voting rights and urging young people to get involved in the issue.
My family and I have been working on getting two major bills passed that can make it easier for people to vote, because one of the fundamental rights is the right to vote. Everybody needs to have access to voting.
How to watch MLK's 'I Have a Dream' speech in...fortnite?
The battle royale-style video game - popular with children, teenagers, and adults alike - is joining in the MLK Day celebrations this week with the chance for players to immersive themselves in 1963 Washington D.C. - where King made his most famous speech.
The "March Through Time" in-game event, developed partly by TIME Studios in collaboration with members of the Fortnite community, takes users to a museum-like environment through various landmarks, features both the Washington Monument and the Lincoln Memorial itself.
FULL STORY: Here's How to Watch the 'I Have a Dream' Speech in Fortnite's MLK Event
Fund to preserve historic Black churches gets $20 million donation
The African American Cultural Heritage Action Fund was awarded the money by Lilly Endowment Inc., which supports a host of religious, educational, and charitable causes.
The $20 million will be used as seed funding to help congregations across the U.S. - including St. James AME church in Mayfield, Kentucky, where the recent tornado killed more than 20 people.
The Rev. Ralph Johnson, presiding elder of a church district that includes the congregation, said that Black churches served a vital role after the civil war ended, with many set up shortly after slaves were freed.
Once the slaves were freed one of the things they wanted to start was a church home. They wanted to work out their spiritual salvation and have a place to congregate, and they also were used as schools and other things.
Celebrating the decision, fund director Brent Leggs said today that the money will be "helping historic churches tell their own stories".
Rather than simply replacing broken windows or straightening rafters, the project will provide assistance with things including asset management and helping historic churches tell their own stories.
WATCH: Five of Martin Luther King's most inspirational quotes
From his famous 'I Have a Dream' speech made in D.C. to the motivational speeches on determination and perseverance in the face of adversity, Martin Luther King Jr. gave millions of his followers across the U.S. and the world hope.
On what would be his 93rd birthday today, Newsweek has compiled some of the most inspirational quotes from his speeches.
Atlanta plans day of services and marches
Top leaders from across the city and wider Georgia, including Governor Brian Kemp and U.S. Sen. Raphael Warnock are scheduled to attend the annual Martin Luther King Jr. service at the civil rights leader's old congregation - Ebenezer Baptist Church.
The King Center in Atlanta said the 10am (ET) service later will be broadcast live on Atlanta's Fox TV affiliate and on Facebook and YouTube. The Rev. Natosha Reid Rice and Pastor Sam Collier will preside over the service, while Rev. Michael Bruce Curry - presiding bishop and primate of The Episcopal Church - will make a keynote speech.
Musical performances are also planned, including Keke Wyatt, Tasha Cobbs Leonard, Pastor Mike Jr., Le'Andria Johnson, and Emanne Beasha. The Martin Luther King Jr. Holiday March and Rally is also planned for Monday afternoon in downtown Atlanta, scheduled to end in front of The King Center.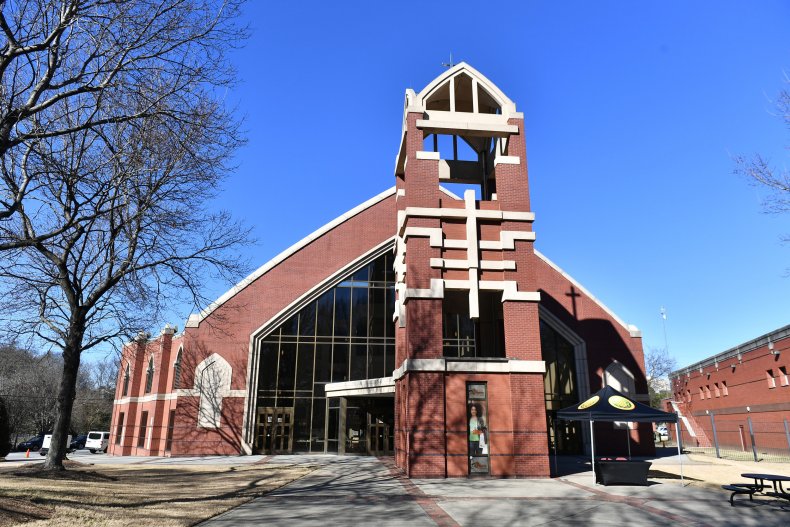 How TV is celebrating MLK Day?
A series of films and documentaries - old and new - are airing on America's biggest TV channels today as part of MLK Day.
The 2018 documentary Rise Up: The Movement That Changed America, which takes a look at the key battles in the civil rights movement, will air on the History Channel at 3pm (ET), while the American Revolution 2 documentary from 1969, which explores police violence at the Democratic convention in Chicago the previous year, will air on TCM at 8pm (ET).
A documentary on the assassination of Martin Luther King Jr. and footage rediscovered decades later - MLK: The Assassination Tapes - will air on the Smithsonian Channel at 8pm (ET).
Box office hit BlacKKKLansman, co-produced by Spike Lee and based on the true story of an African American police officer who infiltrates his local Ku Klux Klan branch, will air on FX at 5pm (ET).