'Pharma Bro' Martin Shkreli Requests Prison Release so That He Can Help Develop Coronavirus Drug Treatment
Martin Shkreli, who became infamously known as the "Pharma Bro" after massively hiking up the cost of a life-saving drug, has asked to be released from prison so he can work on a treatment for coronavirus.
Shkreli, 37, is currently serving a seven-year prison sentence for a securities fraud conviction after scamming investors in hedge funds he ran before entering the pharmaceuticals industry.
But in a scientific paper posted on the website of Prospero Pharmaceuticals, Shkreli has requested a "brief" three-month furlough from the federal penitentiary in Allenwood, Pennsylvania, so he can research potential treatments for COVID-19, the disease caused by the novel coronavirus.
"I am asking for a brief furlough (3 months) to assist in research work on COVID-19," Shkreli wrote. "Being released to the post-COVID world is no solace to even the incarcerated."
Shkreli dismissed the pharmaceutical industry's efforts to find a treatment as "inadequate" and painted himself as "one of the few executives experienced in ALL aspects of drug development."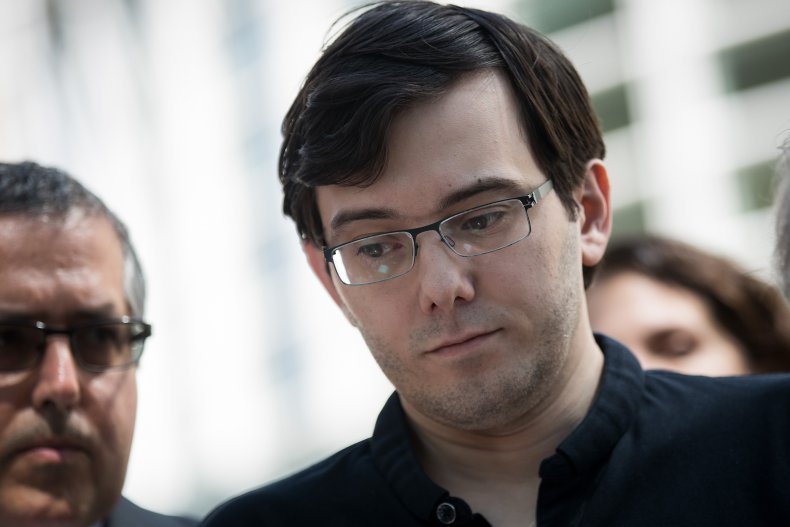 "The industry response to COVID-19 is inadequate," he wrote. "All biopharmaceutical companies should be responding with all resources to combat this health emergency. Donations from these very valuable companies do not go far enough."
He added: "Medicinal chemists, structural biologists, enzymologists and assay development and research biology departments at EVERY pharmaceutical company should be put to work until COVID-19 is no more."
Shkreli is identified as a "citizen scientist" in the footnotes of the 11-page paper, which he co-authored with two business associates, including Kevin Mulleady, and two others also identified as "citizen scientists." Mulleady, who is linked to Prospero in a footnote, told Newsweek: "Mr. Shkreli's contribution to this project has been and will continue to be indispensable."
The paper outlines the effort to identify drugs that could have an impact on COVID-19. Shkreli and his co-authors claim they used software to narrow it down to eight drugs.
Shkreli, who isn't scheduled to be released from prison until September 2023, also maintained that he had not been paid for the work outlined in the paper and said he did not expect to profit from coronavirus-related treatments.
"For the avoidance of doubt, I have not been paid for any work on this matter or any other matter while incarcerated," he wrote. "I do not expect to profit in any way, shape or form from coronavirus-related treatments. I believe any company developing a coronavirus drug should seek to recoup its cost at most and be willing to perform the work as a civil service at the least."
But he added that if the government was "willing" to reward those for their work, it would be at each company's discretion to accept, negotiate or deny the funding.
Shkreli's defense attorney Benjamin Brafman told Newsweek that he would be submitting a formal request for a furlough, so Shkreli could conduct his research "in a laboratory under strict supervision."
"Mr. Shkreli has prepared a coronavirus research proposal, which, if accurate could help scientists and doctors better understand how to deal with the coronavirus that is killing so many people," Brafman said. "We will be requesting a three-month furlough so that he could do his research in a laboratory under strict supervision."
He added: "I have always said that if focused and left in a lab, Martin could help cure cancer. Maybe he can help the scientific community better understand this terrible virus."
Shkreli was the CEO of Turing Pharmaceuticals (later known as Vyera Pharmaceuticals and Phoenixus) when the company acquired the rights to Daraprim, a drug used to treat toxoplasmosis—an infection that can be deadly for those with HIV and AIDs or other problems with their immune system. Turing jacked the price of the drug from under $20 to $750 per pill, sparking a furious backlash.
Mulleady, one of the paper's co-authors, is a co-defendant alongside Shkreli in a federal lawsuit filed by the Federal Trade Commission (FTC) and New York Attorney General Letitia James in January on their alleged scheme to stifle competition to maintain the "exorbitant" pricing of Daraprim.
James and the FTC said they had asked the courts to issue an order banning Shkreli and Mulleady from the pharmaceutical industry for life.
This article has been updated to include a comment from Kevin Mulleady.
Centers for Disease Control and Prevention Advice on Using Face Coverings to Slow Spread of COVID-19
CDC recommends wearing a cloth face covering in public where social distancing measures are difficult to maintain.
A simple cloth face covering can help slow the spread of the virus by those infected and by those who do not exhibit symptoms.
Cloth face coverings can be fashioned from household items. Guides are offered by the CDC. (https://www.cdc.gov/coronavirus/2019-ncov/prevent-getting-sick/diy-cloth-face-coverings.html)
Cloth face coverings should be washed regularly. A washing machine will suffice.
Practice safe removal of face coverings by not touching eyes, nose, and mouth, and wash hands immediately after removing the covering.
World Health Organization advice for avoiding spread of coronavirus disease (COVID-19)
Hygiene advice
Clean hands frequently with soap and water, or alcohol-based hand rub.
Wash hands after coughing or sneezing; when caring for the sick; before, during and after food preparation; before eating; after using the toilet; when hands are visibly dirty; and after handling animals or waste.
Maintain at least 1 meter (3 feet) distance from anyone who is coughing or sneezing.
Avoid touching your hands, nose and mouth. Do not spit in public.
Cover your mouth and nose with a tissue or bent elbow when coughing or sneezing. Discard the tissue immediately and clean your hands.
Medical advice
Avoid close contact with others if you have any symptoms.
Stay at home if you feel unwell, even with mild symptoms such as headache and runny nose, to avoid potential spread of the disease to medical facilities and other people.
If you develop serious symptoms (fever, cough, difficulty breathing) seek medical care early and contact local health authorities in advance.
Note any recent contact with others and travel details to provide to authorities who can trace and prevent spread of the disease.
Stay up to date on COVID-19 developments issued by health authorities and follow their guidance.
Mask and glove usage
Healthy individuals only need to wear a mask if taking care of a sick person.
Wear a mask if you are coughing or sneezing.
Masks are effective when used in combination with frequent hand cleaning.
Do not touch the mask while wearing it. Clean hands if you touch the mask.
Learn how to properly put on, remove and dispose of masks. Clean hands after disposing of the mask.
Do not reuse single-use masks.
Regularly washing bare hands is more effective against catching COVID-19 than wearing rubber gloves.
The COVID-19 virus can still be picked up on rubber gloves and transmitted by touching your face.