'Shang-Chi's' Fala Chen on 'Beautiful' Fight Scene With Tony Leung
Marvel's Shang-Chi and the Legend of the Ten Rings features some incredible fight scenes that are intricately choreographed and meticulously carried out by the cast and their crew of stunt performers.
One notable fight is between Simu Liu's Shang-Chi and several members of the Ten Rings criminal organization run by his father Wenwu (Tony Leung) in a bus, a scene that has been teased in the Marvel film's trailer (and does not disappoint).
But another incredible fight scene doesn't feature the lead character at all, but is between villain Wenwu and Shang-Chi's mother Ying Li, played by Fala Chen, at the start of the film.
As a guardian of the mythical village of Ta Lo, Chen's Li thwarts Leung's Wenwu at every turn, stopping him from entering the sanctuary but falling in love as a result.
It is a foreshadowing of Shang-Chi's fight against his father later in life. The scene is beautifully shot and meticulously detailed, with Chen and Leung using different types of martial arts to try and best each other.
Speaking to Newsweek about working alongside Leung on the scene, Chen detailed how long it took to prepare and the work that went into one of the longest fight scenes in Marvel cinematic history.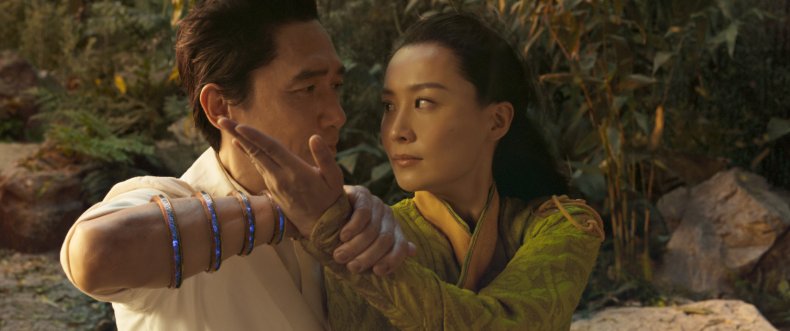 "We trained prior to the beginning of the shoot of that scene for weeks," Chen reflects on the sequence. "Me [in particular for] over a month, Tony had a little bit less time because he was just so quick at learning everything.
"It literally took him two days to learn that whole sequence and it took me two weeks! Given it's Tony and he's so skilled and experienced I was not surprised."
She went on: "But, yeah, it was such a beautiful way of working because I've never had so much time to prepare for a scene in such a way that I really got to spend time to learn the basics of Tai-Chi and to really understand the whole arc of the story, and just have a ton of time to really think about and prepare for the scene."
Chen also discussed how she and Leung worked with the film's stunt crew, filming the scene over several days to ensure all the moves - which she and Leung performed themselves - were perfect.
"They shot it in such an organised and prepared way that we only tackle[d] certain movements per day, and it took days to film that," Chen admitted.
"It was so enjoyable, I wish that scene could be longer, but it was actually one of the [film's] longest scenes.
"At the time that we shot it, it was one of the longest scenes Marvel has ever filmed, but then Simu broke that record in our own film later on with the bus scene. But, just to say how much effort and planning that went into that scene was amazing."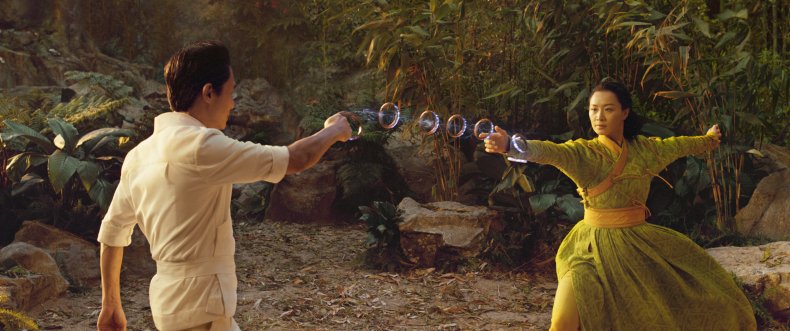 When asked if she and Leung were allowed to bring their own ideas to the fight, or if it was all the work of the stunt team, Chen was quick to give credit where credit was due.
"It's totally planned out and choreographed by the stunt team and they actually shot the entire scene before we arrived for training with our stunt doubles so that everybody has a reference," she revealed.
"I've never seen a reference shot so beautifully [made] with actual camera work and special effects, perfectly edited.
"So, we just stepped in and said 'okay [we] just need to put our costume on and do this', which was intimidating but at the same time very exciting."
Shang-Chi and the Legend of the Ten Rings is out in theaters now.