The family of a Black man, who died in a jail in Texas last month, have called for the arrests of detention officers after viewing video footage of his final moments.
Marvin Scott III's death was ruled a homicide by the Collin County Medical Examiner's Office on Wednesday.
In a news release, Dr. William Rohr said his findings show Scott's cause of death was "fatal acute stress response in an individual with previously diagnosed schizophrenia during restraint struggle with law enforcement." A final autopsy report is to be released at a later date.
Scott, 26, had been arrested at an outlet mall in Allen for alleged possession of less than two ounces of marijuana, a Class B misdemeanor, on March 14. He was transported to the Collin County Detention Facility in McKinney, where he died later that day.
In a news conference in March, Collin County Sheriff Jim Skinner said Scott exhibited "strange behavior" while at the jail.
Detention officers allegedly placed him on a restraint bed, used pepper spray and covered his face with a spit mask. Scott then apparently became unresponsive and was pronounced dead in hospital.
Earlier this month, Skinner later announced that seven officers had been fired for violating "well-established" policies and procedures. An eighth officer resigned.
"Everyone in Collin County deserves safe and fair treatment, including those in custody at our jail. I will not tolerate less," Skinner said in a statement.
On Wednesday, more than six weeks after Scott's death, his family watched video footage of his final hours. The footage has not been publicly released.
The five hours of video footage showed Scott "suffering a health crisis, being held down by corrections officers, pepper sprayed, choked, covered in a spithood," Lee Merritt, a civil rights attorney representing the family, said on Twitter.
At a news conference on Wednesday, Scott's family called for the detention officers involved in his death to be arrested and charged.
"What we've seen today was horrific, inhumane, very disheartening, and we want these individuals arrested immediately," Scott's mother, LaSandra Scott, said. "And that's all I have to say."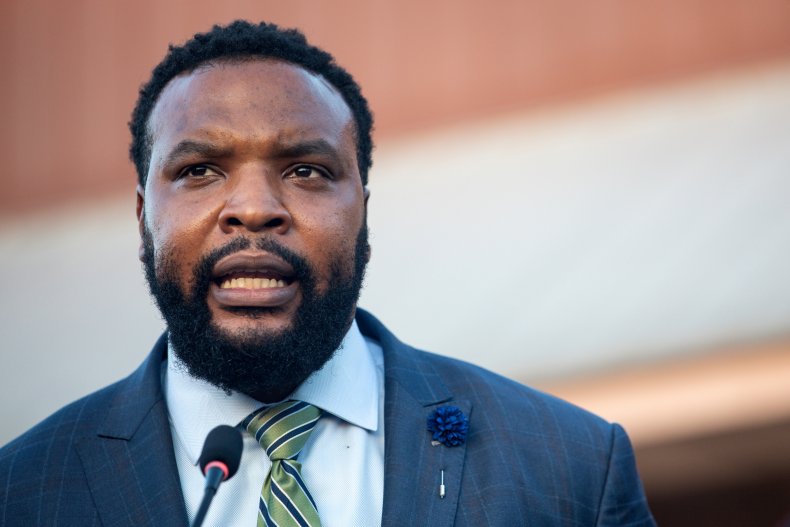 His father, Marvin Scott Jr., added: "After reviewing the video, I feel that justice has to be served, it has to be. I feel that the officers involved have to be arrested. We demand that."
Scott's 19-year-old brother, Quinten Scott, added: "We ask for justice because at this point, that's all we can ask for."
At the news conference, Merritt said Allen police officers and detention officers would have been aware of Scott's mental health issues.
Merritt said it was clear that Scott was in a schizophrenic episode at the time.
"There were clear open signs that even the untrained eye could have observed that Marvin Scott needed help," Merritt said.
"Instead, he received brutality. Instead, he was maced, he was assaulted, he was restrained. He was treated as someone who was being criminally non-compliant, not as someone in need of desperate help.
"As a result of their failure to act, and as a result of their failure to take steps that they were trained to take when someone's in mental health distress, Marvin Scott was killed in police custody."
One of the detention officers allegedly involved was reinstated through the civil service process last week, a decision Skinner has said he disagreed with, The Dallas Morning News reported.
A spokesman for the Collin County Sheriff's Office has been contacted for comment.
A spokesman for the Texas Rangers, the agency investigating Scott's death, told Newsweek that further details cannot be released as the investigation is still ongoing.
Authorities have not released the names of the detention officers involved in Scott's death.
Zach Horn, an attorney who represents six of them, told Newsweek that the medical examiner's report "overwhelmingly confirms" that his clients did nothing wrong.
"My clients have almost 90 years of combined law enforcement experience with zero use of force issues," he said. "My clients have fully cooperated with the ongoing criminal investigation and I expect they will all be exonerated."
In a video shared online Thursday, Merritt reiterated the call for the detention officers to be arrested and held to account.
Their firing "sends a clear signal that what they did, the use of the force they applied, was not justified," he said.
Update 4/29/21, 8:45 a.m. ET: This article was updated with a statement from Zach Horn.