Mary Trump Says Ron DeSantis Should Be Redubbed 'Homicidal Sociopath'
Mary Trump, the niece of the former president Donald Trump, has said that the opposition of Florida Governor Ron DeSantis to COVID restrictions should not be viewed as good politics.
Trump appeared to criticize the Republican governor's resistance to implementing coronavirus mask and vaccine mandates amid a spike in cases in the Sunshine State due to the highly contagious delta variant.
She tweeted on Wednesday: "Maybe it's time for the media to start referring to DeSantis as a homicidal sociopath instead of a savvy politician."
Trump, a psychologist who pulled no punches in criticism of her uncle and extended family in her book Too Much and Never Enough also repeatedly condemned the Republican Party's COVID response when it was in power.
In a follow-up tweet, she shared an image of someone in an ICU.
"It's horrifying to know that tens of millions of Americans think this is a reasonable price to pay as long as they don't have to suffer the inconvenience of wearing a mask or getting a free, readily available vaccine. But here we are," Mary Trump wrote.
Her criticism of DeSantis comes as he faces a backlash for his COVID response. His state saw more than 51,000 new cases over the three days to Tuesday, according to the Department of Health and Human Services.
DeSantis has prioritized the opening of the economy and has gone against advice from the Centers for Disease Control and Prevention (CDC) in issuing an executive order forbidding school districts from mandating masks this year.
DeSantis's COVID-19 response is a key feature for his reelection bid for 2022 and his campaign has criticized Dr. Anthony Fauci, director of the National Institute of Allergy and Infectious Diseases, for what it calls the "devastating consequences" of lockdowns.
However, the wisdom of DeSantis's stance is under question after a poll this week showed that two Democratic challengers for next year, Nikki Fried and former Governor Charlie Crist, have closed the double-digit lead the governor had only two months ago.
Also, 62 percent of those asked in the survey conducted by St. Pete's Polls believed that children should wear masks when they return to school, including 84 percent of Democrats and 66 percent of independents.
Meanwhile, Miami Beach Mayor Dan Gelber said that businesses could actually be hurt by DeSantis's stance, telling CNN that customers would be drawn more to a place where they feel safe.
"He's like the Pied Piper just leading everybody off a cliff right now," he told the network.
In a statement to Newsweek, a spokesperson for DeSantis said the governor "is not going to respond to juvenile name-calling," referring to Trump's comments.
Meanwhile, the spokesperson said that data "does not support Gelber's assertion that mask mandates make people safe from COVID-19."
"Governor DeSantis' position is clear—mandates do not work to stop COVID-19. The empirical evidence supports his position on this," the spokesperson said, referring to mandates imposed in Texas and California.
"With that being said, the Governor and Florida Department of Health have always encouraged Floridians to protect themselves and their communities," the statement said.
"The best way to do that is to get vaccinated; the vaccines are safe and effective for most people and are freely available everywhere in Florida."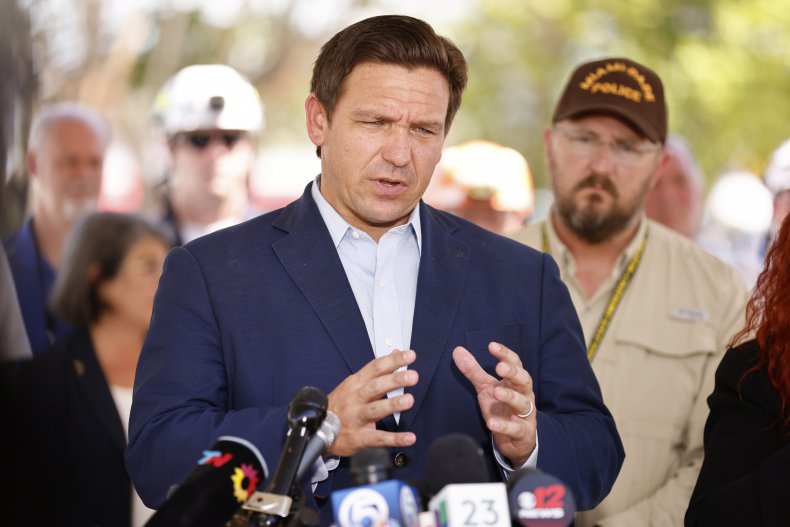 Update 8/05/21 1:00 p.m. ET: This story has been updated to include a response from a spokesperson for Ron DeSantis.