Mary Trump Says 'There Is No Bottom' in Uncle's Effort to Stay GOP Leader, Regain Presidency
Mary Trump, the niece of former President Donald Trump, said on Sunday that her uncle will exert every possible effort to remain GOP leader and possibly regain the presidency.
Her comments came after MSNBC host Alex Witt asked for her thoughts about her uncle's remarks during a "History Tour" stop with former Fox News host Bill O'Reilly in Houston on Saturday. Trump repeated his claim that he recommended sending 10,000 troops to the Capitol to protect lawmakers on January 6.
Trump, however, reportedly wasn't involved in the deployment of National Guards during the Capitol riot. Acting Defense Secretary Christopher Miller said at the time that he "spoke separately with the Vice President [Mike Pence] and with Speaker Pelosi, Leader McConnell, Senator Schumer and Representative Hoyer about the situation at the U.S. Capitol." He didn't mention working with Trump.
"There is no bottom here and he's very mindful that he is being given an opportunity to continue to muddy the waters and quite honestly rewrite history, which is an incredibly dangerous moment for this country," said Mary Trump. "He's not doing it for any other reason than that he believes it will allow him to continue to stay the leader of the Republican Party and maybe even regain power in this country."
Trump, a psychologist, continued her assessment of her uncle as she commented on his Saturday remarks that there was "love in that crowd" at the Stop the Steal rally before the Capitol riot.
"I really do not believe that Donald Trump understands what love is what it feels like to love somebody or to be loved because nobody who does understand that concept could possibly equate the violence, the vitriol, the racism, the anti-American sentiments that were expressed on January 6 during that violent insurrection, could possibly confuse it with anything resembling love," she said.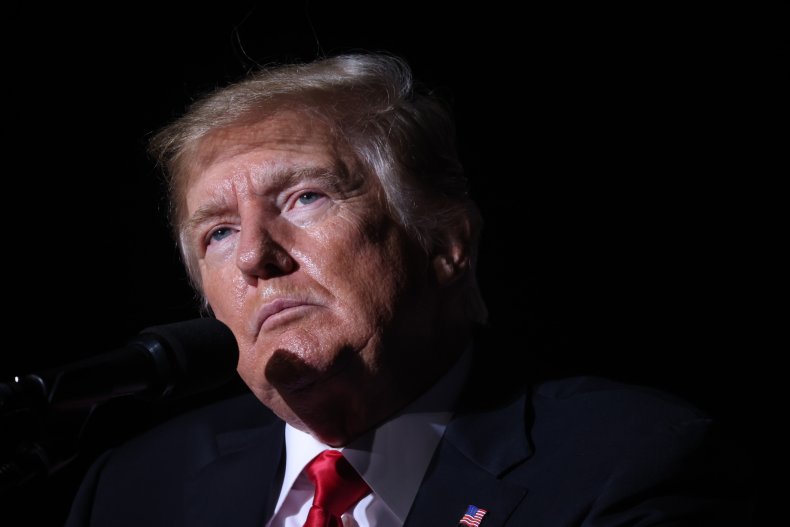 Mary Trump also told MSNBC that small crowds at the tour stops indicate that the former president has become "increasingly irrelevant." Saturday's event in Houston saw many empty seats, despite thousands of people attending. There was also a low turnout in Florida.
"We saw what a miserable failure his rally was with Bill O'Reilly because people had to pay to go and obviously that's not something a lot of people were willing to do," she said.
Newsweek contacted Trump's office for comments.