Mary Trump Mocks Uncle's Rally as 'Miserable Failure' After Empty Seats in Florida
The niece of former President Donald Trump has said that the low turnout for his latest event shows that he is becoming "increasingly irrelevant."
Trump and former Fox News host Bill O'Reilly boasted there would be huge crowds for the first leg of their so-called "History Tour."
However, Saturday's event at the FLA Live Arena in Sunrise, Florida turned out to be a damp squib, with the empty top level closed off and those who had tickets for that area "upgraded" to the lower bowl.
There was also a low turnout on Sunday in Orlando, the Orlando Sentinel reported. There Trump hinted at another presidential run. The pair's four-date tour concludes with events in Houston and Dallas this weekend.
Mary Trump, whose book Too Much and Never Enough is highly critical not just of her uncle but the wider family, told MSNBC that the low turnout signaled the ex-president's dwindling significance.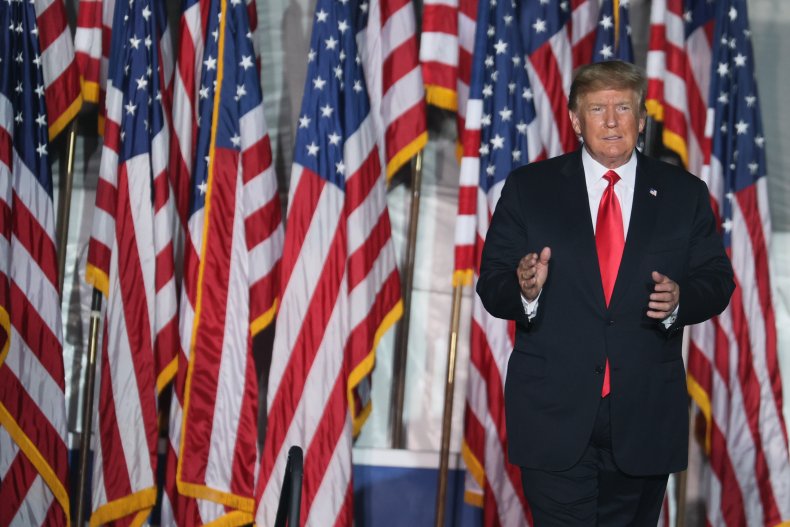 "He is becoming increasingly irrelevant," she said, "we saw what a miserable failure his rally was with Bill O'Reilly because people had to pay to go and obviously that's not something a lot of people were willing to do.
"Over time, I think he is going to become increasingly isolated," she said. Newsweek has contacted the former president's office for comment about the low turnout claims.
On Monday, the January 6 committee revealed Fox News anchors and Donald Trump Jr, had pleaded with former chief of staff, Mark Meadows, to get the former president to call off his supporters who had stormed the U.S. Capitol.
After the committee voted to hold Meadows in contempt of Congress for refusing to testify about the documents he submitted, MSNBC anchor Lawrence O'Donnell asked Mary Trump how her uncle would react to the revelations of the texts.
She said her uncle "is so protected by the people around him...that it is going to get spun in a particular way to be to his advantage."
She said the texts showed how Fox hosts and Trump Jr thought that the former president could stop the violence on January 6, saying "they didn't just believe it, they knew it."
Referring to a tell-all White House memoir by Meadows that "contained terrible damning information" she believed that the ex-chief of staff "is already figuring out how to squirm his way out of this one."
"I don't really know if Donald can lash out," she said, "I don't know how many people are left for him to get rid of because his circle has become so incredibly small."
Despite her comments, the former president is expected to remain an influential figure for Republicans ahead of the 2022 mid-term elections, with GOP candidates not wanting to alienate his base.
Meanwhile, Trump has been teasing a bid for 2024, although he hasn't officially announced he would run.
A poll last week by Redfield & Wilton Strategies showed Trump leading Biden by 4 percentage points in a hypothetical matchup in 2024, 42 percent to 38 percent.
Last week, a lawyer for Mary Trump filed to dismiss a lawsuit her uncle brought against her and The New York Times in September over a 2018 story about his tax records.
Among things the reporting revealed was that the former president made the equivalent today of at least $413 million from his father's real estate empire, with the help of efforts to dodge taxes.
The ex-president said it was part of an "insidious plot" which had been "motivated by a personal vendetta."