New Poll Shows Donald Trump Beating Joe Biden by 4 Points in 2024 Matchup
Donald Trump continues to look well positioned to potentially defeat President Joe Biden in the 2024 election if they both choose to run for another term, new polling shows.
Biden's popularity has plummeted over the past several months as his administration has responded to a number of crises. Meanwhile, Trump continues to remain widely popular with Republicans and consistently hints at the possibility of another run for president in 2024.
A new poll released Thursday by Redfield & Wilton Strategies shows Trump leading Biden by 4 percentage points in a hypothetical matchup. However, neither potential contender has majority support among eligible voters.
While 42 percent of eligible voters would cast ballots for Trump, just 38 percent said they would back Biden. An additional 16 percent said they did not know how they would vote in the next presidential election.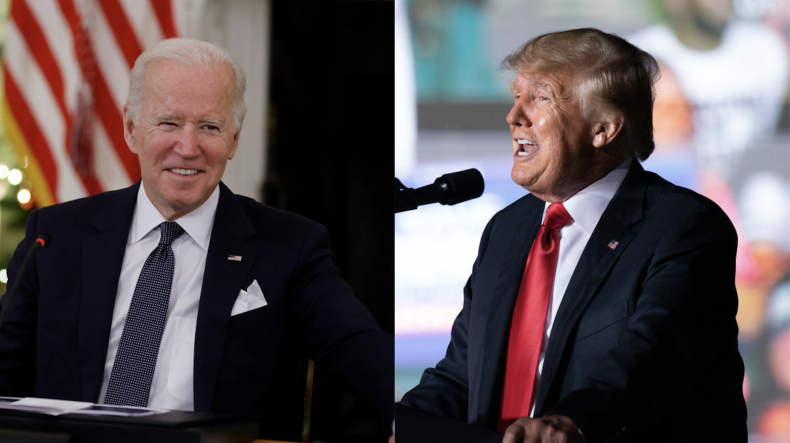 Notably, when Trump was matched up against Vice President Kamala Harris, the results were the same. Many analysts have speculated that Biden, 79, could step aside and allow another candidate to run because of his age and sagging poll numbers. Harris, as Biden's No. 2, is seen as the front-runner to potentially replace him.
But the poll shows that just 38 percent of eligible voters would cast ballots for Harris if she was running against Trump. He would again be backed by 42 percent of voters, the survey said.
The poll was conducted on December 5 and sampled 1,500 eligible voters.
Several other recent polls have shown Trump beating Biden. Survey results released by Emerson College in early November showed Trump 2 points ahead of Biden. Trump was supported by 45 percent of registered voters, while Biden was backed by just 43 percent.
Another November poll, conducted by USA Today and Suffolk University, showed that more Americans are opposed to Biden seeking another term, compared with those against Trump running again. While 64 percent (nearly two-thirds) of respondents said they don't want Biden to seek reelection, 58 percent said they were against Trump launching another White House bid.
Biden told reporters in the spring that he plans to run for reelection, despite concerns that some have raised about his age and health. The president became the oldest person to assume the office, as he was 78 at the time of being sworn in.
"Yes, my plan is to run for reelection. That's my expectation," Biden said during a March press conference. In November, White House press secretary Jen Psaki confirmed that Biden will seek office again.
Trump, 75, has consistently teased the possibility of running but has not publicly confirmed his intentions for 2024. In late November, Trump was asked during a Fox News interview about his political ambitions.
"Well, let me just put it this way," he responded. "I love our country, and I think a lot of people are going to be very happy."
On Wednesday, Trump told radio's Hugh Hewitt Show that his supporters would be upset if he decides not to run again. "If I do decide that [not to run], I think my base is going to be very angry," he predicted.